Feel Good Fashion: Apricot Lane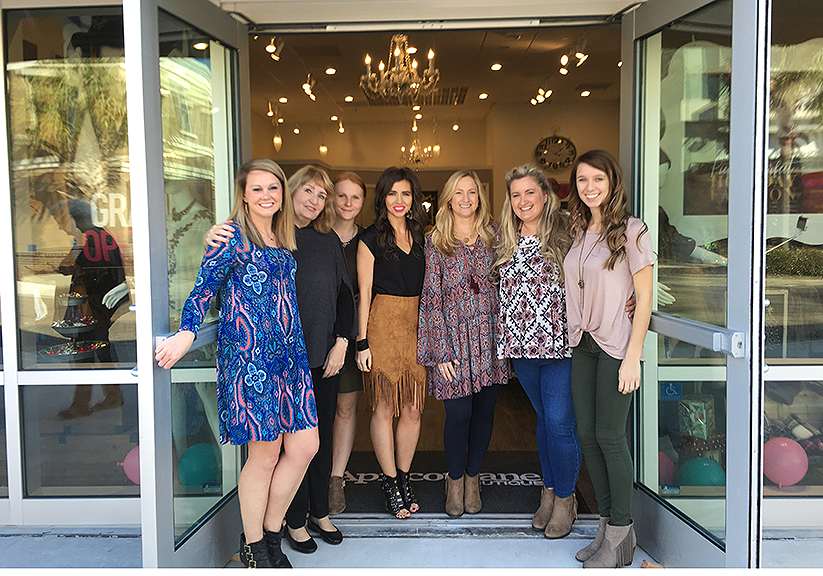 One store in Mount Pleasant Towne Centre is bringing both fashion and philanthropy to our community and beyond. Embracing a "think globally, act locally" mind-set, Sandra Barnes, owner of the trendsetting boutique Apricot Lane, is shaking things up in the world of retail and social justice. Working for the greater good, she proves being altruistic is one trend that never goes out of style.

"I know the opportunity to give back will be the most rewarding aspect of this job," said Barnes, who runs the shop with her daughter, Ashley Herrin. " We really look forward to getting involved in the community and making a positive difference."
Among the flowy bohemian tunics and suede fringe boots, you'll find handmade bracelets by 3Strands Global – an organization that rescues victims of sex trafficking and provides them with an outlet for creative expression and steady income. At first glance, the beautiful bracelets are eye-catching, but they become even more significant once you consider their source. A mission trip to Cambodia, in which Sandra crossed paths with Apricot Lane franchise developer and philanthropist Ken Petersen, would set her on an unlikely journey into merchandising and activism.
"That trip was truly life-changing," said Barnes. "When you see children as young as 6 sleeping on concrete, you feel the call to help."
And help, Barnes has – not only by carrying a unique array of colorful beaded or woven bracelets made by 3Strands Global but by encouraging charity right in her own backyard.
"Fashion for a Cause" parties offer guests mouthwatering appetizers and cocktails, with a portion of the proceeds of items purchased going to a charity of their choice.
"We want to donate to a diverse group of organizations," said Barnes, "Whether it's a local library, team or ASPCA, we want to be able to help a lot of organizations meet their goals."
Carrying brands that often inhabit the hippest Southern California boutiques, Apricot Lane brings the best of the West to Mount Pleasant. With 70 percent of stock imported from companies based in The Golden State, the caliber of couture is high and surprisingly affordable.
From flared blue jean bell-bottoms to distressed leather jackets, the array of styles offered makes it easier than ever to embrace your inner fashionista. Whether you are looking for a beachy sundress or a killer accessory to tie together an already rocking ensemble, Apricot Lane has got you covered.
Unlike franchises that are limited in what they can offer, Barnes has the freedom to stock her shelves with whatever she feels shoppers will desire. She even encourages customers to come to her with requests. Making sure to bring in new inventory every week, Apricot Lane is truly leading the way in fresh, fierce fashion. Carrying buzzworthy brands, this local shop is sure to keep the ladies of the Lowcountry looking on point.
Since opening in December, Apricot Lane continues to attract a wide range of multi-generational shoppers. Daughters, mothers and grandmothers can be seen sipping champagne while fully reaping the benefits of retail therapy.
Escape into a world where stackable bracelets, showstopping statement necklaces and Piko tops abound. From fitness to fancy, there is no limit to just what a trip to Apricot Lane can bring. Stroll in today. You'll be glad you did.
To learn more, visit apricotlaneboutique.com/store/mountpleasant or call 843-971-1800.
By Kalene McCort.
IFPG Launches A CRM Designed Specifically for Franchise Sales
Parlin, NJ - The International Franchise Professionals Group (IFPG) is set to launch its new CRM designed specifically for franchise sales on May 1, 2016. IFPG's Franchise sales CRM is an essential tool for any Franchise professional that wants to eliminate the unnecessary steps traditional CRM's provide.
Finance to Franchise: Woodhouse Day Spa Franchisee Alla Shapiro
AS: The finance background is helpful but absolutely not necessary in opening the franchise. It was helpful that I knew how to read the financial statements, but it is not a skill that cannot be learned quickly. In retrospect, any experience that one has is helpful in opening and running your own business. You are faced with so many different challenges on daily basis, therefore the more experience you have with Marketing, Operations and Finance, the more tools you have to solve these problems the best possible way.