Questions and Answers with the Tilted Kilt Franchise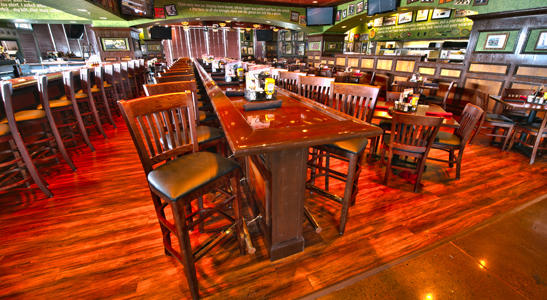 What sets the Titled Kilt apart from other sports bar franchises?
Great Menu; 24 or more beers on tap in every pub; Huge Audio Visual Package
Can you tell us about the business model for a Tilted Kilt franchise? How do your franchisees make money?
Utilizing proven Tilted Kilt operating system.
50/50 liquor to food menu mix.
What is the current state of the sports bar sector within the larger restaurant category?
One of the fastest growing segments in the restaurant catagory.
Can you describe the primary target customer for Tilted Kilt? How are your franchisees reaching out to this target customer?
Average age of our guests is 37 years old.
Median household income 70K and above.
What are the most important things a prospective franchisee or employee should know or be prepared for when entering the sports bar industry?
Highly competitive and complex business to operate.
How do you keep ahead of the curve when it comes to competitors?
Top flight operations and marketing with multi-level support both from corporate support and Area Developer support.
Where do you see the Tilted Kilt going in the next five years?
250 to 300 pubs across North America.
Strong growth internationally.
Are there any changes you foresee in your industry?
Government regulations including health care and minimum wage laws.
Craft Beer rapidly growing part of the business.
What are some common characteristics of your top performing franchises?
Strong Management in the day to day operations.
Strong local marketing efforts by franchisee.
What kind of training and support can your franchisees expect to receive?
Multi-level support from both corporate field staff and area developers in each state.
Full training to open the pub included in the franchise fee.
What kind of work background or skills set are you looking for in a franchisee?
Highly capitalized and franchise and restaurant background.
What are your growth plans for the Tilted Kilt? Which geographic markets are you targeting for expansion?
Northern California, Northwest states, Southern Florida, Northeast from DC to Boston.
What type of area development opportunities are available?
None.
Is there anything else you wish to share about the Tilted Kilt?
World Class Entertainers which are our Tilted Kilt Girls.
Massage Envy Franchise
The pioneer and national leader of affordable and convenient Total Body Care services is seeking to expand its nationwide presence. This unprecedented growth campaign makes now the ideal time to open a Massage Envy.
Dickey's Barbecue Pit Expands in Virginia
(Alexandria, VA) Dickey's Barbecue Pit is expanding in Virginia with a new two-store development agreement. Currently the state boasts nine Dickey's locations with more in the pipeline. Owner/Operator Rufus Littlejohn will first take over ownership of the Centreville store by Fall 2016, then plans to build a new store in Northern Virginia.
Interview with Tim Courtney, CruiseOne's Director of Franchise Development
Founded in 1992, the CruiseOne franchise is now one of the leading travel retailers in the country. As part of World Travel Holdings (WTH), CruiseOne maintains its position as a premier vacation supplier, providing millions of people access to the world's most fascinating destinations through its 775 franchise owners. This year, Entrepreneur Magazine named CruiseOne one of its Top 50 franchises, out of over 4,000 operating franchise systems worldwide.