| | |
| --- | --- |
| | $70,000 |
| Net worth required | $250,000 - $1,000,000 |
| Investment | $200,000 - $400,000 |
| | $30,000 |
| Royalty | 6.0% |
| Offers Financing | Yes |
| Units in operation | 260 |
| Founded | 1981 |
| Franchising Since | 1981 |
Own a TCBY Franchise - Questions & Answers
What is it?
Stands for The Country's Best Yogurt - A frozen yogurt franchise operating for over 40 years
Offers multiple layouts from traditional to a low cost kiosk
Yogurt flavors and toppings are both indulgent and healthy
FranchiseHelp 2019 Top Established Franchise award winner
How does it make money?
Sales of frozen yogurt, toppings, and other merchandise
Who is it for?
Those who are passionate about the frozen yogurt business
Low cost of entry and easy on-boarding process
What would you do as a franchisee?
Work with TCBY to follow the established business model for success
Create a clean, easy and fun environment for TCBY customers
Hire and manage staff if necessary
TCBY
The Country's Best Yogurt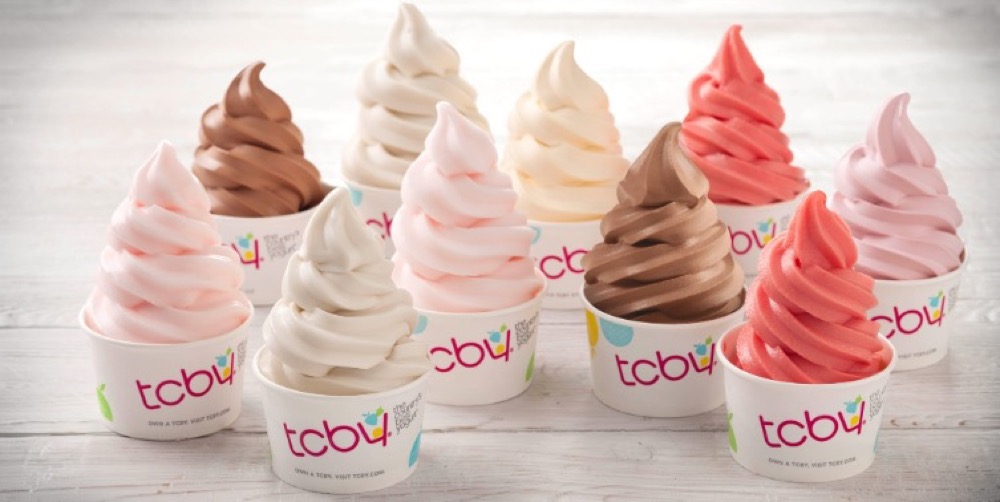 Our name stands for The Country's Best Yogurt. That sentiment was true back when we started in 1981, and it's still true nearly 40 years later. TCBY continues as the frozen yogurt category leader in the $8 billion "FroYo" industry, with an impressive brand awareness that's over 90%.
And TCBY isn't just about making great frozen yogurt (although we do!); we also believe it's our job to provide franchisees with the infrastructure, resources, and industry experts to help them open and operate a successful business that will bring them joy for years to come.
The first powerhouse brand. Loved by customers for 36+ years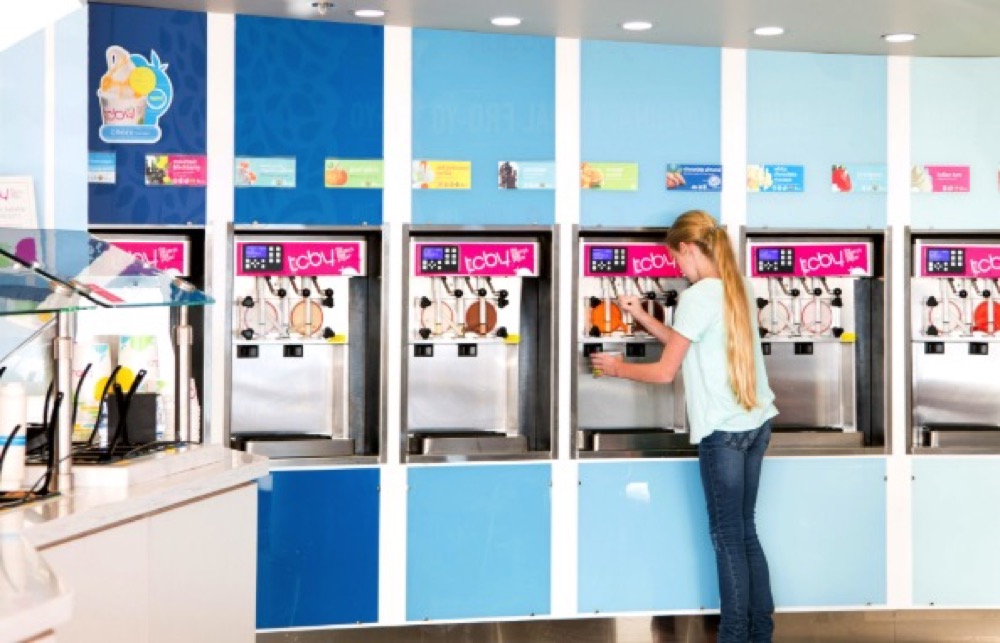 About Us
Outpaces all frozen yogurt brands in consumer awareness

Has the highest positive brand impression among its competition

Is the most frequently visited frozen yogurt store

Flavors and toppings are celebrated by customers as indulgent and healthy

Did you know?
79% of the US population prefers frozen yogurt before ice cream

90% of Americans regularly consume frozen desserts

We believe that frozen yogurt should be everywhere. So we've made it possible for a TCBY to go anywhere.
Counter Service: Our original concept offering the full frozen yogurt treat menu with indoor seating and drive thru options available.

Self-Service: An interactive experience where guests create their own unique treat from a wide selection of flavors and toppings.

Non Traditional: Captive audience for customers on the go, flexible size and design to meet the needs of unique locations (ex: airports, convenience stores, universities, etc).

Kiosks: The perfect size, for any space. Turnkey, low maintenance, construction project (ex: malls, outdoor shopping complexes, etc).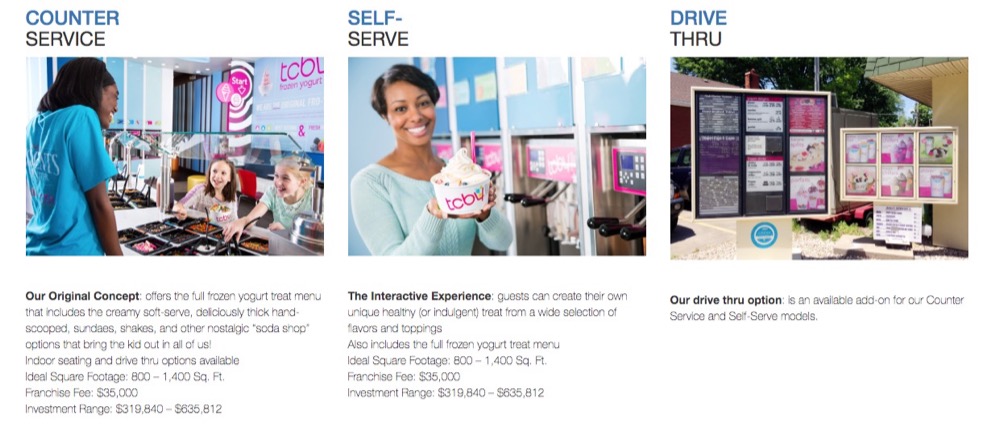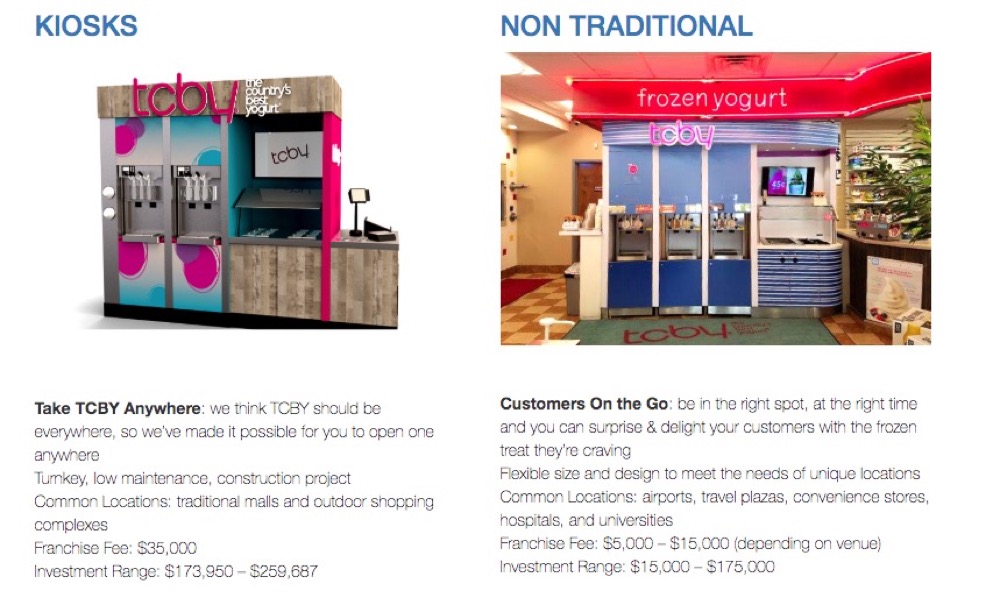 With our low cost of entry and easy on-boarding process, operating your own TCBY franchise is easy, clean and fun!
Testimonials - Why Us?
"I grew up loving the product and the brand. When the one near my house closed, I remember being very upset and realizing that others in the community were equally upset. Once we moved to the Charlotte area, I thought it would be an excellent time, climate, and customer base (a melting pot of people from all over) to bring back the brand better than ever with the new self-serve platform." - Samuel and Rubina Batt

"The TCBY Brand. We grew up with TCBY in Nebraska and have fond memories of it. We also love the quality and flavor of the product as well as its healthy benefits. It is a product we can be genuinely passionate about promoting and feel good about offering to our family and friends. The operational knowledge and experience of TCBY was a key factor as well." - Mike & Sue Murtaugh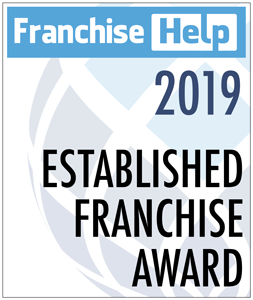 This offering is made by prospectus only.

Is this your franchise?
Contact us to unlock your franchise's page to add content and get leads!