Franchisors & Private Equity Firms, Part 1: A Primer On Exponential Growth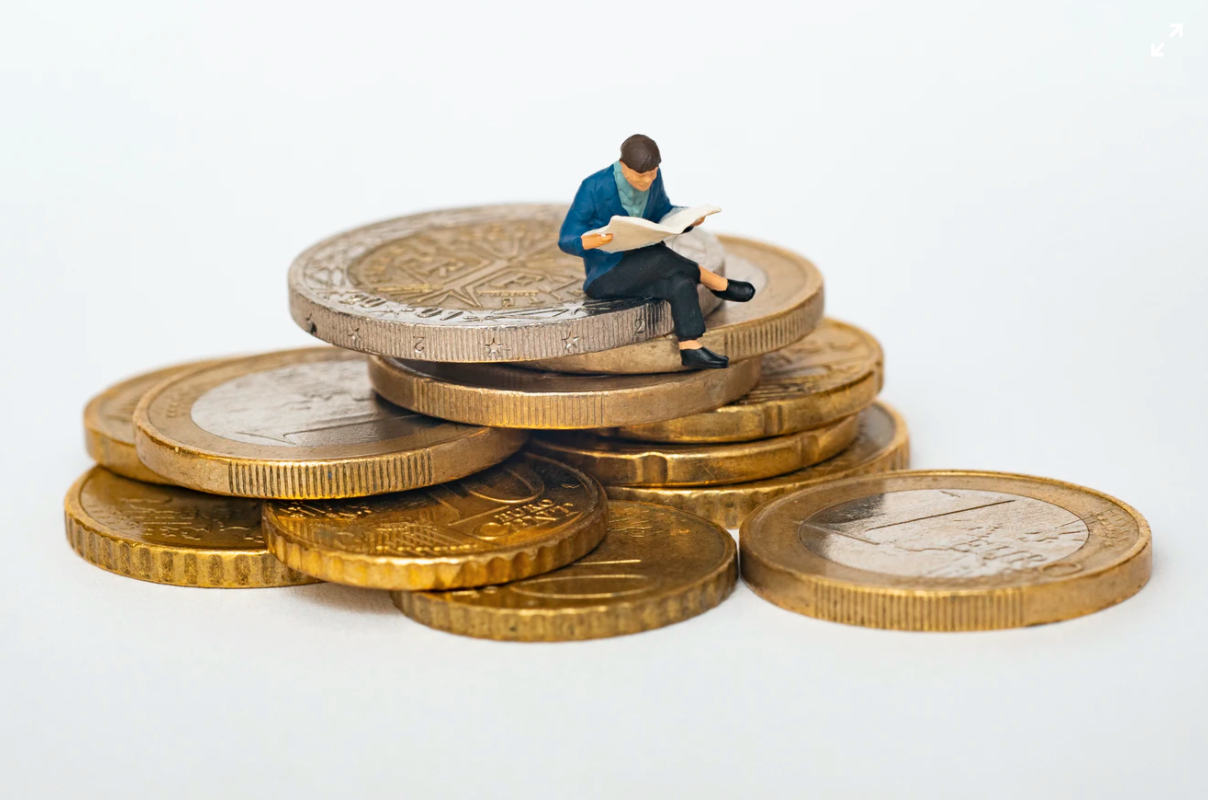 For the last decade or so, we've been seeing more private equity firms aggressively entering franchising.
For those of you who attend the IFA conferences like we do most years, there have been more and more sessions and workshops about how private equity plays a role in franchise growth.
It's official, private equity firms like franchises. Not all firms and not all franchises, but the wave of funds being put behind multi unit concepts is undeniable.
We've seen notable franchises like Jamba Juice, Sonic, Zoes Kitchen, CorePower Yoga and Whataburger attract new investors from this financial pool.
It all goes back to one of our five pillars of profitable franchises. If an emerging franchisor has strong unit economics, repeatable operations, scalable supply chain, a solid executive team and a positive brand reputation, bringing on outside capital via private equity could be a huge growth strategy.
In this piece, we're going to give you a primer on the relationship between private equity and franchising via several of our top industry resources to expand your learning. This will set the stage for our forthcoming pieces in this love story series about documentation, cleanliness and other key tactics.

Ultimately, you'll be equipped to set your franchise up for success if and when the time comes to bring on outside capital.
The Basics of Private Equity
There's an article we often refer our clients to from FranchisingUsa Magazine. This piece, written by Bill McPherson, summarizes several key points that we couldn't have written better ourselves.
Here are the highlights, but we encourage you to read the whole piece entitled, What You Need To Know About Private Equity In Franchising:
Across the franchise space, private equity firms are picking up steam, buying controlling interests in franchise organizations, infusing them with a quick burst of capital and fresh leadership, then turning them around for a profitable sale. The benefits can be extremely tempting for franchisors, especially for brands with troubled histories, like bankruptcy or chronic lack of growth.
Done right, partnering with private equity to access additional capital and leadership can benefit a franchise brand. But done wrong, it can hurt a brand and its franchise owners. Regardless of the industry, when private equity enters a franchise, company culture can change almost overnight. That's because some private equity firms aren't in it for the long haul. Private equity's goal is often to improve the bottom line, sometimes at the expense of staff, programs and franchisee support.
The right private equity partnership can benefit a franchise, giving it the capital to launch new products, services or marketing campaigns or adding management with high-level experience in the market space. Having a longer term private equity relationship in place makes it less likely that the strategy will be to gut programs for a fast, profitable sale.
Make sense? Great.
Let's move onto another helpful resource from Forbes.
Next, we recommend you read an outstanding article called The Impact of Private Equity on the Franchise Industry by Steven Beagelman. His review explains how the capital infusion private equity brings to the franchise industry is an exciting way to grow for many brands, so long as they're willing to open themselves up to outside influence.
A few key points from this piece:
Brands engage in conversations with private equity when they're in search of a few things, namely, the chance to scale faster than they would be able to otherwise. Private equity provides franchise brands with access to capital, ample resources in the form of vendor relationships and support teams, and the goal of accelerated growth.
Conversely, private equity sees opportunity in the franchising space due to its ability to provide a scalable revenue stream. There are clearly identifiable trends in private equity's preference in franchise concepts. Young but growing brands are attractive to boutique private firms, where fifty units or more seems to be the sweet spot. Larger private equity firms will look for brands to have over one hundred operating units.
Some firms are aligned strategically and may focus on a particular industry – service, retail or restaurant for example. Others may want diversification in their portfolio. You will want to find a partner that fits your model and can help you reach your growth goals in a manner that appeals to you, as well as your preferred level of involvement.
When a franchisor elects to sell a portion of their company to a private equity firm, they'll have a new host of partners to navigate, and people to answer to, as a result. If that's not something that sounds appealing, private equity may not be the best source of capital infusion.
Still with us on this love story between private equity and franchising? Outstanding.
Lastly, we will share one final resource from Franchising.com. Ritwik Donde is a senior research analyst at FRANdata, an industry partner of ours you remember from our spotlight in a previous piece.
In this article, PE Buys Into Franchising: From unicorns to warhorses, M&A is on the rise, there's some fantastic data about private equity and franchising you will love. It proves the trend is legit and on the rise.
Let's start with a few high level bullet points:
Across all transactions and industries (franchise or otherwise), 4,754 deals worth $849.7 billion closed in the first half of 2019.
In the past 3 years, more than $600 billion of capital has been invested into buyout funds.
The number of U.S.-based sponsor-backed companies has grown by 5.3 percent CAGR over the past decade.
More than three-quarters of M&A executives at large private companies, and close to 87% of M&A leaders at domestic PE companies, expected to close a larger number of deals in 2019 than in previous years.
Finally, check out this table. FRANdata's research shows that the number of franchise brands acquired by PE firms rose from 24 in 2012 to 60 in 2018. Over the same period, 87,488 franchised businesses were involved in PE-led M&A transactions.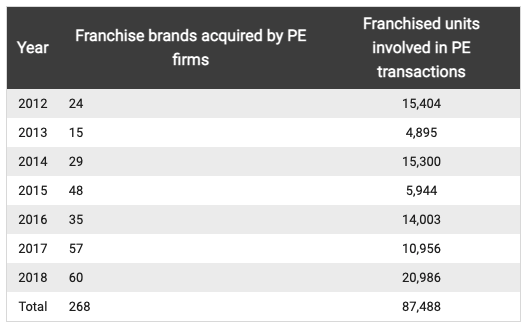 Also, the period since early 2018 has been one for "old warhorses." In 2017, the number of brands franchising for 10 years or more acquired by PE firms was about 64%. That rose to 69% in 2018 and 83% as of Q3 2019.

As you can see from these resources, it's clear that the end game for franchisors in terms of partnering with private equity firms is a trend that's not slowing down anytime soon.
Bottom line: The love story between private equity and franchising is a strong one.
Now, whether or not selling your company to private equity is in the cards for your franchise brand, it's still important to think about strategies like documentation, cleanliness and other tactics for getting your house in order. Because doing so will ultimately make your business more valuable, regardless of whether or not investors buy the company.
In our next post in this series, we'll talk about the value of intellectual property of your franchise operations as a key indicator of sustainable growth. Stay tuned!
Scott Ginsberg is Head of Content at FranchiseHelp. He opened his first bank account in 1992, when he was in 7th grade.
Gmail Killed Our Email Strategy
Last fall Gmail completely destroyed our email strategy. We spent the next 4 months testing and brainstorming our way out of it till now it's stronger than it ever was.