The Pizza Hut Franchise's Crown Crust Pizza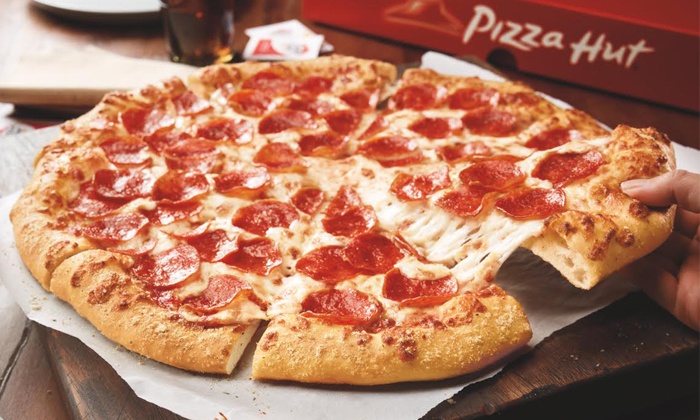 In what may be the single greatest pizza franchise menu addition of all times, the Pizza Hut franchise has released unto its Pizza Hut Middle East locations a calorie-packing double-whammy pizza creation that consists of a crown-shaped crust dolloped with mini cheeseburgers -- the center topped with lettuce, tomato, and some form of "special sauce."
The Crown Crust Pizza may strike U.S. eaters as a truly strange juxtaposition of American fast food staples, but to a foreign audience, it's no less bizarre than piling ethnic entrees from different regions onto a single plate and labeling them by country, as in U.S. strip mall buffets that feature Indian food items side-by-side while those same items may only be eaten thousands of miles apart in their country of origin.
Read more about Pizza Hut's Crown Crust Pizza announcement.
Feel Good Fashion: Apricot Lane
"I know the opportunity to give back will be the most rewarding aspect of this job," said Barnes, who runs the shop with her daughter, Ashley Herrin. " We really look forward to getting involved in the community and making a positive difference."
Apricot Lane Boutiques Offer a 'Mom Moment' in Honor of Mothers Day 2016
VACAVILLE, CA--(Marketwired - April 28, 2016) Owned by moms, wives, sisters and successful businesswomen, the Apricot Lane Boutique franchise has created a foundation, which appeals to mothers and daughters, teens through fifties. The perfect business model for mompreneurs, Apricot Lane owners see a daily balance that includes getting kids off to school each day before opening the doors on their newest 'child', their store. While mothers and daughters team up to shop for their Mother's Day and graduation looks, Apricot Lane Boutique will offer the best trends and styles to help express an individual's personal style.And what better way to find that perfect outfit than by the help of a mother herself whose own mom and mother-in-law enjoy her boutique as much as she does.