The Pizza Hut Franchise's Crown Crust Pizza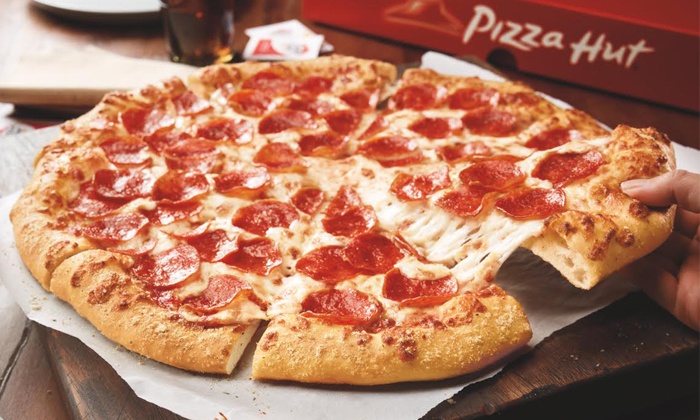 In what may be the single greatest pizza franchise menu addition of all times, the Pizza Hut franchise has released unto its Pizza Hut Middle East locations a calorie-packing double-whammy pizza creation that consists of a crown-shaped crust dolloped with mini cheeseburgers -- the center topped with lettuce, tomato, and some form of "special sauce."
The Crown Crust Pizza may strike U.S. eaters as a truly strange juxtaposition of American fast food staples, but to a foreign audience, it's no less bizarre than piling ethnic entrees from different regions onto a single plate and labeling them by country, as in U.S. strip mall buffets that feature Indian food items side-by-side while those same items may only be eaten thousands of miles apart in their country of origin.
Read more about Pizza Hut's Crown Crust Pizza announcement.
Interview with Tim Courtney, CruiseOne's Director of Franchise Development
Founded in 1992, the CruiseOne franchise is now one of the leading travel retailers in the country. As part of World Travel Holdings (WTH), CruiseOne maintains its position as a premier vacation supplier, providing millions of people access to the world's most fascinating destinations through its 775 franchise owners. This year, Entrepreneur Magazine named CruiseOne one of its Top 50 franchises, out of over 4,000 operating franchise systems worldwide.
GRANITE TRANSFORMATIONS ANNOUNCES FRANCHISE OPPORTUNITIES IN THE RAPIDLY EXPANDING HOME REMODELING SPACE
MIAMI, FL (March 10, 2016) – Granite Transformations, a global full-service residential and commercial remodeling franchise known for their revolutionary, proprietary resurfacing process, is pleased to announce that franchise opportunities are now available throughout North America. With more than 20 years of franchising experience, the company offers a unique and thriving business model that has made its presence known in eight countries on four continents across the globe, with more than 150 franchise locations worldwide, including 74 North American locations.The home improvement business has seen continued growth and success over the past several years, and with a moderate entry-level investment, the opportunity proves to be an enticing venture for prospective franchise owners with a significant potential for profit and future growth.The Granite Transformations story is a rich, centuries-old Italian heritage turned global entrepreneurial dream. The company presents time-challenged and quality-conscious homeowners a premium surface design solution without the demolition hassle of traditional kitchen and bath remodeling. Using an exclusive selection of the highest-quality granite, recycled glass and quartz counter tops and mosaic tiles – all offering a lifetime warranty – its "over-the-top"installation process virtually eliminates the need for demolition, shortening a project timeline and easing the stress and mess of typical home renovations. The product's versatility allows for a wide range of uses and brings added value and growth potential, appealing to both homeowners and commercial businesses alike looking to renovate or build new."Granite Transformations offers one of the most dynamic and fulfilling franchise opportunities in the rapidly expanding home remodeling space," says Andrea Di Giuseppe, International Chief Executive Officer. "Customers are looking to spend wisely and make a smart investment – they want the most attractive, quality, sustainable product, which is exactly what we offer coupled with the fastest install process available to immediately increase home value."With renovations continually on the rise, franchise owners enjoy minimal risk and consistent demand no matter the state of the economy. Homeowners are choosing to renovate the key areas of their homes – kitchens and bathrooms– rather than build or buy new, and their recognition of the value of this important, long-term investment is an undeniable owner benefit.Di Giuseppe continues, "From the very beginning, Granite Transformations has stayed true to its artistic tradition,respect for natural resources and commitment to innovation, and the company is committed to the continuing expansion, growth and success of our franchise system."
Learn How Five Star Painting Franchise Offers Five Star Franchisee Support
We can generate up to 70% of the leads from in house managed campaigns, we have our award winning Sales Support that has proprietary telephone systems to turn leads into set appointments, industry leading pricing for product and proprietary sales, and support software that is proven to close deals and manage your business in the most efficient manner possible. We also have industry lead validation and discovery processes so that our candidate can truly understand our business model and reasons for success.