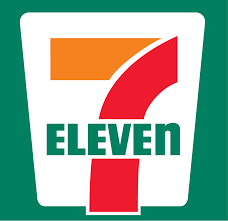 7-Eleven is the largest convenience store brand in both America and worldwide. 7-Eleven stores sell a broad variety of items, with a primary focus on hot food, snacks, and beverages. The franchise chain is widely known for its iconic "Slurpee" and large drinks. Although 7-Eleven is owned by Tokyo-based Seven-Eleven, its headquarters are in Dallas, TX, where the retailer was originally founded. 7-Eleven's corporate strategy is to stay focused on "making life easier" for customers, betting that winning on convenience and simplicity will ensure the company's ongoing success. Despite the "7 am to 11 pm" hours reflected in the franchise's name, the brand has evolved with consumer preferences, and most 7-Eleven stores today are open 24/7. More about the cost of owning a 7-Eleven franchise is below.
| | |
| --- | --- |
| | $50,000 |
| Investment | $69,650 - $1,233,900 |
| | $1,000,000 |
| Offers Financing | Yes |
| Units in operation | 77,346 |
| Founded | 1927 |
| Franchising Since | 1964 |
Own a 7 Eleven Franchise - Questions & Answers
What is it?
Let's be honest - you and I both know that you know 7-Eleven. It's the world's no. 1 convenience store and an iconic global brand
Their franchise system is designed as a turnkey package — combining store, land and equipment — which makes for fast startup (3-6 months)
Single store, multi-store, and business conversion (of an existing convenience store) opportunities are available
How does it make money?
In-store sales of branded and 7-SELECT private label goods
The stores produce revenue 24/7
Who is it for?
A category leader like 7-Eleven is a repeatable business system built to be executed a specific way, not a blank slate for entrepreneurial creativity. The positives are a proven, step-by-step plan, extensive training and support, and built-in brand recognition and customer loyalty. The downsides are limited flexibility and room for individual creativity. So it comes down to what you want in a business.
Ideal for people who prefer a turnkey model, meaning a franchise that is sold to a franchisee as a package, with store, land, and equipment ready for operation
Retail, operations or management experience is a plus
7-Eleven makes special programs and offers available for military veterans
The financial requirements are modest for a retail brand at $50,000 to get started
What would you do as a franchisee?
Execute the business plan, including maintaining relevant licenses
Manage a team of store employees
This is a hands-on business, meaning you would be involved in overseeing day-to-day store operations or a team of managers for your stores
7-Eleven Franchise Opportunities - History
In 1927, Joe C. Thompson, a Southland Ice Company employee in Dallas, Texas, began selling bread, milk, and eggs in addition to ice blocks. Thompson eventually became the president of Southland Ice Company and from there transformed the business into the convenience store chain that is now globally known as 7-Eleven. Southland Ice stores were renamed in 1946 to call attention to their extended store hours of 7:00 AM to 11:00 PM. As the newly reappointed business grew in popularity, 7-Eleven began expanding beyond Texas and out to the East Coast.
Joe Thompson's son, John, became president of the company in 1961 and soon made the decision to begin franchising its stores, and now some 87% of 7-Eleven locations are franchised.
Southland licensed a Japanese partner in 1973, and by 1974, there were 5,000 outlets worldwide. The push into international franchising was a significant success. Unusual for a prominent, U.S.-founded brand, the vast majority of 7-Eleven stores today are located outside of the United States.
Southland Corp. renamed itself 7-Eleven, Inc. in 1999. Today, 7-Eleven's signature products are the Slurpee, an iced drink, and the Big Gulp, a 32-ounce fountain drink cup.
How Much Does it Cost to Own a 7-Eleven Franchise?
Opening a 7-Eleven convenience store franchise costs $47,050 - $1,165,400, depending on the store type, franchise configuration, location, and specific build-out. Royalty rates can vary depending on the franchise type chosen, but unlike most franchise systems that charge royalty as a percentage of gross revenue, 7-Eleven charges a share of the store's gross profit.
There are two franchise configurations that a potential 7-Eleven franchisee can choose from:
The Traditional Individual 7-Eleven Store (single unit franchise option): 7-Eleven procures the real estate, physical building, and equipment for the store, and 7-Eleven or an affiliate leases to the franchisee a fully equipped and stocked 7-Eleven store that is ready to operate. The granting of a franchise to a franchisee does not give the franchisee the right to operate any additional units. In the 7-Eleven franchise program for traditional individual 7-Eleven stores, only single-unit franchises are offered.

The Business Conversion Program (BCP) franchise option: The franchisee is responsible for procuring both the real estate and physical building for a store and pays a different royalty from traditional individual store franchisees.
Is this your franchise?
Contact us to unlock your franchise's page to add content and get leads!