Founded in 1964, Blimpie Subs is the oldest continuously operating sub sandwich chain in the U.S. and known for using top-tier ingredients to make their sandwiches. Blimpie franchisees generally manage the operations of their store, but in some cases may opt for an absentee model. No experience is necessary to own a Blimpie.
| | |
| --- | --- |
| | $100,000 |
| Net worth required | $250,000 |
| Investment | $139,780 - $404,700 |
| | $9,520 - $19,900 |
| Royalty | 6.0% |
| Units in operation | 234 |
| Founded | 1964 |
| Franchising Since | 1970 |
Own a Blimpie Subs® Franchise - Questions & Answers
What is it?
A truly classic brand, Blimpie has been famous for serving up subs with high-quality ingredients since the 1960s
Blimpie is the oldest continuously operating sub chain in the United States
How does it make money?
In-store sales of high-quality, made-to-order submarine sandwiches
Who is it for?
Entrepreneurs looking for a straightforward business model with a famous national brand
Someone willing to make a substantial intial investment
What would you do as a franchisee?
Manage day-to-day operations of the store or hire a manager to oversee operations on your behalf
Promote your business and the Blimpie brand
Blimpie Subs®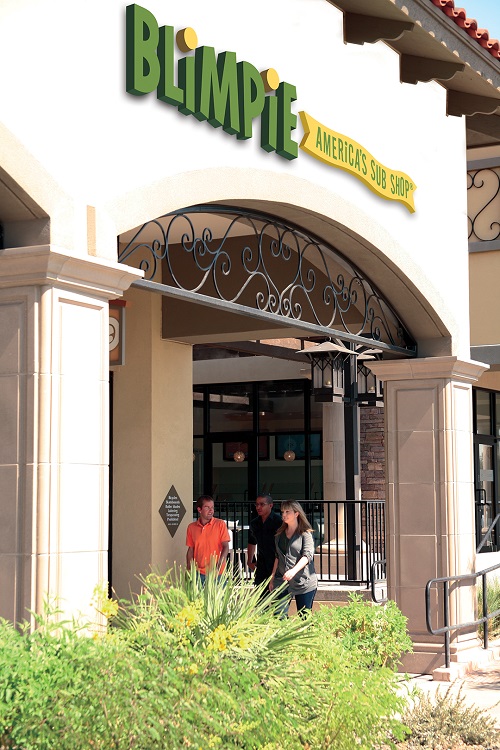 Bigger, Better, Blimpie
Rich History. Rich Tradition. Rich Future. The demand for our flavor-rich, made-to-order sandwiches continues after more than 50 years. Steeped in American Tradition, people continue to flock to their nearest Blimpie® renowned for our commitment to quality food, Always. In 1964, Blimpie founders had a simple idea to be the best: stack freshly sliced meats and cheeses custom prepared on fresh-baked breads right in front of our customers. Today, our menu offerings evolve with consumer tastes but the heart and soul of Blimpie® remains, Great Food!
Why A Blimpie Sub Sandwich Franchise?
It's simple: a tested business model and among the leaders in the industry.
Blimpie is the oldest, continuously operating, traditional sub sandwich restaurant chain in the United States
More than 50 years of experience in franchising and franchisee support
Comprehensive pre-opening business and operations training and ongoing support
Our nationwide brand recognition, decades commitment to quality food, ongoing consumer research & development and marketing expertise help drive customers to your business
There's no cooking or frying and no restaurant experience needed
Third party financing available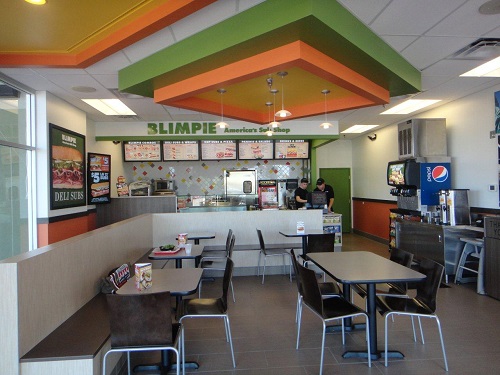 Financial Requirements
Interested candidates should have $75,000 available in order to qualify for this opportunity.
Blimpie looks forward to hearing from you and sharing more information regarding opening up your very own delicious sandwich shop!
Testimonials
"I've been with Blimpie since 1997 and still believe that Blimpie has the best subs! What sets Blimpie apart from other quick-service restaurants is the combination of bread baked fresh daily with meats all sliced fresh to order and exceptional service." Brian Corsetti
"I started working at a Blimpie when I was 15. I've worked at several different Blimpie locations for the past 12 years. When I had an opportunity to buy an existing store, I jumped at it. I knew it would be a good investment. I remodeled the store and couldn't have done it without the training and support from Kahala and my area developer. I love the Blimpie product, and I'm very proud of our fresh slicing every sub and providing the best quality subs and value to my community." Jitin Choudhry
Legal Disclaimer: This is not an offer of a franchise nor is any communication directed by or for Kahala Franchising, L.L.C. (or its agents) to the residents of any jurisdiction that requires registration of a franchise before it is offered and sold in that jurisdiction. No Blimpie® franchise will be sold to any resident of any jurisdiction until the offering has been exempted from the requirements of, or duly registered in and declared effective by, such jurisdiction and the required Franchise Disclosure Document has been delivered to the prospective franchisee before the sale in compliance with applicable law. An offer of a franchise can only be made by a Franchise Disclosure Document. The Franchisor of the Blimpie brand is Kahala Franchising, L.L.C., 9311 E. Via de Ventura, Scottsdale, Arizona 85258. For Washington residents only: Registration Number is: 80029322. For Minnesota residents only: Registration Number is F-7227. ©2012-2013 Kahala Franchising, L.L.C. Blimpie and America's Sub Shop are registered trademarks of Kahala Franchising, L.L.C. All other trademarks shown on this website are the property of their respective owners.
Is this your franchise?
Contact us to unlock your franchise's page to add content and get leads!