College Hunks Hauling Junk
Franchise
College Hunks Hauling Junk is a junk removal, hauling, and full-service moving franchise. College Hunks also offers labor services, storage solutions, loading and unloading support, and donation pickups. The company promises to deliver "Hunks"— Honest, Uniformed, Nice, Knowledgeable, Service. This promise has allowed College Hunks to rise above their competition for over 13 years, leading to 150,000 5-Star Reviews on Google!
| | |
| --- | --- |
| | $75,000 |
| Net worth required | $100,000 |
| Investment | $200,000 |
| | $40,000 - $60,000 |
| Units in operation | 164 |
| Founded | 2008 |
Own a College Hunks Hauling Junk Franchise - Questions & Answers
What is it?
A junk removal and hauling as well as a full-service moving company
Fun, enthusiastic brand with 150,000 5-Star Reviews on Google
Also offers moving services such as packing, supplies, and long-distance hauling
Emphasizes eco-friendly junk removal with 70 percent recycling or donation rate
How does it make money?
In-House Call Center Agents book jobs for franchise owners — yielding over 12,700 jobs a week for owners
National Accounts established by corporate office
Residential junk and moving services paid at the time the service has been completed – no account receivables
Labor-only jobs
Sales of moving and packing supplies
Who is it for?
Manage the day-to-day operation
Work with our coaches to build your business
Hire and manage moving and junk removal employees as needed
College Hunks Hauling Junk
The Country's Fastest-Growing Moving Franchise and Junk Hauling Franchise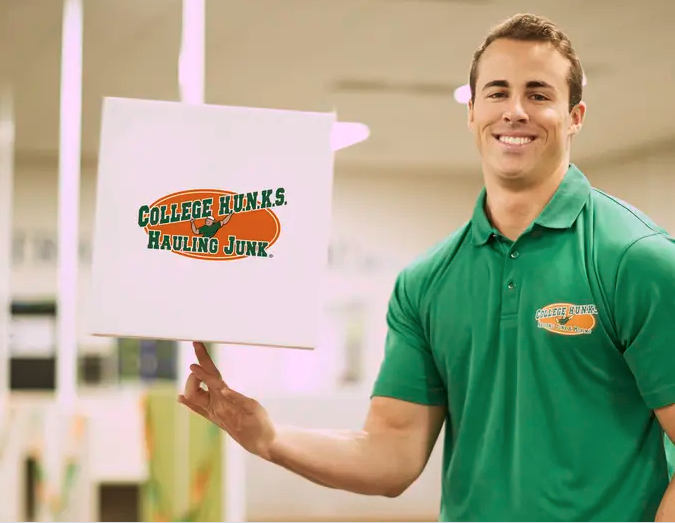 About Us
$1.31M annual revenue. That's the system average for franchise owners that have been in business for at least 1 year. We are a $200,000,000 company with 165+ franchise owners. We have 150,000 5-Star Reviews on Google and are known as a values-based, purpose-driven, socially conscious, tech-enabled franchise that gives owners the encouragement and resources necessary to become financially independent while gaining a greater sense of purpose.
Our in-house, world class call center is currently booking over 12,700 jobs a week for our locations and we incorporate smart technology that allows you to scale your business rapidly. We have world class training and coaching for our franchise owners. No matter what the economy is doing, there is a tremendous need for our services. Last year during the pandemic, our business was up 17% over the previous, record-breaking year and this year, our systemwide revenue is up an insane 80% year over year.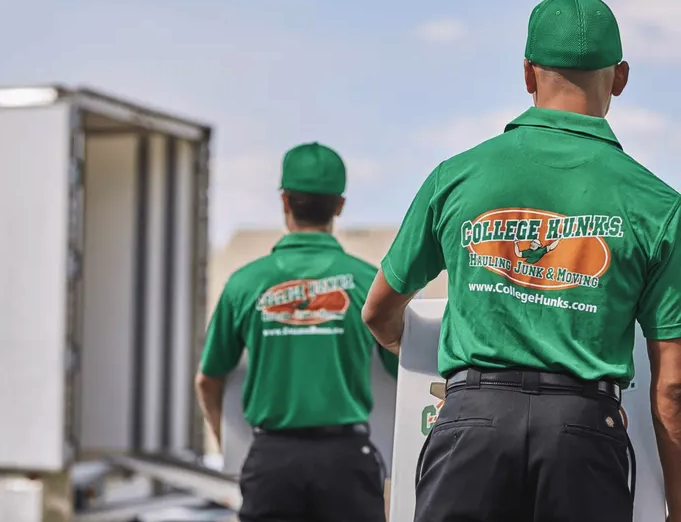 H.U.N.K.S stands for Honest. Uniformed. Nice. Knowledgeable. Service. That's our brand promise to our customers. You may be able to tell from the name, we're a brand that loves to have fun! In fact, creating a fun, enthusiastic team environment is one of our core values! Beyond that, we donate two meals for each job we do to "Feeding Children Everywhere" and during the pandemic, we started offering free moves for victims of domestic violence.
If you're tired of building a business for someone, why not be in business for yourself but not by yourself? We utilize a smart business model to drive our growth, giving you the opportunity to be an executive in your business. So what are you waiting for?
As a Franchisee...
As a College Hunks Hauling Junk franchise owner, you market the business in your community and provide leadership for your teams — you don't spend your time hauling junk or moving couches. Your team handles the heavy lifting, while you teach them business skills and teamwork, molding employees into leaders.
The entrepreneurial culture of College Hunks Hauling Junk — from new employees all the way through to managers, franchisees and corporate staff — is one of the secrets of our brand's growth and ongoing success.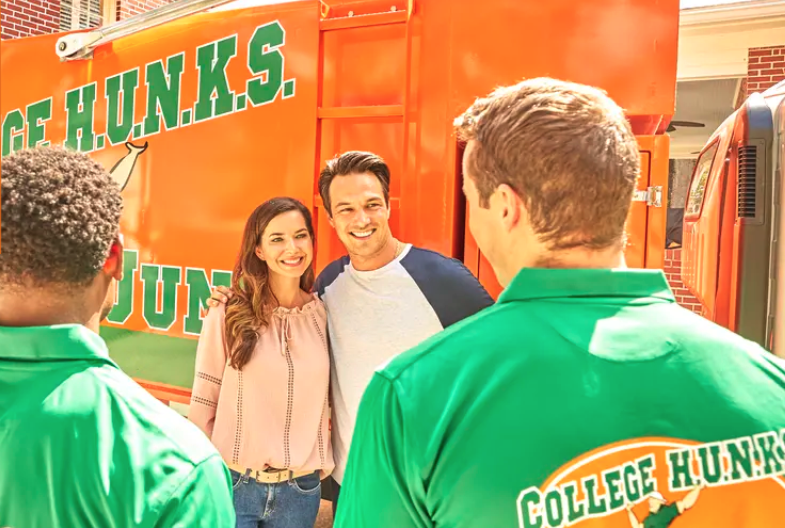 A Brand That Makes People Smile — Service That Keeps Them Smiling
Another secret to our success is our catchy name and bright orange trucks designed to grab attention and make people smile! As an Attention magnet, College Hunks has been featured on The Oprah Winfrey Show, ABC's Shark Tank, CNBC's Blue Collar Millionaires, HGTV's House Hunters, AMC's The Pitch, Bravo's The Millionaire Matchmaker, TLC's Hoarding: Buried Alive, Military Makeover and Fox Business, as well as in The Wall Street Journal, The New York Times, USA Today, Time magazine, The Huffington Post, Forbes, Inc. and more.
Why Us?
Ranked Top 500 Franchises by Entrepreneur magazine — seven years in a row
Brand recognition and national exposure
Detailed and proven marketing plan to help grow your business
In-house Call Center available seven days a week to schedule jobs for you
Hunkware Technology — proprietary software that handles booking, scheduling, and billing of jobs that can be used in the office or on the field through a mobile app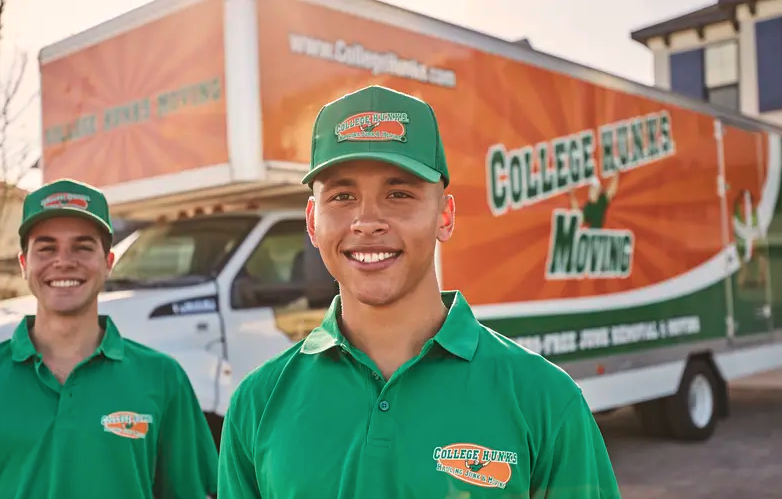 Training and Support
We teach franchisees and their employees traditional and guerrilla marketing tactics to drive customer interest and acquisition. We provide digital marketing to drive customers to franchisees, as well as a national call center to book jobs. This support ensures top-shelf customer service for callers and online inquiries, and allows franchisees to stay focused on building their team and providing "WOW" customer service.

Some top resources you will receive include:
Coaching — College Hunks Hauling Junk provides ongoing coaching to help you improve operations and profitability. Monthly coaching calls, field visits, and momentum groups will give you a chance to learn from your fellow franchise partners in a structured setting.
Our Performance Team is dedicated to the success of our owners. This is the best training in franchising with 10-12 weeks of ramp-up including a 150-point checklist, and weekly calls. Franchise partners should expect to spend one week at Corporate HQ for training and 3 days on-site with a high performing franchise location.
Manuals — College Hunks Hauling Junk franchise owners receive a variety of operations manuals that help build a strong team and a strong business. For instance, our New Hire Manual provides a checklist of topics to cover with new employees to help them understand College Hunks culture and expectations, as well as a list of online resources that new staff should read and training sessions to help them provide great customer service.
Request More Information from College Hunks Hauling Junk Today!
Is this your franchise?
Contact us to unlock your franchise's page to add content and get leads!