College Hunks Hauling Junk
Franchise
College Hunks Hauling Junk is a junk removal and full service local moving franchise. The "hunk" stands for honest, uniformed, nice, knowledgeable, service which is what makes them stand apart. College Hunks also offers labor services, storage solutions, loading and unloading help, and donation pickups.
What industry are you interested in?
Take this short quiz and find the perfect franchise for you to start!
| | |
| --- | --- |
| | $50,000 |
| Net worth required | $200,000 |
| Investment | $89,300 - $208,200 |
| | $40,000 - $50,000 |
| Units in operation | 220 |
| Founded | 2006 |
| Franchising Since | 2007 |
What is it?
Junk and debris removal and full-service moving company
Offers safe, reliable and responsible removal of a wide array of junk at affordable rates
Also offers moving services such as packing, supplies and long-distance hauling
Emphasizes eco-friendly junk removal with 60 percent recycling or donation rate
How does it make money?
Commercial direct billing for contracted junk removal and/or moving-related services
Sales of moving and packing supplies
Residential junk and moving services paid at the time the service has been completed – no account receivables
Who is it for?
Personable franchisees who can establish strong rapport with clients
Someone who seeks a service based business model
Good team leaders who can manage multiple employees and jobs simultaneously
What would you do as a franchisee?
Work with home and business owners to determine junk removal and moving needs
Travel to customers' homes and businesses to provide moving and removal services
Hire and manage moving and junk removal employees as needed
College Hunks Hauling Junk
The Country's Fastest-Growing Moving Franchise and Junk Hauling Franchise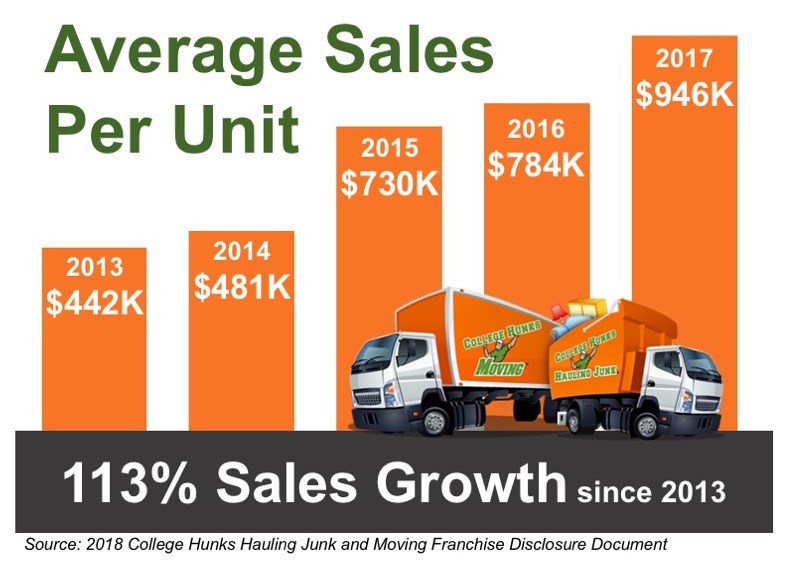 College Hunks Hauling Junk & Moving enjoys strong growth and a thriving entrepreneurial culture
Our Story
With a name like "College Hunks Hauling Junk," it may surprise you to know that the essence of our brand was best illustrated inside a senior living center. In Spring 2014, Cesar Larios, a College Hunks mover and student at The Art Institute of Florida, was inside an elevator with a 79-year-old resident when the elevator got stuck. The resident started to worry — she didn't think she could stand long enough to be rescued. So Cesar dropped to his hands and knees to turn himself into a human bench.
A snapshot was put on Facebook and quickly went viral, warming hearts around the world. We were wowed by the response — but we weren't surprised by the event. Cesar is a great guy, and when he dropped to his hands and knees to offer support, he was doing the very thing that sets College Hunks apart: making a situation that could have been tense fun instead.
About Us
College Hunks Hauling Junk is the fastest-growing junk hauling and moving franchise in America. College Hunks Hauling Junk has been named one the fastest growing companies in America by "Inc." and has made "Entrepreneur" magazine's list of top franchise opportunities for five years in a row and counting.
The growth is driven by a smart business model that allows College Hunks owners to act as executives in their businesses.
FINANCIAL QUALIFICATIONS:
$50,000 available to invest before financing
A net worth of $200,000
Total estimated startup costs range from $89,300 to $208,200

As a College Hunks Hauling Junk & Moving franchise owner, you market the business in your community and provide leadership for your teams — you don't spend your time hauling junk or moving couches. Your team handles the heavy lifting, while you teach them business skills and teamwork, molding employees into leaders.
The entrepreneurial culture of College Hunks Hauling Junk & Moving — from new employees all the way through to managers, franchisees and corporate staff — is one of the secrets of our brand's growth and ongoing success.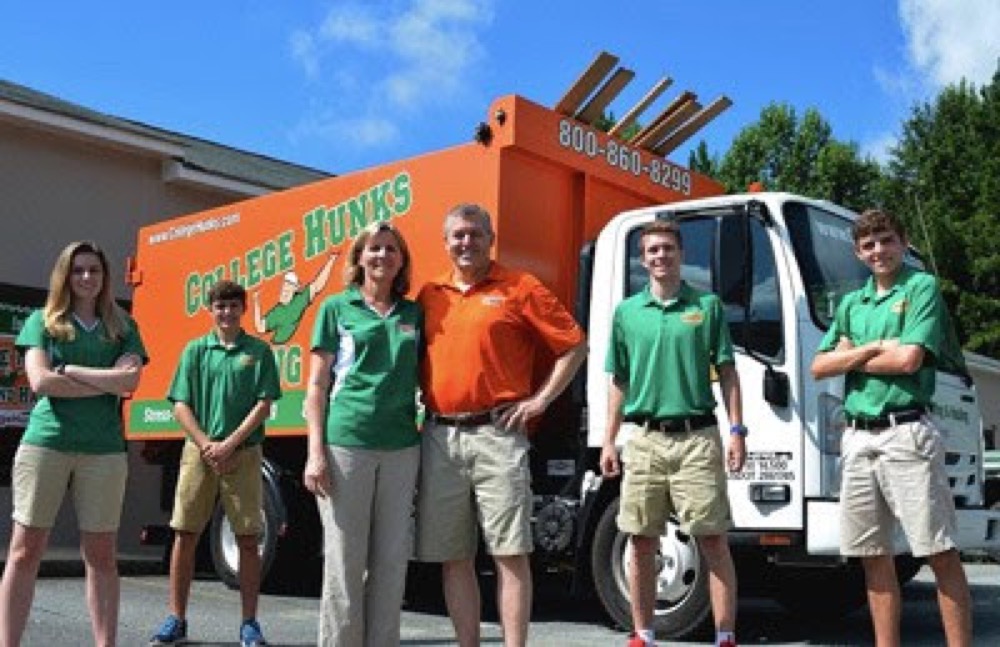 A brand that makes people smile; service that keeps them smiling
Another secret to our success is our catchy name and bright orange trucks, which draw a lot of attention to the brand. We're an attention magnet, with College Hunks franchisees standing in front of their truck customers frequently walking up to franchisees' trucks to learn about the business. We've been featured on The Oprah Winfrey Show, ABC's Shark Tank, CNBC's Blue Collar Millionaires, HGTV's House Hunters, AMC's The Pitch, Bravo's The Millionaire Matchmaker, TLC's Hoarding: Buried Alive and Fox Business, as well as in The Wall Street Journal, The New York Times, USA Today, Time magazine, The Huffington Post, Forbes, Inc. and more.

We teach franchisees and their employees traditional and guerrilla marketing tactics to drive customer interest and acquisition, and we provide digital marketing to drive customers to franchisees, as well as a national call center to book jobs. This support ensures top-shelf customer service for callers and online inquiries, and allows franchisees to stay focused on building their team and providing "WOW" customer service.



See what College Hunks Hauling Junk is saying
Is this your franchise?
Contact us to unlock your franchise's page to add content and get leads!