Diet Center weight loss program options support a healthier approach towards achieving fast weight loss. Our programs combine a winning formula of professional supervision, nutritionally sound products, and one-on-one counseling to help clients shed pounds quickly and healthily.
What industry are you interested in?
Take this short quiz and find the perfect franchise for you to start!
| | |
| --- | --- |
| | $150,000 |
| Net worth required | $100,000 |
| Investment | $104,000 - $183,000 |
| | $26,000 |
| Units in operation | 90 |
| Founded | 1973 |
| Franchising Since | 1980 |
Own a Diet Center Franchise - Questions & Answers
What is it?
Comprehensive weight-loss service offering an array of healthy plans for adult men and women
Emphasizes its ongoing study of the most medically informed diet plans
Offers four specific approaches for both men and women including Diet Fast, Instant Shape Up and more
How does it make money?
Fees paid for subscription to an assortment of proprietary diet plans
Sales of an array of diet-related products such as vitamins, diet snacks and other products
Strong potential for ongoing clients in this rapidly growing industry
Who is it for?
People who enjoy helping others lose excess weight and become healthy and fit
Someone who has knowledge of or passion for good nutrition and healthy eating
Franchisees who seek a home-based business format
What would you do as a franchisee?
Work from home to establish a customer base
Work closely with clients to determine optimal weight-loss plans for them
Actively market and promote the Diet Center brand to attract prospective clients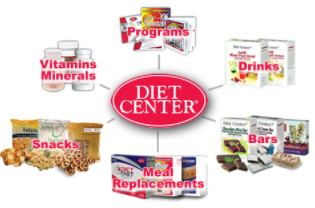 Powerful Weight Loss Diet Products
Diet Center is focused on weight loss program options that support a healthier approach towards achieving weight loss results. We're proud to be an innovative leader in developing new diet products and programs that provide powerful weight loss results. Our programs employ excellent nutrition and behavior management techniques and moderate exercise recommendations to help clients reach weight loss goals quickly.
Diet Center's exceptional line of diet products has been painstakingly developed to complement each of our weight loss programs. While many Diet Center products function as integral parts of our diets, others are offered as tasty, optional, convenient options. Diet Center products are selected to deliver maximum results and are a trustworthy alternative to the more traditional diet products claiming to provide fast weight loss results.
Diet Programs & Kits For Fast Weight Loss Results
In Diet Center's nearly 40 years of operation, over 15 million dieters have turned to us to help support their weight loss goals. Both women and men turn to our programs and products knowing they will receive fast weight loss results and the one-on-one support required to support long-term success. Diet Centers innovative diet programs are available through every one of our centers nationwide.
However, for dieters who may not have a Diet Center conveniently located in their community, Diet Center's weight loss programs are also available on-line. Regardless of the weight loss method selected, Diet Center's experience, knowledge and successful track record are proven to help dieters achieve weight loss success no matter what their weight loss goals or lifestyle.
Why Franchise with Diet Center
1. Strong Marketing Delivers the Brand Message
Since our inception, we've made significant investments in building the Diet Center brand through consistent, targeted marketing and advertising. Our message has been carried throughout our franchise network by franchisees who understand the impact promoting the brand name has on their bottom lines.
Franchisees have access to a fully developed family of marketing materials including brochures, print and newspaper ads, television and radio promotions, and online support. All are professionally designed to reinforce the Diet Center brand, programs and products. All will bring clients to your door.
2. A Diet Center Franchise Can Put You Ahead of the Diet Game With...

An established brand name well-known in the market for 40 years.

Proven weight loss programs developed through years of research and real client experience.

High quality weight loss products and supplements.

The very latest in Laser Body Contouring Technology

Access to professionally produced marketing materials.

Ongoing training and education provided by the Franchise Support Center to keep franchisees on top of the latest developments.

Millions of satisfied clients who know Diet Center programs work.

3. The Name Alone Drives Business Through the Doors!
There is not another weight loss company that stands for weight loss success like Diet Center. The name says it all. With 40 years of experience to back us up, we're the best choice you can make to enter the dynamic, growing weight loss industry. Give yourself the ultimate advantage by considering a Diet Center franchise. You and your clients will be glad you did.
Is this your franchise?
Contact us to unlock your franchise's page to add content and get leads!