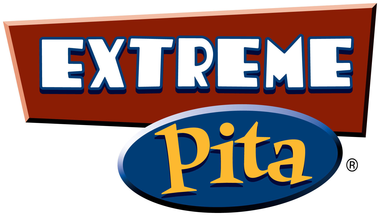 Extreme Pita is fast, fresh, fun and full of flavor. Extreme Pita is a Canadian quick-service food brand serving pita sandwiches, salads, and pizza-style 'flat-baked' pitas. What makes Extreme Pita extreme is its commitment to creating a unique product bursting with ingredients that are healthy and delicious. Extreme Pita will customize any rolled pita to suit individual tastes of health-conscious customers. Whether it's lunch, dinner or a late-night snack, Extreme Pita customers will find satisfaction, with menu items like the Extreme Club, Philly Cheese Steak, grilled chicken, gyros, and falafel, all combined with a choice of vegetables served fresh or sautéed to perfection right in front of them. It's extreme. It's Extreme Pita.
| | |
| --- | --- |
| | $75,000 |
| Net worth required | $125,000 |
| Investment | $154,500 - $266,500 |
| | $20,000 |
| Units in operation | 133 |
The Extreme Pita is a franchise that began operations in February 1997. From its inception, the Extreme Pita has been well received by its customers and has demonstrated an ability to grow rapidly and profitably through the development of corporate owned and franchised restaurants.
It is uniquely positioned in a niche between fast food outlets and healthy eating restaurants. Similar to quick service restaurants, we offer our customers the convenience of providing fast healthy food while avoiding the expenses and delays associated with waiter/waitress service.
One of the greatest strengths of the Extreme Pita is our ability to customize every rolled pita to suit the individual tastes of our health conscious customers. Lunch, dinner and late night offerings include a uniquely fresh and healthy variety of rolled pita sandwiches - 23 pitas on the menu are below 4 grams of fat. Many wonderful menu items such as surf n' turf, tuna, veggie burger, grilled chicken, gyros, and falafel are combined with a choice of different vegetable varieties served fresh or sautéed to perfection right in front of the customer's eyes. In addition to a healthy pita sandwich menu, broad enough to satisfy everyone's taste, the Extreme Pita offers a variety of pita pizzas, fresh salads, soups, and drinks.
Advantages of an Extreme Pita Franchise
The Right Concept - With the saturation of numerous competing hamburger and sub-sandwich chains totaling more than 1,000 units each, Extreme Pita poses an excellent opportunity for growth. People today are turning away from traditional deep fried food and discovering the difference of fresh, healthy food.
Research shows that all age groups are concerned about the food they eat. Everyone wants fast food with a fresh and lighter approach. Extreme Pita's quick service pita sandwich restaurants are meeting all the expectations of today's and tomorrow's consumers that are looking for a quality, healthy alternative to traditional fast food.
Additional Extreme Pita Franchise Advantages:
Store Design & Construction
Training
Marketing & Advertising
On-going Support
Volume Buying Power
Popular Products
Two Sizzling Opportunities!!!!
Become a Franchisee: The Extreme Pita is currently looking for self-motivated, team players to become franchisees in the following areas: Arizona, Southern California, Texas, Virginia, Wisconsin and Canada.
Become an Area Developer: The Extreme Pita is currently looking for qualified individuals throughout North America and over seas to become Area Developers.
Is this your franchise?
Contact us to unlock your franchise's page to add content and get leads!