Ginger Sushi Boutique
Franchise
A flexible-model Japanese fusion cuisine restaurant featuring contemporary design. Ginger Sushi Boutique is the American brand for Sushi Shop, a popular Canadian restaurant concept of Japanese fusion cuisine. Ideal for a business owner with restaurant experience.
| | |
| --- | --- |
| | $150,000 |
| Net worth required | $325,000 - $350,000 |
| Investment | $357,560 - $750,040 |
| | $30,000 |
What is it?
A flexible-model Japanese fusion cuisine restaurant featuring contemporary design
Ginger Sushi Boutique is the American brand of Sushi Shop, a popular Canadian restaurant offering Japanese fusion cuisine
How does it make money?
In-store sale of sushi and other a la carte Japanese cuisine items
Who is it for?
Lovers of sushi and Japanese cuisine and culture
Someone who thrives in a fast-paced restaurant environment
Business owners with some restaurant experience is helpful but unnecessary
What would you do as a franchisee?
Oversee day-to-day operations of a full-service Japanese cuisine restaurant
Hire management personnel, food service workers, and chefs as needed
Create positive, appealing public outreach to create and grow a strong customer base
Our Concept
For us, Sushi is an art and our chefs are passionate about meticulously preparing your sushi only from the freshest and finest ingredients. Chef and Supervisor, Eddie Wong
Innovation

When Ginger Sushi Boutique was created in 2000, the concept was one of the first of its kind. Today, we continue to reinvent ourselves and consistently introduce new and innovative creations.
Our clients can choose from our extensive à la carte menu to enjoy in the Zen atmosphere of our boutiques or to take out. We also offer a wide variety of ready-made combos, made fresh throughout the day for clients on the go.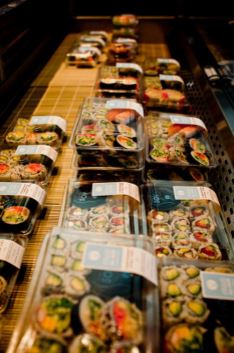 Nutritional Benefits

Sushi is known worldwide for its nutritional value. Sushi is not only rich in vitamins and minerals, but is also extremely high in omega-3 fatty acids, which have been clinically proven to reduce the risk of heart disease and to be excellent for lowering cholesterol.
Our Restaurants
Sushi Shop, Ginger Sushi Boutiques sister company in Canada that Ginger Sushi Boutique is modeled after, was awarded the prestigious Commerce Design Montréal Jury Grand Prize and continues to work in collaboration with the internationally renowned Jean Pierre Viau Design team, to create new designs that lend to a unique and comfortable atmosphere. (500 to 1500 sq. ft.).
Express Counters
Ginger Sushi Boutique can also be found in food courts, office towers, airports and train stations, offering the same complete menu as our dine-in boutiques. (180 to 450 sq. ft.)
Customized Support
The Ginger Sushi Boutique team provides full support to its franchisees in the opening of a new franchise, including drawing up plans, selecting equipment, coordinating and supervising the actual construction work.
We also provide a three week intensive training program, with one additional week of in-store opening support.
Our franchisees benefit from continued assistance from the Ginger Sushi Boutique team with respect to all aspects of operations, marketing and the management of the franchise in order to maintain our highest level of standards.
Marketing
Ginger Sushi Boutique invests a percentage of total franchise sales in corporate advertising and promotion. These investments are made in the interests of all franchises. Each franchise benefits from the professionally planned promotion of our brand image, plus in-store and new product promotions.