HealthyYOU Vending
Franchise
HealthyYOU Vending's internet-connected machines serve healthy snacks and drinks to busy consumers on the go. Stocked with products in the All-Natural, Organic, 0 Trans Fat, and Antioxidant categories, the machines are placed in offices, health clubs, spas, hospitals, hotels, schools & colleges, and more.
| | |
| --- | --- |
| | $30,000 |
| Investment | $30,000 - $225,000 |
| Units in operation | 800 |
"Join the healthy vending revolution with HealthyYOU Vending! The demand for healthy food choices is exploding. We secure your locations. Don't miss this opportunity."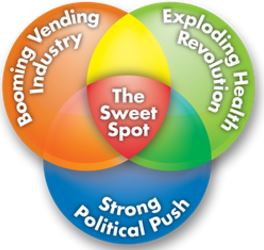 Get in on the Exploding Healthy Vending Revolution! 
It's just getting started, so hold on! More and more people are becoming interested in living healthier lifestyles and are becoming educated about what they should eat. "All-Natural", "Organic", "0 Trans Fat", and "Antioxidants" are the hot buttons of this ever-increasing, high demand market. Now you can be rewarded by filling this need with the HealthyYOU Vending opportunity.
The Health Craze is Only Getting Healthier!
How? Here are the facts:
America is quickly becoming a nutrition-conscious nation because Americans are choosing a healthier lifestyle
Americans are eating healthier at home and are looking for those same healthy options in vending as well
In a recent report, consumption of carbonated, sugared drinks dropped by 2.6% but consumption of flavored and enhanced waters increased by over 30%
Coca-Cola, PepsiCo, Kellogg and other long established companies are introducing new healthy and organic products like never before
Healthy/organic product producers represent the fastest growing segment of the vending product industry
Is this your franchise?
Contact us to unlock your franchise's page to add content, social media, and get leads!