Hounds Town USA
Franchise

For over 15 years, Hounds Town USA has been offering a natural environment for dogs to be dogs, with interactive doggie daycare, overnight boarding, grooming, retail, and a pet taxi. With a simple operation and low investment, Hounds Town USA has had a year-over-year average sales increase of over 35%.
| | |
| --- | --- |
| | $100,000 |
| Net worth required | $500,000 |
| Investment | $263,800 - $422,500 |
| | $45,000 - $120,000 |
| Royalty | 6.0% |
| Offers Financing | Yes |
| Units in operation | 9 |
| Founded | 2001 |
| Franchising Since | 2015 |
Hounds Town USA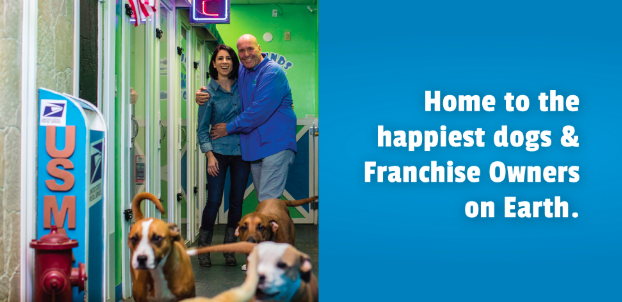 OVERVIEW:
For more than 15 years, Hounds Town USA has offered a natural environment for dogs to be dogs. With interactive doggie daycare, overnight boarding, grooming, retail, and a pet taxi, our unique town is home to the happiest dogs on Earth! But! We have also spent over a decade perfecting our business model! With a staggering year-over-year average sales increase of over 35% we can also claim that Hounds Town is home to the happiest Franchise Owners on Earth!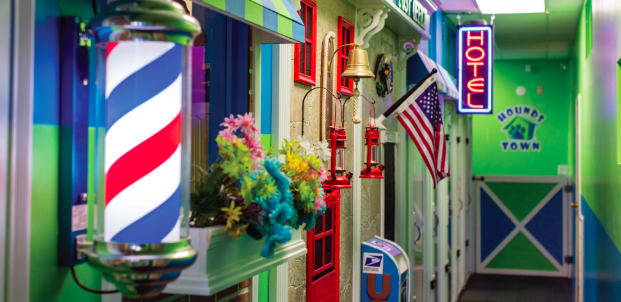 HOW OUR BUSINESS WORKS:
We pride ourselves on providing fully interactive doggie daycare in groups that simulate natural packs for dogs. This optimizes their physical and psychological health and provides the natural structure dogs are unlikely to receive in the home environment. Our program also helps with separation anxiety, confidence building, obedience, and many other behavioral issues. For this reason, Hounds Town USA is home to the happiest dogs on Earth! Our two and four-legged customers love us so much that, since our inception, we have hosted over 600,000 canine visitors!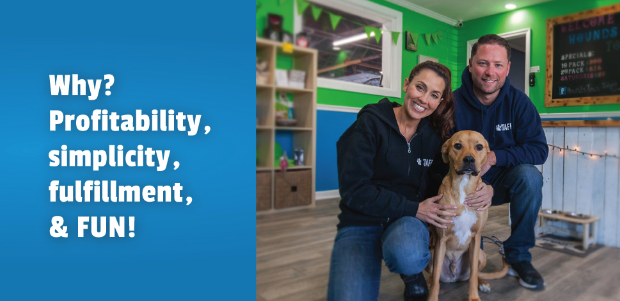 WHY FRANCHISE OWNERS LOVE THE BUSINESS:
Our Franchise Owners love the business, because they want more than just financial success - It's about feeling fulfilled in life! It's about making a difference in their communities by providing services that are superior to anything else out there. Here's some of the other reasons why the love it:
LOW INVESTMENT:

There are some great business models in the pet franchise space, but many of the other highly reputable concepts have an initial investment level around the $500,000 mark. With an initial investment starting at $175,300, we are committed to lower investments and faster ROIs.



OUTSTANDING ECONOMICS:

With several different revenue streams that have gone through 15 years of testing and development, combined with our industry-leading dog behavior training programs, we have created a business model that is highly profitable, and only getting better.



FREEDOM AND FLEXIBILITY:

As mentioned, we believe that in many ways, time is more valuable than money. Hence, we have built a business model that allows our Franchise Owners the opportunity to do more of what they love.



SIMPLE OPERATION:

We have spent years perfecting Hounds Town University, a program which has fully systematized our business model and allows us to quickly teach it to all new Franchise Owners. With only 2-3 employees needed, we carefully created the business model to ensure that simplicity, alongside profitability, are the priority.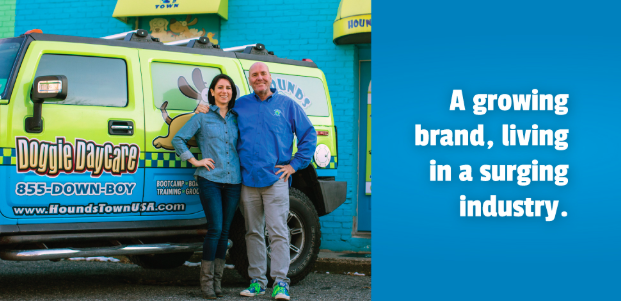 THE ROLE OF THE FRANCHISE OWNER:
We offer two different types of Franchise Ownership models, allowing those who love to be in their business every day the opportunity to do so while also allowing those who have other priorities to operate from a distance.
Owner-Operator - As an owner-operator, you will usually physically present at the store 6-9 hours per day initially. You will be interacting with customers, using the POS system, and overseeing your staff who will be taking care of all dog needs such as grouping, feeding, and grooming. They will also be responsible for all high-level management tasks.
Semi-Absentee - A Semi-Absentee owner will be responsible for overseeing general business operations. They will hire the on-site manager who supervises day to day operations, assist with hiring staff, and oversee marketing and community relations. However, they will not necessarily be in the location everyday to accomplish this.
If all of this sounds like something you would be interested in, you may be just the new Franchise Owner that we're looking for!
Is this your franchise?
Contact us to unlock your franchise's page to add content and get leads!