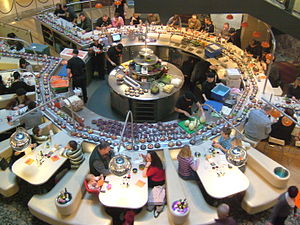 Kaiten Sushi is a Japanese sushi restaurant chain with a Japanese model that sets the pace for efficiency: menu items are placed on a conveyor belt that continuously rotates around the sushi bar, allowing customers to simply reach up and take off the plated items for dining. Kaiten Sushi, in fact, translates to 'Conveyor Belt' Sushi in English. The brand has exploded in Japan and internationally. In addition to sushi, Kaiten Sushi also offers selections of drinks, fruit dishes, desserts and soups on the conveyor belt, and beer and special items can be ordered.
Many brands have incorporated the conveyor belt sushi model in their chains, including regional restaurant companies in Seattle, and even a Chinese dim sum conveyor belt chain. Kaiten Sushi is the original franchise to execute this approach.
Kaiten Sushi Franchise Opportunities – History
The Kaiten Sushi concept was created by the late Yoshiaki Shiraishi, a sushi restaurateur in Osaka, Japan, who couldn't manage adequate staffing for his restaurant and couldn't keep up with customer service himself, so invented the conveyor belt concept after seeing beer bottles on a conveyor belt at an Asahi brewery. Shiraishi opened his first Kaiten Sushi restaurant in Osaka in 1958, and eventually expanded to 250 restaurants in the country. Kaiten Sushi has since spread worldwide, with many franchises taking up the novel concept, thousands of restaurants in all. Kaiten Sushi Franchising, Inc., owner of Kaiten Sushi restaurants, is based in Washington state.
Kaiten Sushi Franchise Cost / Initial Investment /Kaiten Sushi Franchise
Income
Startup costs and franchising fees are not available for Kaiten Sushi restaurants.
Kaiten Sushi Business Opportunities: Other Information
Originally, Kaiten Sushi customers sat around the sushi bar facing the conveyor belt of menu items, but that concept was not agreeable for groups, who wanted to face each other. In response, Kaiten Sushi constructed shop arrangement with tables for group seating, placed at 90-degree angles to the conveyor belt, so that they could still be accessible and face each other in a group arrangement; an innovative response to an important customer issue.
Is this your franchise?
Contact us to unlock your franchise's page to add content and get leads!