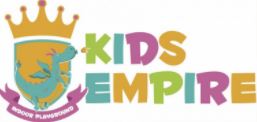 Originally starting in Southern California, Kids Empire has more than 60 theme parks for kids and offers great solutions for after-school, weekend, and vacation fun in a safe and colorful environment.
What industry are you interested in?
Take this short quiz and find the perfect franchise for you to start!
| | |
| --- | --- |
| | $350,000 |
| Investment | $569,850 - $922,000 |
| | $50,000 |
What is it?
Retail fun park franchise for kids and families
Offers large, indoor theme parks with a wide range of fun activities for kids
Kids Empire also offers a café on the premises
How does it make money?
Kids and families pay entry fees to participate in theme park activities
In-store sales of kids and family products and toys
Sales of menu items and beverages at the in-store café
Who is it for?
People who like kids and enjoy helping them learn, grow and develop
Someone who is comfortable working in a fast-paced, high-activity environment
Franchisees potentially interested in opening multiple franchise outlets
What would you do as a franchisee?
Promote and coordinate grand opening of a Kids Empire franchise store
Oversee daily operation of a kids indoor theme park
Hire and oversee management, sales and facilitating personnel as needed
Kids Empire franchise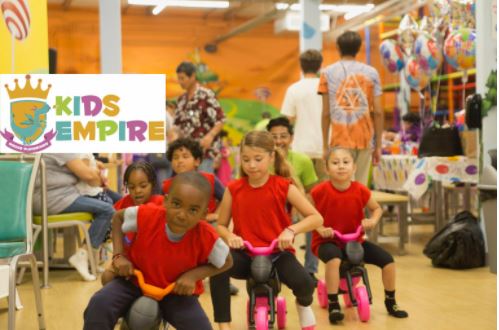 ​
About Kids Empire Franchise
The Kids Empire concept was developed in Southern California. The idea was to develop a model that was unique, fun and affordable so that families from all neighborhoods and all income levels could come have an amazing time with friends and family. The Kids Empire model offers theme parks for kids and offers great solutions for after-school, weekend, and vacation fun in a safe and colorful environment. The company opened its first location in the United States in Southern California in 2016 and is positioned as the prototype to be used as the basis for the children's franchise growth.
Kids Empire (the original, and still existing, parent company) is a unique indoor theme park for children. A variety of obstacles and playgrounds are available in a fun and supervised environment. Kids Empire provides parents with a safe, high quality place for the children to play, explore, and expend energy in a way that is fun for the whole family.
All children visiting Kids Empire are accompanied by adults. There is a café that provides an area where adults can relax and enjoy coffee & food with friends and family. The café provides a wide range of hot and cold food, as well as drinks with both children and adults being catered to. Only food purchased on the premises can be consumed within the unit, maximizing sales from this area and minimizing the potential mess.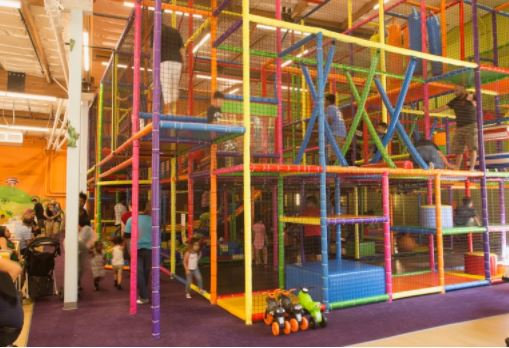 Why Kids Empire and What Makes the Model Different?

Successful Operating prototype
Kids Empire will leverage the incredible success from the corporate Kids Empire location in Southern California. The corporate location has proven to be remarkably capable and produce financials that are generally unmatched in the children's franchise market. Monthly revenues have exceeded $140k on a regular basis and have continued to grow each month.
Operationally sound
The Kids Empire franchise model is operationally simple due to the software and systems in place in addition to low staffing requirements making the model simple and easy to manage on a daily basis. The business should run smoothly with a single capable owner/operator and a small staff to start.
Adaptable Nationally
The Kids Empire model is certainly adaptable throughout the United States and globally – this concept needs to have families with average to above average discretionary income. Most major metropolitan markets have an abundance of these types of suburban markets and will provide ample opportunities both for Kids Empire as a franchise organization and for the Kids Empire franchisees.
Public acceptance
The American public and general perception is that the children's entertainment marketplace is strong and is well received. This movement and historical trend in our country will certainly support the Kids Empire value and business model.
Established sufficiently to be credible
The company and concept are well established to be credible as a franchise offering and, with the experience and previous success of the business leaders and founder, Kids Empire has an initial credibility that other start-up franchises don't have for some time.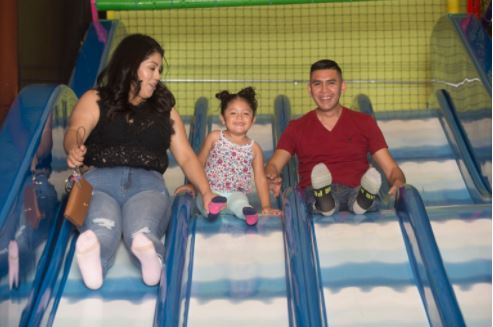 ​
Our Support System
OPERATIONAL SUPPORT

MARKETING SUPPORT

ACCOUNTING SUPPORT

AUDIT SUPPORT

LEGAL SUPPORT

Qualifications for a Kids Empire Franchisee
The best Kids Empire franchisees will be communicators and enjoy working with families and children. Franchisees should be prepared to follow an execute on a defined franchise model that has been proven and documented to replicate success.
Is this your franchise?
Contact us to unlock your franchise's page to add content and get leads!