Mara's Cafe & Bakery Franchise
Franchise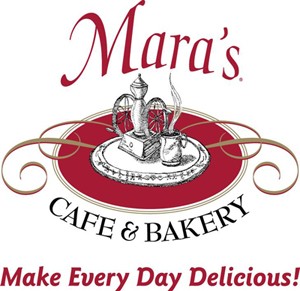 Mara's Café & Bakery is a 'mom and pop' business that aims to create a dining experience for customers that café owners and employees would want for themselves. Mara's has won numerous awards for its dessert offerings and its high quality products facilitate loyal repeat customers. Franchisees receive start-up, supplier, and marketing assistance, as well as space planning and permit assistance.
| | |
| --- | --- |
| | $100,000 |
| Net worth required | $250,000 |
| Investment | $340,000 - $425,000 |
| | $25,000 |
| Units in operation | 2 |
Mara's Café & Bakery is a winning concept, combining all the key elements of a café, including a relaxing atmosphere and fresh brewed coffee, along with the fresh baked goods of a fine bakery. We also have a full menu that features everything from sandwiches, quiches, soups and salads to pizzas, sliders and even a kids' menu full of delicious dishes. Whether our customers want breakfast, lunch, dinner or dessert, we offer something for everyone, for every time of day.
Roasting Great Coffee Daily Mara's Café & Bakery was voted Best Coffeehouse in New Jersey. We offer customers fresh brewed coffee roasted on site daily in our state of the art equipment.
Baking Award Winning Ideas Mara's has won numerous awards for its dessert offerings, including Best Cheesecake in New Jersey. No other restaurant, café or bakery offers quite the variety, quality and ambiance that can be found at a Mara's Café & Bakery.
Mara's Awards and Recognitions
2011 Best Coffeehouse in NJ -NJ Monthly Magazine
2011 Voted Best or One of the Best Bakeries, Desserts, Brunch, Sunday Brunch, Breakfast in the Morris County Area –Daily Record
2011 Best Sandwiches & Gelato, Runner up Best Cakes & Smoothies in Morris/Essex Counties -Morris/Essex Health & Life Magazine
What Makes Mara's Unique?
Award Winning Products
Friendly Staff in Relaxing Atmosphere
Loyal and Dedicated Customer Base
What do I get when I join the Mara's Café & Bakery franchise system? Franchise owners and their key management staff will receive at least two weeks and up to three weeks of training, including both classroom and on-the- job training. Your team will also receive five days of onsite help at your own location around the time of your grand opening. You will have access to all Mara's Café & Bakery trademarks,proprietary products,recipes and supply chains, and our unique operational procedures. And, we'll provide you with a copy of our confidential operations manual to help you run your café properly.
Turnkey, Interior Build-out Program Mara's Cafe & Bakery and F.C. Dadson have created a strategic partnership to work with franchisees to get their locations open for business quickly and cost-effectively.
As part of our partnership, F.C. Dadson coordinates the complete store package. Our program provides brand compliance and construction-related activities. In addition, we supply all fixtures, graphics, signage and other opening supplies required as part of what we call our "store-in-a-box" program. Below is an overview of the program and the benefits we provide to franchisees.
Space Planning: Generate construction documents and a brand-functional layout that promotes traffic flow and workplace efficiency.
Architecture: Develop architectural drawings and mechanicals for permit approval.
Permit Assistance: Obtain permits quickly through a national expediter (optional).
Bidding Program: Obtain a minimum of three contractor bids and review for completeness and to ensure all project aspects are included.
Construction Management Program: Oversee all construction activities to free up your internal resources.
Store-In-A-Box Package: Manufacture your fixtures, graphics, interior signage, décor and source equipment, exterior sign, flooring, and furniture. Coordinate delivery and installation.
Brand Compliance: Ensure build-out adheres to Mara's Cafe & Bakery brand standards.
What type of prior experience do I need to have? We are seeking motivated owner-operators with solid restaurant operating experience to join our system. In exchange, we will provide the tools and training you need to run your own Mara's Café & Bakery location. We do, of course, also expect that you have the right amount of capital to invest in the franchise.
Start-Up Assistance: Our team will assist you in site selection, and our complete store design and set-up process will have your business operating as quickly and efficiently as possible.
Supplier Assistance: You will receive access to our proprietary food product lines and key suppliers.
Marketing Assistance : With the help of our experienced promotional team, Mara's Café & Bakery could soon be the hottest new location in your community.
What is the initial franchise fee? The franchise fee for a single-unit franchise is $25,000. This fee funds our pre-opening support of your operations; including site selection assistance, initial training, and onsite help.
How much is the initial investment? The estimated required investment for a single franchise unit ranges between $345,750 - $446,000. As with any new business venture, it's important that you have the capital needed to adequately fund your new business.
What is the term of the franchise agreement? The initial term of your franchise agreement is ten years, with two subsequent successor terms of five years each.
What ongoing fees are paid to Mara's Systems, LLC? Franchisees will be required to pay royalties of 5% of gross revenues. These fees allow us to fund our ongoing support services and the continued development of recipes/products, procedures, marketing tools, training programs, and systems upgrades.
What about marketing fees? Mara's Systems, LLC will require that franchisees spend a minimum of 2% of revenues on local marketing. Franchisees will also be expected to contribute 1% of gross revenues into the system marketing fund. All collected funds are used to develop marketing strategies to promote the Mara's Café & Bakery brand and fund the creative costs to develop local franchise marketing materials.
The Recipe Card for the Future is In Your Hands Get ready for a fulfilling and rewarding career as a Mara's Café & Bakery franchise owner and start planning for a future that can only be described as deliciously amazing!
With our family-friendly concept and established business model, you can become part of this incredible franchise program. But that's just the icing on the cake! Thanks to our team of business and foodservice experts, customized tools and support and our well-established reputation for simply being the best – the prep work has already been done for you. Take the final step and create a life that is both sweet and satisfying by becoming a Mara's Café & Bakery franchise owner today!
Is this your franchise?
Contact us to unlock your franchise's page to add content and get leads!