Outback GutterVac
Franchise
Outback GutterVac is the new gutter cleaning franchise that is revolutionizing the American gutter cleaning industry. This is an exciting chance to get in on the ground floor of an opportunity that is poised to become the premier gutter cleaning brand nationwide.
| | |
| --- | --- |
| | $50,000 |
| Net worth required | $150,000 |
| Investment | $93,900 - $120,750 |
| | $35,000 |
Own an Outback GutterVac Franchise - Questions & Answers
What is it?
Full-service gutter vacuuming and cleaning business
Also provides peripheral services such as power washing
Serves residential and commercial clients
How does it make money?
Customers pay directly for contracted gutter cleaning and washing services
Also potential for product sales and installation, such as the Outback trademarked GutterRoo gutter guard system
Who is it for?
Someone who enjoys working outside and on homes and buildings
Someone who appreciates providing clean, healthy environments for customers
Franchisees who are comfortable driving a commercial vehicle to work sites
What would you do as a franchisee?
Marketing and promotion to locate home and business owner customers
Travel to customers' homes and offices to provide gutter cleaning services
Hire gutter cleaning and washing technicians as needed
Welcome to Outback GutterVac!
History, Mission & Vision
Outback GutterVac has set its sights on conquering the American gutter cleaning industry and is ramping up for rapid expansion across the United States with plans to open between 30 and 50 new locations in 2016. With a low initial investment, Outback GutterVac is actively seeking entrepreneurs who have a passion for keeping home and property owners healthy in their environments, and who have a desire to improve their lives. Outback GutterVac has ambitious plans to reach between 500 - 1,000 locations across the United States by 2020.
As American home and property owners become more educated about what measures are needed to protect their investments and create sustainable and healthy environments, routine gutter cleaning is high on the list. At Outback GutterVac, our mission is the backbone of our culture and success: "To deliver peace of mind to our clients by utilizing state of the art technology and exceptional people that provide dependable outdoor cleaning services and advice."
"We are working to revolutionize the American gutter cleaning industry," says Gillian Harper, Chief Operating Officer with Outback GutterVac. "We are setting the standards for an industry that is sorely lacking in standards. In every other industry, the American consumer expects to be served by professional technicians who are reliable and dependable, who show up on time and do what they say they are going to do. When combined with our expertise in gutter cleaning and our proven technology, it isn't surprising that Outback GutterVac is being met with such high client satisfaction."
The Outback GutterVac business model is also an easy-to-run business: starting from a commitment to safety that complies with all OSHA requirements for roof and ladder safety, our franchise owners employ one of the most powerful vacuums on the market, the ThunderVac™ Technology Process, which removes debris more effectively than any other cleaning method. Outback GutterVac has made significant investments in technology to make owning and operating an Outback GutterVac as simple as possible.
For starters, the only time our franchisees interact with their customers is on the job site. The Outback GutterVac business support center in Atlanta schedules the appointments with customers, provides the quote and conducts the follow-up call to ensure that the job was completed to standards. Outback GutterVac franchisees are given checklists to ensure that jobs are done correctly, and they are given tools to track their trucks and equipment, collect their payments and provide before-and-after photos so their customers can see the job well done.
Our Core Essence is simple:
Clean.
Safe.
Dependable.
And our Noble Sales Purpose sets us apart:
"We build trust and deliver peace of mind to our clients."
The Opportunity & Industry
The American gutter industry is awash in untrained and uninsured general contractors who earn extra income by offering gutter cleaning. Outback GutterVac is the only brand with the expertise, technology and proven business model to ensure that American gutters are properly cleaned.
"Outback GutterVac is the only gutter cleaning franchise that can offer the level of professionalism the American consumer expects," says Scott O'Hara, Director of Outback GutterVac. "While the ThunderVac™ Technology Process proves the efficacy of what we do … we don't rely solely on the technology. Our people are experts. We are our customers' eyes in the sky. We provide before-and-after photos, not only to prove our work, but also to live up to our polite and professional appearance and demeanor, as well as our code of ethics."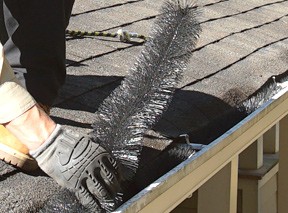 The Outback GutterVac Difference
Before Outback GutterVac, the only way to clean gutters was by slowly and laboriously blowing out leaves or removing them by hand. Outback GutterVac designed revolutionary equipment and, using our ThunderVac™ Technology Process, is guaranteed to remove leaves, mud, sludge, dirt and debris from gutters, roofs and downspouts quickly, safely and effectively. Service can even be performed after a rainstorm when leaves and debris are heavy and embedded.
Outback GutterVac offers some of the most advanced and highest-quality gutter cleaning services available. Our services are convenient, safe and offer tremendous value to our customers while providing our franchise owners with multiple and recurring revenue streams.
Outback GutterVac works on properties of all sizes, residential and commercial, offering a range of effective, comprehensive services. Our franchisees lend their expertise, professionalism and high level of customer service to the following:
Gutter Vacuum Cleaning
Pressure Washing
Catch Basin Cleaning
Minor Gutter Repair
Installation of Gutter Protection Systems
"One of the main benefits of franchising with us is the fact that our business model is augmented by multiple revenue streams," says Allan Young, CEO of Outback GutterVac. "We want our brand to become known as the leading outdoor cleaning specialists. We leverage our expertise to form relationships with commercial property owners, who appreciate our commitment to excellent customer service and doing a peerless job under deadline. In fact, a good portion of our business is derived from commercial cleaning work. We are uniquely equipped to partner with property owners, management companies and large government and education contractors. They want to protect their investments, they want to keep the people who are living or working in their properties safe and healthy."
Territory
Outback GutterVac territories are designed with your success in mind. Territories are comprised of areas that have a minimum of 50,000 households and 5,000 businesses. Territories are designed to be compact so that travel time is at a minimum and you can build strong grass roots brand awareness.
At Outback GutterVac, we work hard to foster a team atmosphere. Because our territories are protected, you will not be competing against another Outback GutterVac franchise. In fact, your neighbor can be a valuable ally in marketing, working events and sharing best practices.
Because of the lack of competition from an industry awash in untrained and uninsured general contractors who earn extra income by offering gutter cleaning, Outback GutterVac is the only brand with the expertise, the technology and the proven business model to ensure that American gutters are properly cleaned.
"There is a reason we spent two years testing the business model in America before we decided to launch our franchising program here," says Allan Young, CEO of Noble Brands (parent company to Outback GutterVac). "We wanted to ensure that the success we achieved in Australia could be replicated here. Once we discovered this was the case, we wanted to ensure that we put our focus on franchising with the right people. Ideally, we are looking for people who want to grow from one truck into owning multiple trucks and territories. We want passionate entrepreneurs with the desire to make a terrific life for themselves, to own and build a great business, and to help us grow our brand to the level it deserves."
Congrats – we look forward to you joining the team!
Is this your franchise?
Contact us to unlock your franchise's page to add content and get leads!