Since opening its first store in 1975, Pinch A Penny has become the largest franchised retail pool, patio and spa company. Pinch A Penny strives to be unrivaled in providing value, quality and service to their customers, which is how it's expanded to over 235 locations and counting.
| | |
| --- | --- |
| | $50,000 |
| Net worth required | $200,000 |
| Investment | $230,000 - $350,000 |
| Units in operation | 240 |
| Founded | 1975 |
| Franchising Since | 1976 |
What is it?
Swimming pool sales and service
Pinch a Penny offers a large array of pool equipment, accessories, treatments and services, as well as expertise
Features its stand-apart depth of knowledge of all things about residential swimming pools
How does it make money?
Sales of swimming pools, accessories and treatments
Pool servicing for residential customers
Online sales of chemical treatments for ongoing customers
Who is it for?
Water lovers who enjoy a dip in the swimming pool
Someone with experience and knowledge of residential swimming pools and their benefits and care
Franchisees who seek opportunity in a tried-and-true industry that Americans love
What would you do as a franchisee?
Manage sales of swimming pool products, accessories and service
Hire and assign pool technicians as necessary
Work with residential repeat customers in determining their ongoing needs
Educate customers on best care and stewardship of their pools
With average unit sales of over $1,000,000* you can take care of your family's future while helping other families take care of their pool!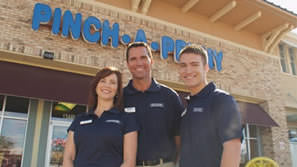 Should You Own A Pinch A Penny Franchise?
Set Your Sights On Joining The Leader
Unlike some franchise opportunities you may have researched, Pinch A Penny has one simple offer. We invite you and your family to make a positive lifestyle change and begin working with us. You'll have all the advantages of working with the world's largest franchised pool and spa care company.
Our history speaks for itself. We've grown from one store in 1975 opened by Founder Fred Thomas, to an entire network of stores in the Southeastern U.S., which are now directed by Fred's son, John Thomas. And we're still growing in leaps and bounds due to our diligence in helping franchisees grow their sales and profits. As you'd expect from a family approach to business, we're there each and every step of the way. We train you. Encourage you. Advise you. And give you the resources you need to carry on the Pinch A Penny tradition of quality, reliability and expertise in a fun, family-oriented atmosphere. This information is designed to answer questions you may have before joining our successful Pinch A Penny family and to help identify if this opportunity is right for you and your family as well.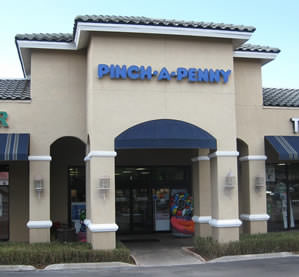 Is The Market Growing?
After four decades of continued growth in Florida and the surrounding states, Pinch A Penny is bringing its pool care expertise and service to the growing markets of Mississippi, Louisiana and Texas. These markets, like Florida, have large populations of pool owners who will enjoy the benefits of the selection, expertise and service offered by a locally owned Pinch A Penny franchise. Combine the strong population growth in these states with a climate ideal for poolside living, and you have a strong potential for great returns on your investment.
How do we know? Because we've done our homework. It's also reassuring to consider that pools and spas need continual maintenance. So not only are these markets growing, but those pools and spas already in place provide a solid base for business.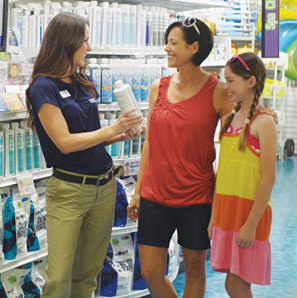 Do Consumers Like Shopping At Pinch A Penny?
Pinch A Penny is based upon a unique and proven concept - provide an extensive line of pool and spa care products and the expertise to use them wisely. We don't just ring up purchases. Instead, we're a source of advice many pool owners quickly come to rely on.
Pinch A Penny stores offer one of the most complete lines of pool chemicals, maintenance equipment, and parts and accessories available anywhere, which gives franchisees a competitive advantage. Combine this with top-of-the-line patio furniture, games, toys, floats, grills, above-ground pools and more, and consumers have a one-stop resource for anything and everything they need for pools and spas.
During warmer months, business increases dramatically and store owners must put in long days to properly service customers' needs. As in any well-run retail business, you must also attend to the demands of ordering, stocking inventory and housekeeping.
An Education In Success
We don't just run you through the basics and leave you to learn on your own. You'll be required to undergo up to four weeks of training on virtually every aspect of pool care. Only then can you confidently and thoroughly serve your customers. Plus, we offer on-going training opportunities for you and your associates.
Our primary training courses are conducted at the Pinch A Penny Corporate Headquarters in Clearwater, Florida, by some of the industry's most knowledgeable experts. Our Training Coordinator is a Certified Pool Operator Instructor recognized by the National Swimming Pool Foundation and Certified Aquatic Facility Operators.
Your Training Coordinator will leave no stone unturned. After all, the more you know about what you sell and why you sell it, the more valuable your business will be for both you and your customers. In fact, we've found the key to any franchisee's success is the ability to develop a loyal customer base through such extensive knowledge and customer service, which is unmatched by your competitors.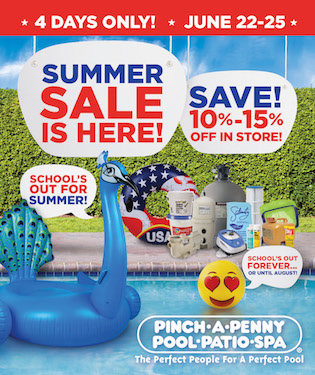 Advertising Designed To Get Results

While referrals are important, we would never expect you to rely on just that or self promotion to make your franchise work its hardest. We have an entire staff of advertising professionals who create national-caliber, targeted advertising campaigns to promote the Pinch A Penny brand.
Our award-winning efforts have helped foster our expert reputation in the minds of our target audiences. And we have one of the most sophisticated pool owner databases to make sure we're getting our message to the right people.
Where Do I Get My Merchandise From?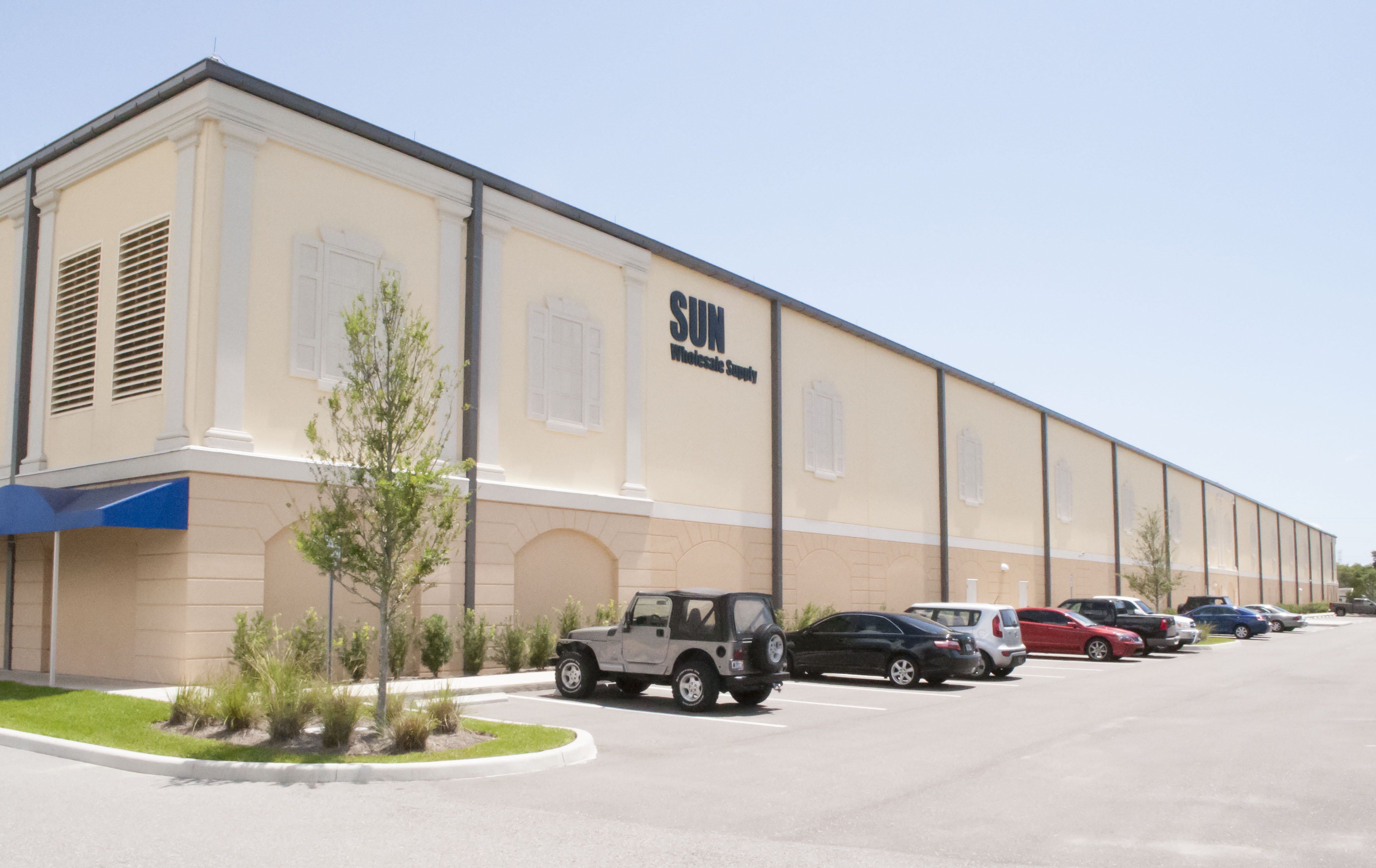 Most of what you'll sell can be ordered through an affiliated central distribution facility in Clearwater, Florida. Stores receive deliveries on a regularly scheduled basis. Even in transit, we're promoting the Pinch A Penny name through image advertising on our trucks that travel throughout the Southeast.

Ideal Candidate
Pinch A Penny stores are owned and operated by families who live in their community. Franchise opportunities are currently available in many southeast markets and we're always ready to add good people to our family of over 235 locally owned Pinch A Penny stores. With a comprehensive training program we teach you how to help your customers take care of their pools. All you need is the desire and drive to offer unparalleled customer service which is what our customers have come to expect when they shop at their local Pinch A Penny store. $200k minimum net worth required to apply. Owning another business automatically disqualifies an applicant from buying a Pinch A Penny franchise.

*For the year ending December 31, 2016, Pinch A Penny had 231 stores open. Of the 231 Pinch A Penny stores, 223 were open the entire year. Of those open the entire year, 120 (53.81%) exceeded $1,000,000 in sales, 88 (39.46%) exceeded average sales volume of $1,184,911, and 201 (90.13%) provided pool maintenance services. There is no assurance, however, that you will do as well.

See what Pinch A Penny is saying
Is this your franchise?
Contact us to unlock your franchise's page to add content and get leads!