Planet Smoothie
Franchise
For nearly two decades, Planet Smoothie has been one of the most innovative smoothie franchises in the world. With more than 100 stores throughout the United States, the brand is known for real fruit, flavorful add-ins, and health-boosting blasts that customers make a part of their everyday routine. For owners, all blending with zero cooking means lower startup, operating, supply, and staffing costs than traditional food-related franchises.
| | |
| --- | --- |
| | $100,000 |
| Net worth required | $150,000 |
| Investment | $122,150 - $327,550 |
| | $25,000 |
| Royalty | 5.0% |
| Units in operation | 136 |
| Founded | 1995 |
| Franchising Since | 1995 |
Own a Planet Smoothie Franchise - Questions & Answers
What is it?
Smoothie franchise known for real fruit, playful add-ins, and healthy protein & immune-bolstering blasts, with a simple business model built for lower costs & multi-location ownership
Because smoothies are blended to serve, Planet Smoothie can accommodate particular flavor combinations, allergies, vegan diets, and other requests
FranchiseHelp Top 20 Franchise award winner in 2019
How does it make money?
Revenue comes from on-location sales of smoothies to customers, available morning, midday, and afternoon
Who is it for?
Aspiring owners with an engaging personality and a drive to give consumers a healthier option
Someone who wants to enter the food franchise industry without paying enormously high entry costs
Entrepreneurs seeking a concept that encourages successful owners to grow to multiple locations
What would you do as a franchisee?
Manage the daily operations of your first store, and later hire managers who can oversee stores on your behalf should you choose to open multiple locations
Hire and train employees and management personnel
Follow Planet Smoothie's step-by-step playbook to forge community partnerships and grow your customer base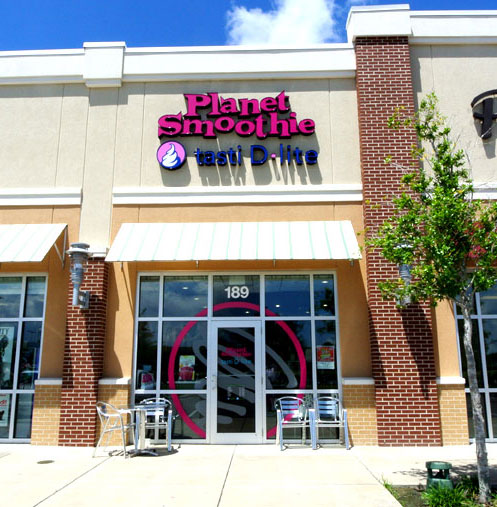 About Planet Smoothie
Demand for smoothies is on the rise. As Americans have grown more health- conscious, they are looking for food options that are both healthy and convenient, and smoothies are a great combination of both. The smoothie market hit $2.4 billion in 2011 — nearly doubling over the previous five years — according to research by Mintel Intelligence Group.
Planet Smoothie has helped lead the growth. Our first store opened in Atlanta in 1995, and we quickly grew into a dominant smoothie brand in the Southeast. We now have more than 100 stores.
Planet Smoothie is known for its healthier ingredients, sweeteners and supplements. We use real fruits and vegetables in our smoothies, and we also have our own line of supplements to provide more vitamins, boost protein, accelerate fat burning, improve alertness and help customers achieve their goa ls. We also offer the best-tasting smoothies on the planet! Our franchise owners have helped customers learn that "healthy" can also be "tasty."
In 2015, Kahala Brands acquired Planet Smoothie, and our leadership team — which consists of franchise executives who have successfully launched more than 2,000 franchise stores for brands including Cold Stone Creamery, Yogen Früz, and Blimpie — had an immediate positive impact on the brand. Our President and CEO, Michael Serruya, started his career in franchising with the International Franchise Association, where he gained broad insight into the best practices that have made franchising such a powerful vehicle for success. Those best practices are now helping drive sales for our franchisees at Planet Smoothie.
Smoothie franchise: a lower-investment food franchise
Planet Smoothie is far more affordable than most food-related franchises, with lower startup costs, lower operation costs, less spoilage and simpler staffing. Many food concepts can cost $1 million or more to open and can require dozens of employees, but the startup costs for a Planet Smoothie franchise range from $91,600 to $384,500, depending on whether you open an alternative, kiosk-style location, a traditional shopping center location or a dual-branded store with Tasti D-Lite®.
Smoothies are simple to prepare — it's all blending, no cooking — so training new employees is a breeze. That makes it much easier to scale your business as it grows. The simplicity of the business model also makes it easier to manage. That helps you as you master your new smoothie franchise, and when you are ready to expand to a second, third or ninth location, that simplicity will make it easier for you to hire general managers.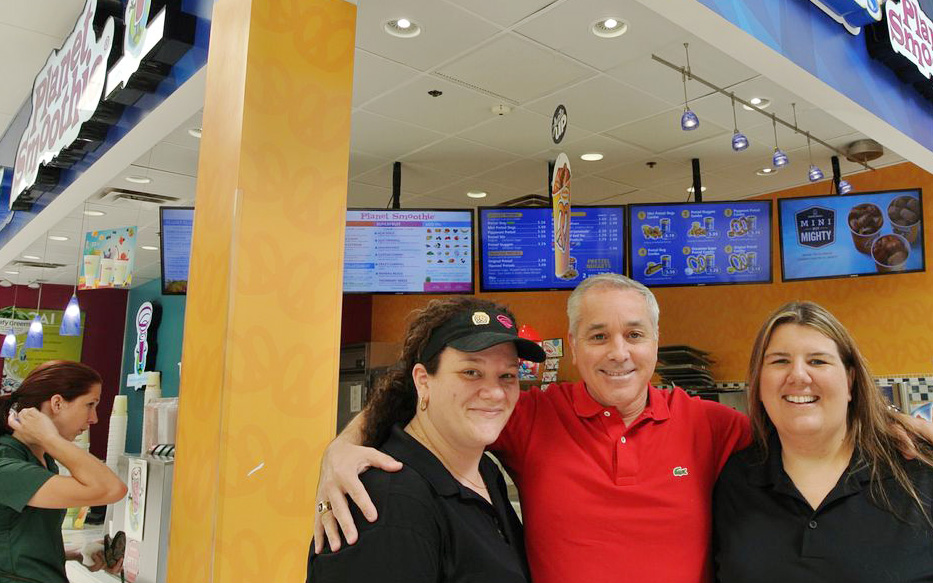 Who Make a Great Planet Smoothie Franchisee?
A Planet Smoothie franchisee should have an outgoing personality and a desire to provide customers a healthier option. You should also enjoy going out into the community to meet new people and let them know about your store. Building partnerships in the community is key to growing revenue for your store. We provide a detailed game plan to help you build awareness, and executing the game plan can be half the fun of owning a store: You get to be the person who makes the community a little bit better and a little bit healthier, and communities love that!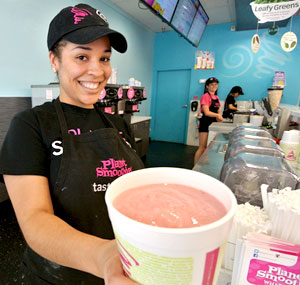 Training and Support
Planet Smoothie franchisees receive extensive training, ongoing coaching and operations manuals that help them master the operations of a Planet Smoothie store. Training takes place four to 10 weeks before your store opens and five days of classroom training at our Scottsdale, AZ headquarters, as well as five days of in-store training at an operating Planet Smoothie.
If you are opening a traditional Planet Smoothie or Planet-Tasti location, you and up to two other people may participate in training. If you are opening a nontraditional location, you and one other person may participate without incurring additional training fees. All store managers must go through training, and you may send one new manager for training each year without incurring training fees, which are detailed in our Franchise Disclosure Document.
Our training program provides an overview of the business and franchise industry, details on center operations, our insights into providing exceptional customer service, details about the products that go into your smoothies and distribution, instruction in how to use the Planet Smoothie point of sale system and our internal communications portal, financial management instruction, and more. You'll also learn about store-opening procedures, food-product handling, sanitation procedures, back-office administration, equipment operation, storage and store management.
Start Up Costs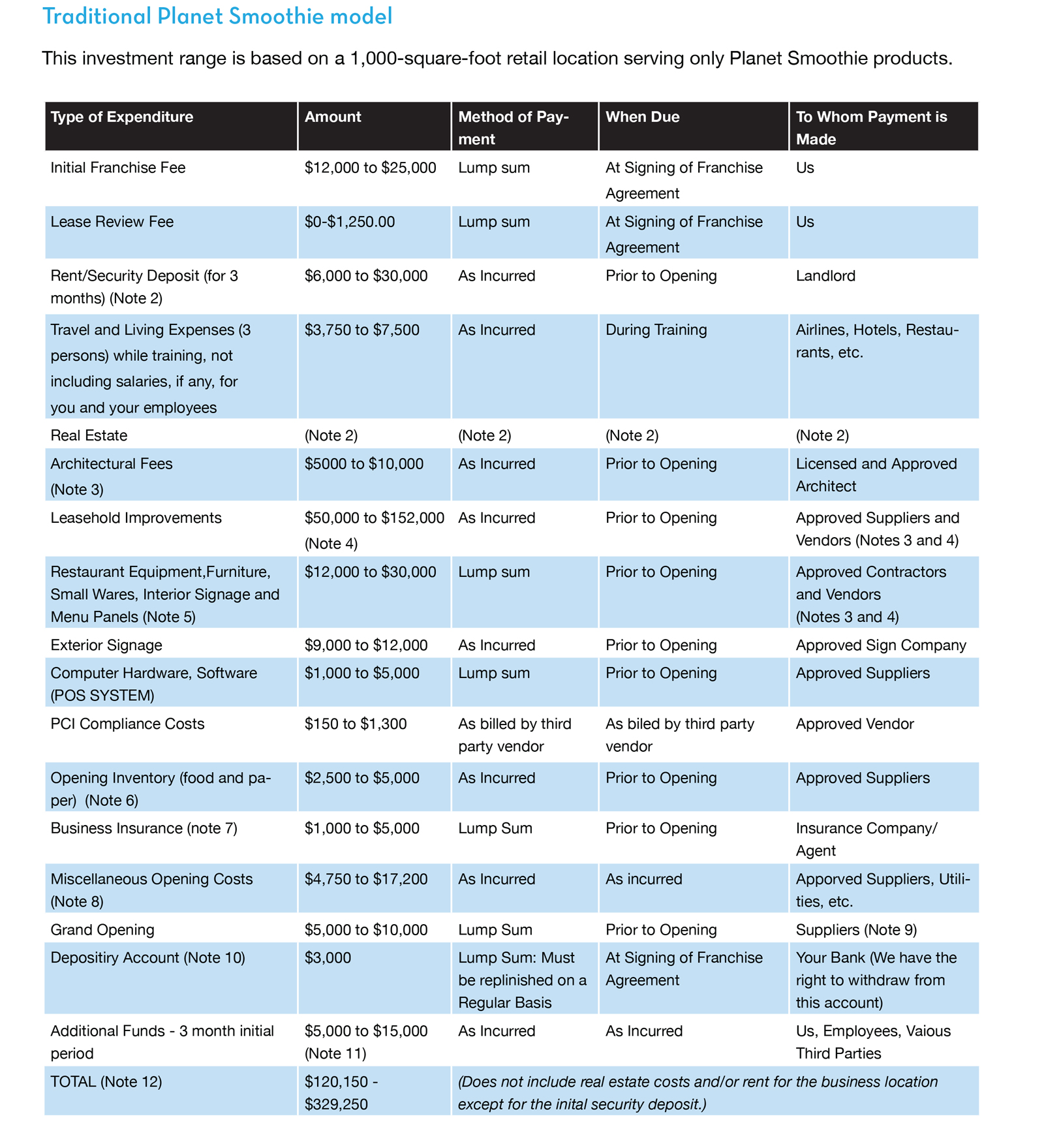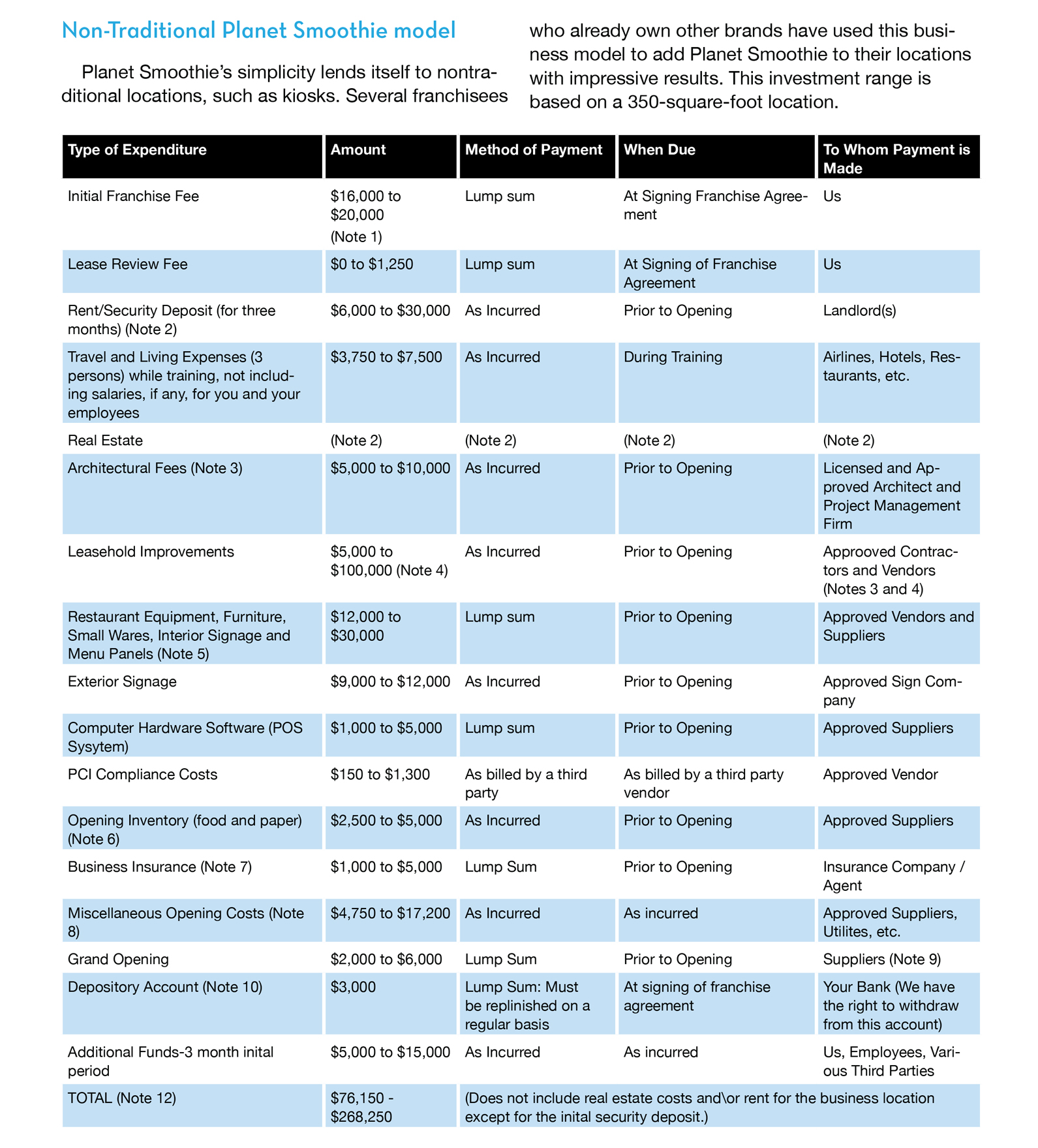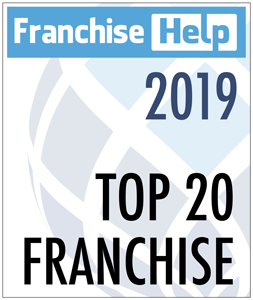 Is this your franchise?
Contact us to unlock your franchise's page to add content and get leads!