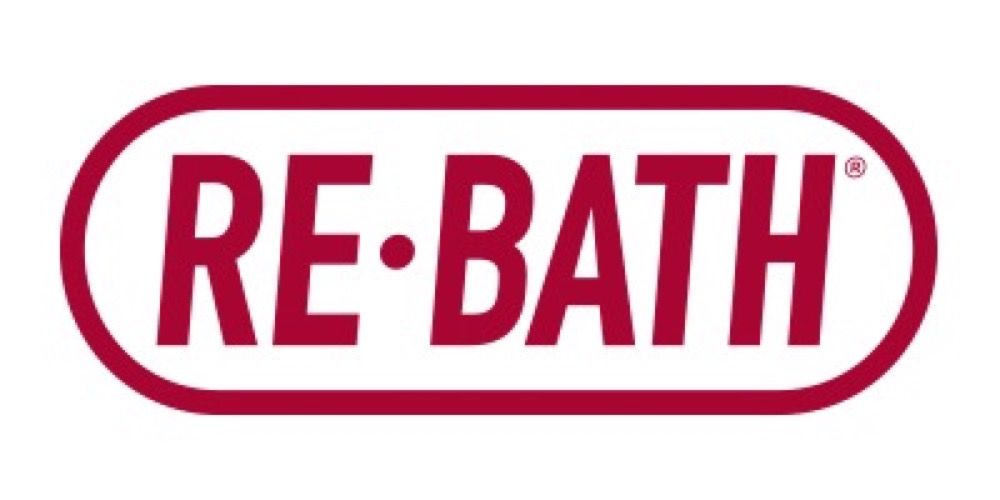 Re-Bath is the largest interior remodeling company in the United States, with more than $180 million in annual systemwide sales. Re-Bath provides a simple remodeling process from design to installation that can be completed in five days or less, at an affordable price point.
| | |
| --- | --- |
| | $100,000 |
| Net worth required | $300,000 |
| Investment | $139,000 - $308,000 |
| | $35,000 |
| Royalty | 5.0% |
| Units in operation | 96 |
| Founded | 1978 |
| Franchising Since | 2013 |
Own a Re-Bath Franchise - Questions & Answers
What is it?
Residential bathroom remodeling franchise
Offers full and partial bathroom remodeling, from planning to completion
Also offers safety reconfiguration, including walk-in tubs and tub to shower conversions
How does it make money?
Customers are invoiced and pay for contracted bathroom remodeling services
Sales and installation of bathroom units, such as bathtub liners, new shower units and more
Who is it for?
Creative business owners with an eye for design and aesthetic
Someone who appreciates the importance of a comfortable, attractive bathroom
Franchisees with contracting experience and an ability to carry out redesigns
What would you do as a franchisee?
Marketing and promotion of the Re-Bath brand to attract customers
Work with customers in determining their specific bathroom needs and preferences
Conduct bathroom remodels and install new fixtures as determined
Hire subcontractors, such as plumbers, to assist with remodels
Re-Bath
Full Bathroom Remodeling Franchise -
A uniquely rewarding experience in the remodeling industry.
Re-Bath is the largest interior remodeling company in the United States, with more than $180 million in annual systemwide sales. Customers choose Re-Bath for three main reasons: We provide a simple start-to-finish remodeling process from design to installation, less disruptive projects that are completed in five days or less, and beautiful bathrooms at an affordable price point.
Business owners choose Re-Bath because we help them complete more jobs with shorter project timelines, leading to higher revenue.
Proven Systems to Grow Business
Americans spend $18 billion a year on bathroom remodeling, and the industry is highly fragmented, with most competition coming from small independent contractors who cannot match Re-Bath's customer value propositions.
Re-Bath's remodeling process reduces project timelines from weeks to days, thrilling customers and increasing revenue potential for owners.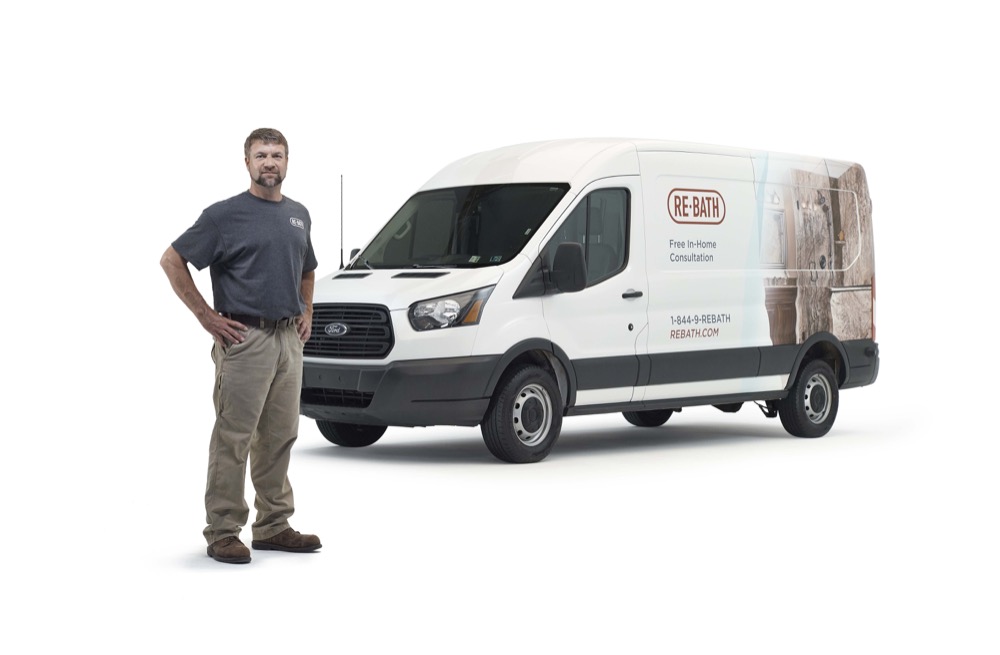 Franchisee Support
You don't need to be a remodeler to be a successful Re-Bath owner. Re-Bath delivers customers to your door.

Re-Bath has a nationwide brand presence and major partnerships that help franchisees attract customers.
Sales and marketing are the keys to driving results and growing a Re-Bath franchise. Re-Bath enjoys a strong brand presence thanks to locations in 43 states, decades of advertising efforts, and partnerships with more than 1,600 retail outlets nationwide. Our branded marketing collateral is consistent and pervasive across the US.
Re-Bath produces and runs national television ad campaigns to make the brand extremely visible for homeowners. Our consumer website employs SEO tactics to ensure that when people are looking for a remodeler, they find Re-Bath.
Success Stories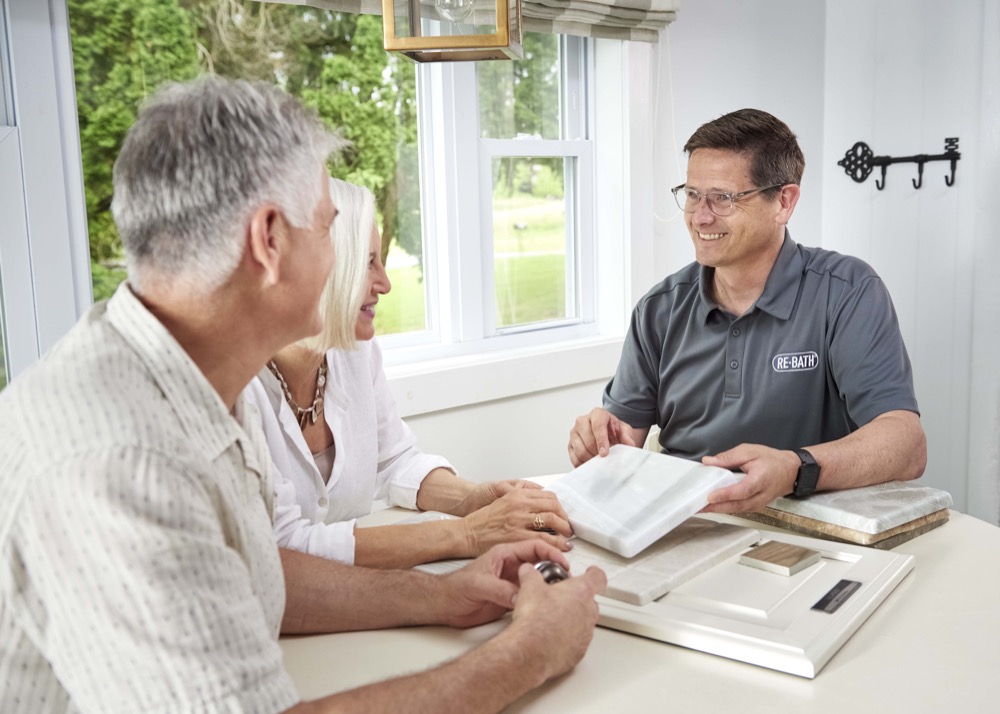 "I am a process driven person and upon researching, I found Re-Bath has many proven processes. This is something I did not have running my own business. And I love that not only do we have the support from Re-Bath corporate, but we have the support of dozens of franchisees. I can pick up the phone at any time and reach another franchisee, and they are always more than willing to help." - Sean Senno & Mark Pietros, franchisees for over 12 years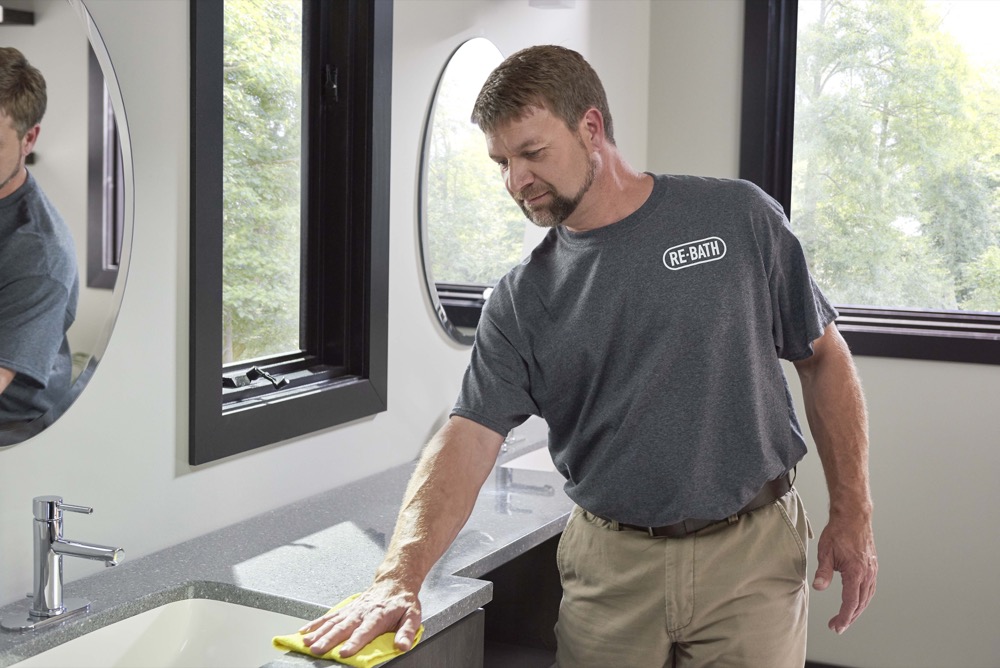 Ideal Candidate
Our ideal candidate builds on marketing and sales as the cornerstone of their success as a franchisee. You know that marketing is what drives sales and that sales are what grow your business. You also have:
A passion for people and improving bathrooms
Are driven to succeed, to learn, and conduct business with professionalism and integrity
Are willing to be coached and embrace our proven systems in order to improve business and win new customers
Is this your franchise?
Contact us to unlock your franchise's page to add content and get leads!