REVOLISM is a modern, research-backed weight loss & wellness franchise delivering life-changing results that last. REVOLISM's method targets underlying metabolic issues to unlock real, sustained benefits. REVOLISM owners generate upfront sales from client assessments and ongoing subscription revenue from custom dietary supplements sent automatically to clients monthly. Home-based and brick-and-mortar options available.
| | |
| --- | --- |
| | $100,000 |
| Investment | $17,500 - $67,500 |
| | $10,000 - $40,000 |
| Founded | 2016 |
Own a REVOLISM Franchise - Questions & Answers
What is it?
A science-backed wellness & weight loss business that delivers lasting health results through individualized assessments, personal coaching, and custom supplements mailed to clients monthly
REVOLISM uses the Metabolic Code system developed by nationally recognized clinical pharmacist, author, and board certified clinical nutrition James LaValle to assess each client's unique metabolic profile and generate a personalized plan-of-action, including customized supplements and integrated diet-and-exercise program
This franchise offers two business formats - an online / virtual franchise model ($2500 franchise fee, with total investment of $10,000 to $30,000) and a retail-based brick-and-mortar model (initial franchise fee of $10,000 and total investment of $17,500 to $67,500, plus real estate, construction and associated costs)
How does it make money?
REVOLISM owners have two streams of revenue - upfront client assessment fees and automatically recurring dietary supplement subscription sales
Clients pay an initial $99 evaluation fee to complete REVOLISM's proprietary 100+ question assessment
Then, based on the client's assessed needs, clients pay a recurring subscription fee for custom-crafted, all-natural supplements and nutritional products that arrive automatically each month, generating repeat revenue for the wellness coach
Who is it for?
Does not require a medical degree or healthcare training - all training is provided
Anyone who wants to become a trained wellness coach and utilize the best tools on the market, backed by research and practiced at more than 200 doctors and clinics nationwide
Great fit for nurses, fitness instructors, dietitians, nutritionists, chiropractors, life coaches, veterans, stay-at-home moms, and anyone with a deep desire to help others establish lasting wellness and sustainable weight loss
Aspiring business owners who will be totally, fanatically committed to growing their business through face-to-face networking, online interaction, and in-person promotion within their community
What would you do as a franchisee?
Consult, educate, and encourage your clients to help them reach their weight loss and wellness goals
Help clients complete follow-up assessments to track their progress and, as they near their goals, update their diet and supplement recommendations as needed to maintain optimum performance
Establish your business at home, in a low-cost office space, or in a high-traffic shopping area
Visit your clients at home or office or combine your business with current corporate locations, such as fitness clubs or nutritionists practices
Promote your REVOLISM coaching expertise and wellness offerings within your local community
REVOLISM WELLNESS AND WEIGHT LOSS FRANCHISE
Unlocking the revolutionary power of the Metabolic Code is a great opportunity to own your own business
Using the science of the Metabolic Code, a revolutionary approach to wellness previously only available through doctors, REVOLISM is founded on more than 30 years of scientific data and research providing clients with a program to revolutionize their metabolism and achieve wellness and weight loss goals. Founded in 2016 and franchising since 2017, REVOLISM takes an analysis of each customer and customizes a program that is designed exclusively to address their needs, whether it's stress reduction, reduced fatigue or a need to lose weight.

Hundreds of physicians, dietitians and nutritionists across the nation rely on the Metabolic Code, a wellness assessment algorithm, to determine and monitor their clients' well-being. REVOLISM has exclusively licensed the code for franchising, developed a high quality line of supplements and created a state-of-the-art fully automated system to deliver wellness and weight loss to consumers via our franchisees.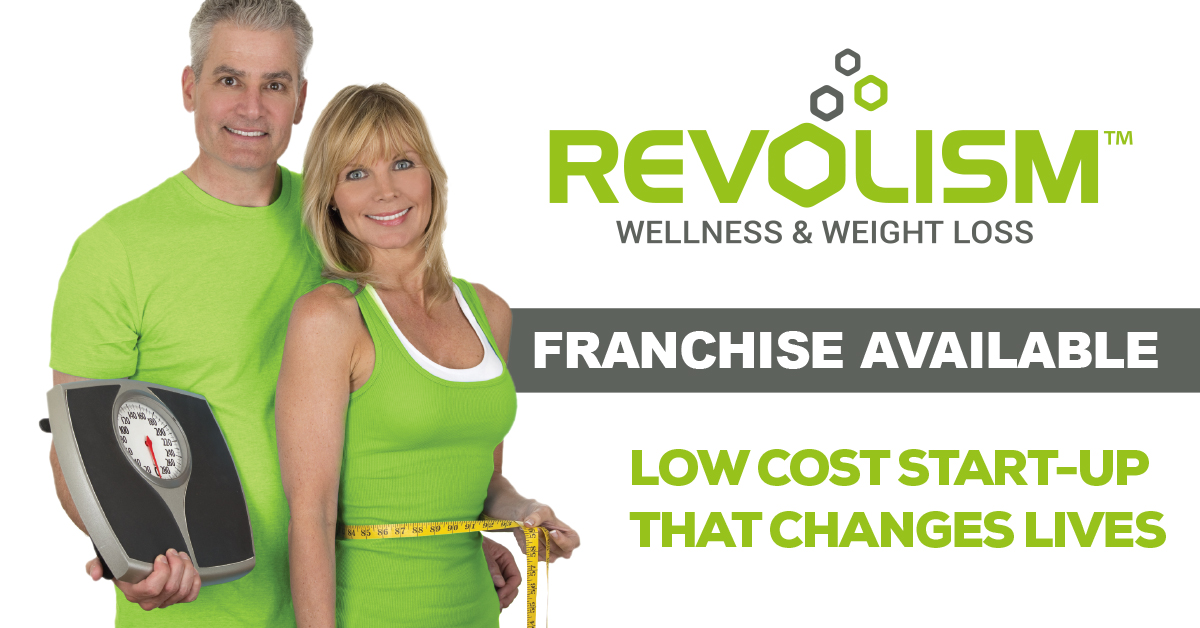 REVOLISM's Program Includes

Proprietary wellness assessment utilizing the science of the Metabolic Code

Customized nutritional supplements

Personalized diet-and-exercise plan

George Washington University certified wellness coach

Periodic reassessment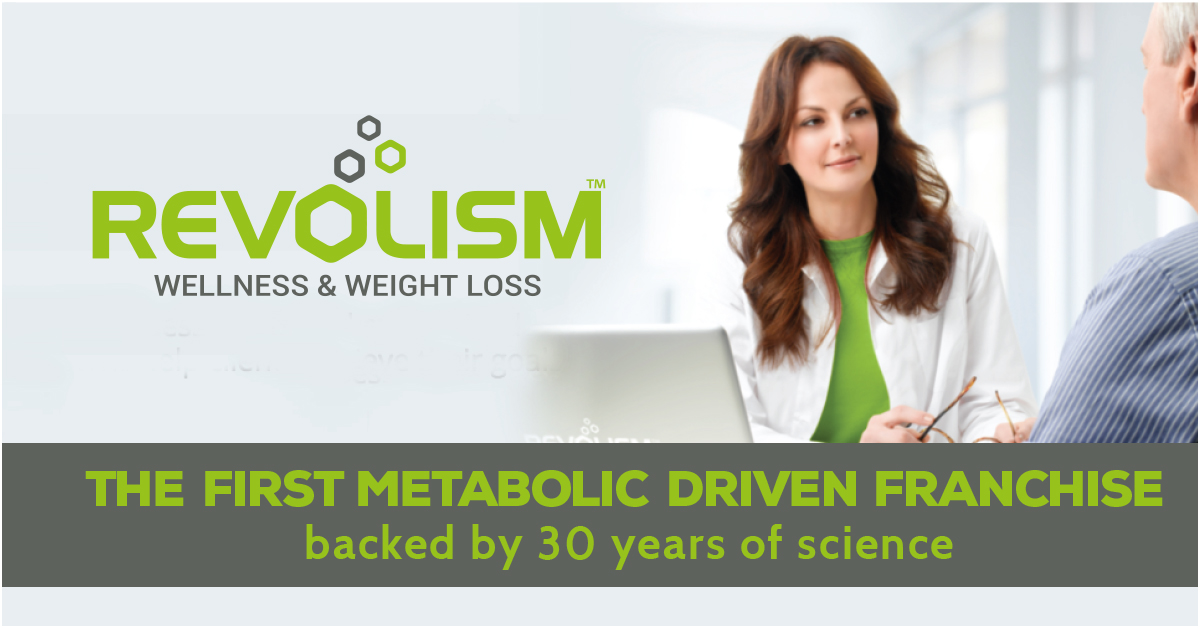 How does it work?
Customers pay an affordable, $99 assessment fee and complete our proprietary 100+ question wellness survey and lab tests (urine and saliva). Our proprietary system assesses the client's metabolism and creates an individualized plan-of-action, including customized supplements and diet-and-exercise plan if they need to lose weight.

Customers subscribe to monthly shipments of customized supplements that arrive automatically, while our HIPPA-compliant app provides regular wellness and diet prompts, outlines meal plans and offers exercise routines.

Periodic reassessments monitor customers' progress to make adjustments to their program based on each client's progress and needs.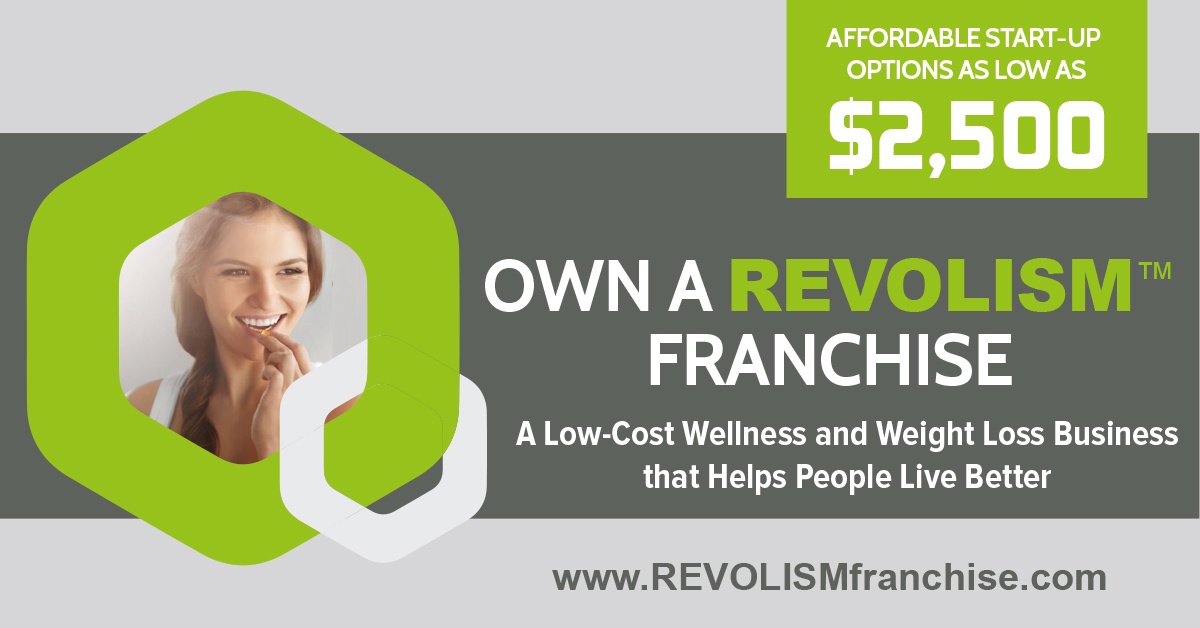 What is the Cost of REVOLISM
REVOLISM virtual franchise model
Franchise fee is $2500, with a total investment of $10,000

REVOLISM Brick & Mortar franchise model

Franchise fee between $10,000 - $40,000, with a total investment of $100,000

How Much Money Can I Make?
How does $37,000 per year working part-time or $90,000 per year working full time sound to you – owning a virtual franchise? Or how about $200,000 for owning a brick-and-mortar business? Achieving long-term wellness and weight loss is an ongoing, hands-on process that requires commitment and support. REVOLISM answers both of these needs through periodic assessments and monthly supplements shipments.
After clients complete an assessment, they are subscribed to the recommended regimen of supplements, which are shipped automatically each month. This structure frees the franchise owner from the potentially high costs of inventory and point-of-sale equipment. In fact, there are very little out-of-pocket costs associated with providing ongoing supplements and coaching.
The REVOLISM business model ensures that franchise owners have a steady stream of revenue throughout the year. Franchise owners generate recurring revenue by signing clients up for our monthly subscription supplement service for either a six- or twelve-month program.
Subscription plans generate regular revenue
REVOLISM presents a vertically integrated approach to wellness and weight loss. The assessment drives the recommended supplements, to which the client then subscribes. As their wellness improves, the client is reassessed and the supplement regimen is adjusted to further improve and maintain wellness.
Is this your franchise?
Contact us to unlock your franchise's page to add content and get leads!