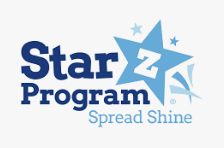 The Starz Program is a children's fitness educational enrichment program offering parent pay classes in Dance, Sports and Cheerleading as well as a school pay Fitness program, which many schools use as their physical education program. Starz holds itself to impeccable standards, living their mission and values.
| | |
| --- | --- |
| | $50,000 |
| Investment | $25,000 - $32,000 |
| | $23,500 |
| Royalty | 8.0% |
| Units in operation | 8 |
| Founded | 2005 |
| Franchising Since | 2017 |
Own a Starz Program Franchise - Questions & Answers
What is it?
Children's fitness enrichment program business offering family and school programming
Range of programs includes dance, sports, cheerleading, creative movement and fitness
Also offers school financed physical education programming
How does it make money?
Enrollment fees paid by families for children's participation in various programs
Fees paid by schools for physical education programming
Who is it for?
People who enjoy working with children and advocating good fitness
Someone who is adept at managing large staff and numerous clients
What would you do as a franchisee?
Open a kids fitness location and oversee daily operation
Hire staffing including management/sales, teaching and coaching
Work with families and schools in determining their children's and students' needs
The Starz Program

About Us
The Starz Program is a children's fitness educational enrichment program. We offer parent pay classes in Dance, Sports and Cheerleading. We also offer a school pay Fitness program which many schools use as their physical education program.

What Starz Offers:
Sports - Learn a new sport each month with our skill-based, non-competitive, co-ed sports program. Children of all skill levels will improve their individual abilities while developing team work and spirit. The Starz Program sports class is perfect for children that want to explore different sports while gaining skills, building athletic ability, and having fun! Our sports class provides a nurturing environment and utilizes safe, age appropriate equipment. T-Ball, Soccer, Volleyball, Basketball, Golf, and more are covered in this class.

Dance - This co-ed dance class for ages 3-5, encompasses progressive ballet and jazz skills. Throughout the year your dancer will also be introduced to gymnastics and creative movement! Our dance class provides students with coordination, balance, rhythm building skills and more. The Starz Program dance class is perfect for children that are creative, curious, and love moving to music! Students' flexibility, self-esteem, and confidence will soar! Watch your dancer SHINE in our annual end of the year Dance and Cheer Recital.

Cheerleading - Students will learn standing cheers, floor chants, various cheer stances ranging from ready position, high and low V, victory motions, and more! Starz cheer class incorporates cheer, dance, and gymnastics! It is perfect for children that want a solid foundation in cheer, while improving balance, coordination, and having fun! In addition, our cheer class provides a nurturing and comfortable environment. Watch your cheerleader SHINE in our annual end of the year Dance and Cheer Recital!

Physical Fitness - Many private schools contract with Starz to provide physical education classes under our state license. Our curriculum focuses on locomotor movement, balance, aerobic and muscular strength and endurance. Students learn a new muscle every month and the strength and balance segment of the lesson is focused around that muscle. Parents will be pleased when they hear their children talking about their quadriceps muscle; it's amazing how quickly they learn!

Creative Movement - Our co-ed creative movement class is perfect for younger students that are curious and creative, and love to move! In Starz Creative Movement, students will learn basic motor skills such as hopping, marching, and leaping as well as common class procedures including following in line and make shapes with other students. We will use our imaginations, upbeat music, and Starz equipment to explore new movements and improve coordination, balance, and memory!


Why Starz?
Marketing And Business Development Training - Our target markets are families and schools. Our training will show you exactly how to get in front of each.

Low Overhead - Your Starz business will be home-based. No office rent. No storefront costs.

Initial Training - at our place and yours! Spend days at a our corporate office learning the basics. Then, we'll come out to you to begin helping you launch your business.

Branding. All Starz franchisees have access to our complete marketing catalogue of materials, along with access to our designer resources for any custom pieces.

Make money in a business that's about more than just making money!
Quality of life. Our franchisees are able to enjoy the quality of life that comes with building a significant income in a truly exploding industry, from the comfort of their own home - and without commercial leases and high overhead cutting into their profit margins.
Passion - We've all heard the adage, "Love what you do and you'll never work a day in your life." Well. We're living proof of that. The first question you need to ask yourself is "Do I have a true passion for helping families and working with kids. If the answer is yes, then we're off to a good start.
If you're a person that truly wants to build a business that "does good", this can be a fantastic business. Our franchisees are able to wake up and spend their day doing something that they have a true passion for - helping others.
Contact us to learn more today!
Is this your franchise?
Contact us to unlock your franchise's page to add content and get leads!