Sydnee's Pet Grooming
Franchise
Sydnee's Pet Grooming, home of the Furry Facial, creates a healthy and stylish life for pets. Our love of animals shows in every aspect of the business. Our natural products pamper pets, our stylists are passionate and committed, and our Sydnee's Foundation helps us give back to our community.
| | |
| --- | --- |
| | $100,100 |
| Net worth required | $175,000 |
| Investment | $152,614 - $241,429 |
| Units in operation | 7 |
Own a Sydnee's Pet Grooming Franchise - Questions & Answers
What is it?
Full-service dog and pet grooming business
Offers general and specialized grooming, hygiene and other services
Also offers mobile service with grooming at customers' homes
How does it make money?
Customers' owners pay out-of-pocket for grooming and other services
In-store sales of pet health and hygiene products
Fees for pet memberships
Who is it for?
Dog and pet lovers of all breeds
Someone with general knowledge of animals and their grooming and hygiene needs
People who can gain trust with customers that their pets will be well cared for
What would you do as a franchisee?
Work with pet owners to determine their pets' needs and optimal care
Provide pet grooming and hire pet grooming and care personnel as needed
Manage day-to-day operations of a pet grooming and care store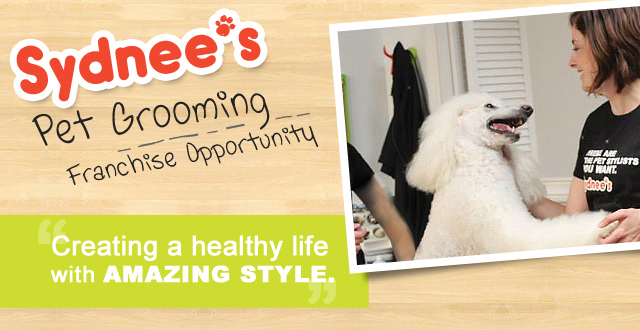 "Creating a healthy life with amazing style."
What Makes Sydnee's Different?
Sydnee's Pet Grooming is all about creating a healthy and stylish life for pets. With our consistent, friendly groomers, fresh and clean locations, simple pricing structure and customized grooming programs, we care for the pets of our community like family. Our love of animals shows in every aspect of Sydnee's.
• Consistent: Quality training and expert grooming, we have a comprehensive stylist development program that focuses retention on growing our team.
• Convenient & Customized: With a commitment to technology and industry trends, Sydnee's innovative approach make us a growing business.
• Community: Our commitment to the community allows us to connect with our customers and support animal organizations through our Sydnee's Foundation. Sydnee's unique style has helped us transform a standard grooming shop model into a trendy, fun place for people and pets.
Why a Sydnee's Franchise?
"Be in business for yourself, not by yourself." Sydnee's offers an established business model, tested operational systems and a highly effective mentor program focusing on growth from within. The company is proactive in the site selection process and offers cost conscious construction guidance. Strong marketing and public relations support is offered every step of the way. Linking services and additional revenue streams that grow the bottom line without adding to labor increase your growth potential. Sydnee's is family owned and operated – our franchisees, employees, customers and their pets are a part of our family.
Furry Facts about the Pet Industry
According to the American Pet Products Association, the pet industry is styled for continued growth in 2015, showing an all-time high in consumer spending. The industry reached over 58 billion dollars in 2014 and has shown a 4.9% growth year after year since 2013.
The pet services sector, which includes pet grooming, training, boarding, and pet sitting will reach revenues of over $4.73 billion this year, which is up from $4.41 billion the year before and up over 6% since 2013, making it the fastest growing sector within the industry. Animal lovers, entrepreneurs, and fortune 500 companies are all bidding for a piece of this fast-growing pie.
Franchisee Testimonial
"Sydnee's Pet Grooming is the premier groomer in the business. After working for Sydnee's for a year and half, I took the big step and became a franchisee, operating their first mobile unit. It has been an almost seamless transition. Having owned other mobile pet grooming franchises, I can honestly say that the support that I receive from Nat, Kim and the rest of the "parent company" is best in class. Sydnee's wants you to do well and be a part of their emerging business and is with you every step of the way. As a Sydnee's franchisee, you will be a part of a growing pet family."
- Michelle M. | Franchisee
Are you a good Match?
Sydnee's Pet Grooming looks for financially qualified candidates with a genuine love for animals and business savvy. They are confident, creative, and self-motivated people, who are caring towards animals, their employees and their communities.
The Investment
Initial investment for a Sydnee's Pet Grooming Salon Franchise is estimated to be between $152,614 and $241,429.*
*Estimates for the Initial Investment of a Mobile Salon or Area Developer Agreement will vary and are disclosed in the latest version of the FDD.
Our Current Locations
San Marcos
Solana Beach
Temecula
La Jolla
Rancho Santa Fe
San Marcos Mobile Grooming
Carlsbad Mobile Grooming
"Prime Territories Available for Pet Grooming Salons, Mobile Salons and Area Developer Agreements."
"7 locations in San Diego and Riverside and growing."
www.sydneespetgrooming.com
SYDNEE'S PET GROOMING FRANCHISES ARE AVAILABLE TO QUALIFIED PROSPECTIVE FRANCHISEES ONLY IN CERTAIN STATES. ELEVATE PET LIFE, LLC d/b/a "SYDNEE'S PET GROOMING" WILL NOT OFFER OR SELL A FRANCHISE UNLESS REGISTERED (OR EXEMPT) IN THE STATE WHERE THE PROSPECTIVE BUYER RESIDES OR WHERE THE FRANCHISE WILL BE LOCATED. THIS OFFER IS NOT BEING DIRECTED TO ANY RESIDENT OF THE FOLLOWING STATES, OR ANY STATE, PROVINCE, COUNTRY OR JURISDICTION WHERE DWELL IS NOT CURRENTLY REGISTERED TO OFFER OR SELL, UNLESS OTHERWISE QUALIFIED OR EXEMPT:
I. Hawaii, Illinois, Indiana, Maryland, Minnesota, New York, North Dakota, Rhode Island, South Dakota, Virginia, Washington, Wisconsin;
II. Connecticut, Florida, Kentucky, Nebraska.
THE INFORMATION ON THIS WEB SITE IS NOT AN OFFER TO SELL, OR A SOLICITATION OF AN OFFER TO BUY A SYDNEE'S PET GROOMING FRANCHISE. AN OFFER TO BUY A FRANCHISE IS MADE BY FRANCHISE DISCLOSURE DOCUMENT ONLY.
Is this your franchise?
Contact us to unlock your franchise's page to add content and get leads!