| | |
| --- | --- |
| | $100,000 |
| Net worth required | $250,000 |
| Investment | $64,100 - $154,300 |
| | $22,400 |
| Royalty | 3.9% - 6.9% |
| Offers Financing | Yes |
| Units in operation | 1,473 |
| Founded | 1979 |
| Franchising Since | 1980 |
Own a The Maids Franchise - Questions & Answers
What is it?
Full-service house cleaning service franchise
Offers array of customized and standard cleaning services
How does it make money?
Fees paid for contracted house cleaning services
Who is it for?
Someone seeking a home-based, self-directed business model
People who are adept at balancing and assigning multiple employees
What would you do as a franchisee?
Schedule and assign cleaning subcontractors to home customers
Travel to customers' homes to provide cleaning services as contracted
The Maids
Are you looking for a change? Do you want to set your own hours and control your own destiny? Do you want to earn more money and gain financial independence?
If you have the entrepreneurial spirit, and have an interest in the home cleaning and housekeeping industry, The Maids wants to hear from you!
Our franchise development team is ready to help you change your life by becoming a The Maids franchise partner and starting your own professional maid service and residential house cleaning business today.
Products & Services

The Maids is the only residential cleaning franchise to clean for health using the company's exclusive 22-Step Healthy Touch® Deep Cleaning System. This unique cleaning method provides customers with cleaner, healthier homes through using environmentally preferable cleaning products, a strategic, methodic cleaning approach and state-of-the-art equipment, including our patented back pack vacuum with HEPA filtration that can capture up to 99 percent of all dust, allergens, bacteria, pet dander, pollen and other pollutants.
The Maids is the most trusted name in home services because we consistently deliver value through quality service and premium products that meet or exceed our customer's expectations. All of this accentuates why "Nobody Outcleans the Maids®.
Training & Support
The Maids Franchise Training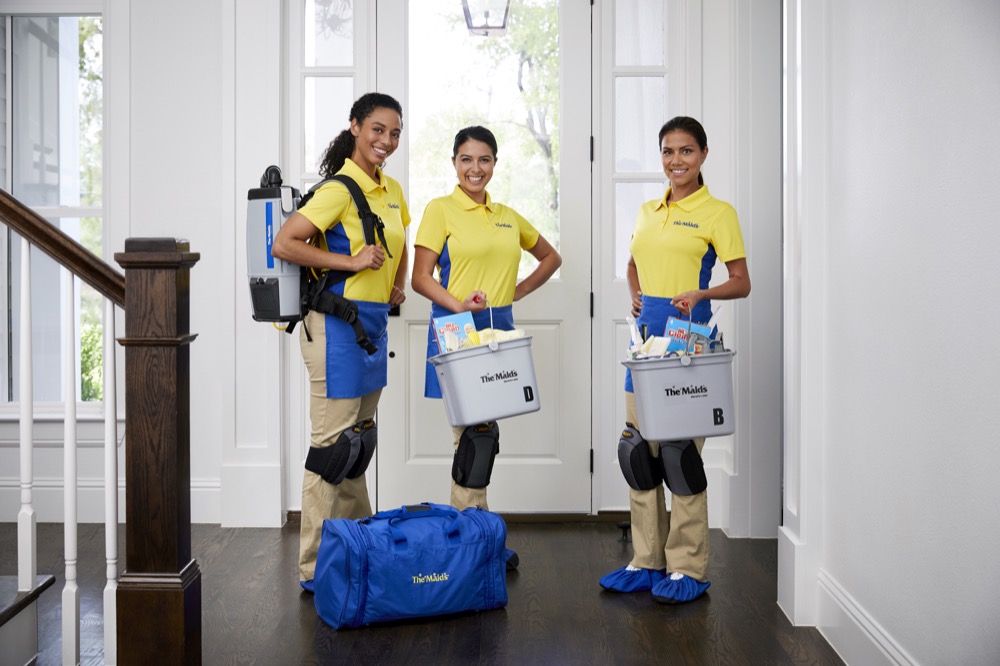 The Maids provides the most comprehensive package of training, support, and technology in the industry. We provide extensive training, including 4-6 weeks of pre-training, 6 days of classroom and field training (SmartStart corporate training), and 4 days in the franchisee's market conducting The Maids Power Training. We are in touch and involved with the new franchisee a minimum of 195 days within the first year via our Business coaches and Owner Mentors.
Marketing Support
Knowledgeable and experienced, The Maids franchise offers its partners comprehensive marketing support. Our marketing staff and business coaches will help you build your initial marketing plan that will drive business and build a successful customer base. Our Excel-based marketing plan spreadsheet is easy to use and understand, providing you with all the tools necessary, both during start-up and on an on-going bases, to help you make the best marketing decisions that will benefit your company – and your bottom line. The Maid's comprehensive marketing support includes: Marketing consulting, ad planning, media consulting, public relations, copy writing, ad design and direct mail support. Our marketing staff also champions and manages the corporate brand, which includes: corporate identity, national brand program, Web site, coop programs and strategic alliances.
Ongoing Support
We are in touch and involved with the new franchisee a minimum of 195 days within the first year via our Business coaches and Owner Mentors. Each franchisee will maintain a business coach throughout their tenure with The Maids.
Why a Franchise of The Maids?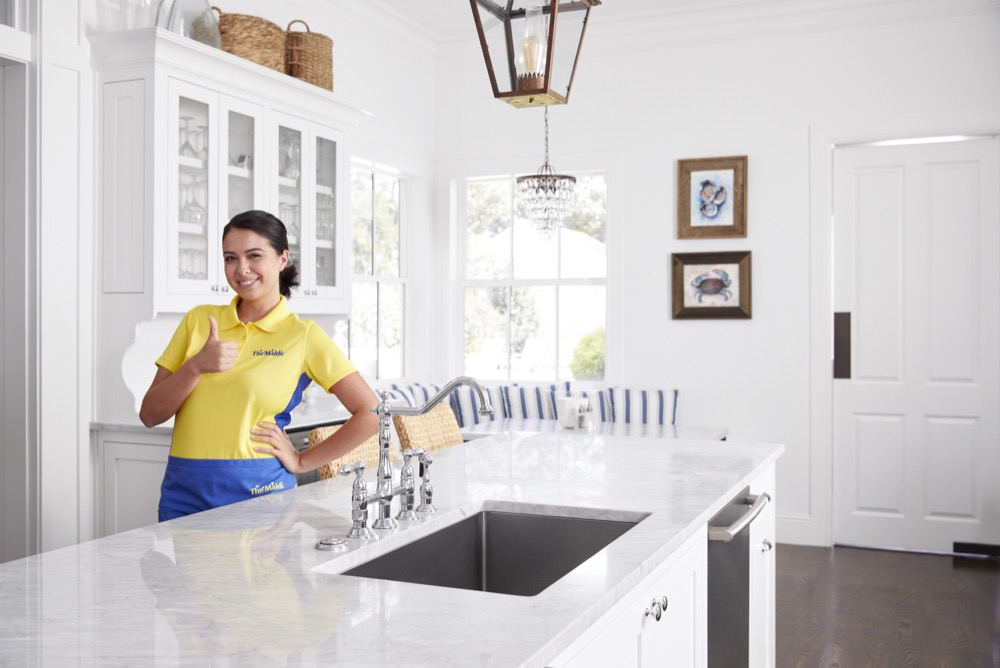 The Industry
20 years prior to the inception of The Maids International, the average size of a home in the US was under 1,000 square feet. By the 1970's home sizes had nearly doubled while the family unit stayed the same. That meant more square footage to clean per person which also meant more time invested into the home versus outside activities. As technology became more and more mainstream, the culture shifted from analog to digital, and began to demand things instantly which ultimately put a premium on time. As a result, services like residential cleaning began to thrive with the average middle to upper class individual willing to now trade their money for their time!
The Opportunity
And now, the future! The Maids started with innovating thinking and continues to drive change through innovation to this day. The brand remains in good hands with leadership cut from the same cloth; continuing that same pioneering thinking that birthed a brand 40+ years ago. Yet, The Maids is not simply resting on what got us here. Rather, it is driving forward with new innovation; company store incubators to test new ideas for tomorrow, massive investment into industry leading technology, and through strategic alliances with companies like Amazon and Proctor & Gamble. The Maids is driving change in the industry by forging a new path forward, and you have an unprecedented opportunity to be a part of the next chapter in our story!
Our Business System
The Maids 22 Step Healthy Touch cleaning process, along with an innovative 4-person team approach has separated The Maids from our competition for over 40 years. Our custom software allows you to efficiently manage, track and monitor key benchmarks of your business. Our business coaches will also sit down with you to develop a comprehensive local marketing plan that will help you maximize your growth potential.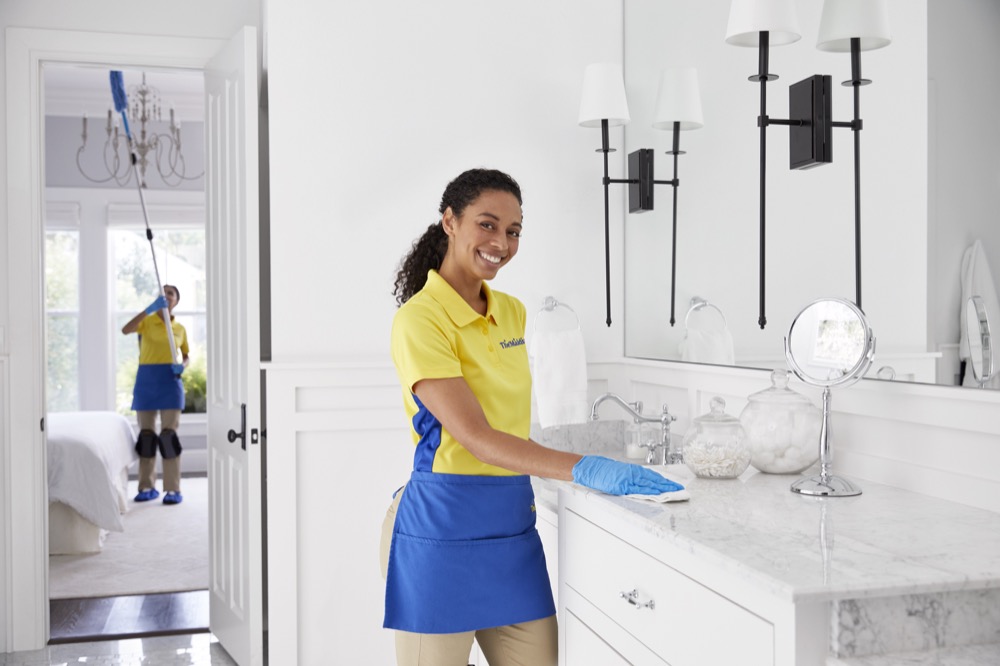 Are You a Good Fit for a Franchise of The Maids?
• Do you want to own a business in a rapidly growing industry?
• Do you seek to change your life and enjoy the freedom and responsibility that come with business ownership?
• Are you prepared to do the work required for business ownership?
• Have you researched The Maids and identified our key competitive benefits?
• Do you have the financial capability to invest in a The Maids franchise and support it through its initial start-up?
• Are you ready to join the national leader and follow a proven program for success?
• Are you ready to put your talents to work for you and your family?
Total investment for a new franchise is around $150,000, which includes a Franchise Fee of $12,500, plus $.95 per qualified household within the territory. Our typical franchise partner buys a large market with a minimum of 40,000 qualified households. Royalties begin at 6.9% and decline as revenues hit higher cutoff points to the lowest fee of 3.9%.

Veterans enjoy a 20% off Territory Fee discount. Ask for more information on The Maids today!
Is this your franchise?
Contact us to unlock your franchise's page to add content and get leads!