Togo's Sandwiches
Franchise
A west coast original - Togo's offers big, fresh, meaty sandwiches and one-on-one service. We look for people who will be involved in the business, managing their restaurant or providing oversight for restaurant managers to maintain an A+ experience for guests. Couples or veterans are ideal owners. Contact us today!
| | |
| --- | --- |
| | $150,000 |
| Net worth required | $300,000 |
| Investment | $239,700 - $501,000 |
| | $30,000 |
| Units in operation | 236 |
Own a Togo's Sandwiches Franchise - Questions & Answers
What is it?
Fast, friendly, trendy sandwich shop
Features a large selection of sandwiches, soups, sides, and desserts
How does it make money?
In-store sales of sandwiches and other menu items
Revenue also comes from catering special events
Who is it for?
Sandwich lovers excited about serving good meals
Anyone with food service or restaurant experience, though such experience is not necessary
What would you do as a franchisee?
Oversee daily operation of a fast-food sandwich shop
Hire food service, catering, and management personnel as needed
Market and promote the Togo's brand
What is a Togo's Franchise?
Sandwich franchise sets itself apart with big, fresh, meaty sandwiches, one-on-one service, and fun culture
Togo's is a West Coast original, with an emphasis on quality ingredients and friendly service that has set us apart in the restaurant industry — especially within the fast-casual sandwich segment. Togo's was recently named No. 35 on Nation's Restaurant News' annual list of Consumer Picks, ahead of Firehouse Subs, Jimmy John's, Jersey Mike's, Blimpie, Five Guys,Quiznos, and Subway. Most of our sandwich franchise locations are in California, and we are rapidly expanding in the western U.S. with nearly 300 open and under development.
Togo's was started in San Jose in 1971 by a young college student with a big appetite and a little money. He bought a small sandwich shack, where he started making sandwiches the way he liked them — big, made-to-order, and stuffed with fresh ingredients. Before long there were lines out the door. We began franchising in the late 1970s and have developed a loyal fan bas e that continues to grow.
One reason guests love Togo's is our commitment to great meat and lots of it! Our 6-inch sandwiches have more meat than you'll find on a footlong sandwich at most of our competitors. We also use fresh, high-quality ingredients — including artisan breads, Haas avocados that we crush daily (to the tune of 5 million avocados a year), fresh veggies, and choice cuts of meats. Our turkey is all-white meat, and our premium pastrami comes from a specific cut of meat called the beef knuckle, which is lean and has an especially satisfying, meaty flavor. Is it a little more expensive than what is usually used to make premium pastrami? Yes. Do guests love it? Goodness, yes.
Our food costs a little more to make and commands a little higher price than most of what's served by competitors, but it keeps guests coming back. There's no better marketing than a guest who walks out the door impressed and drags in a crowd of friends the next day.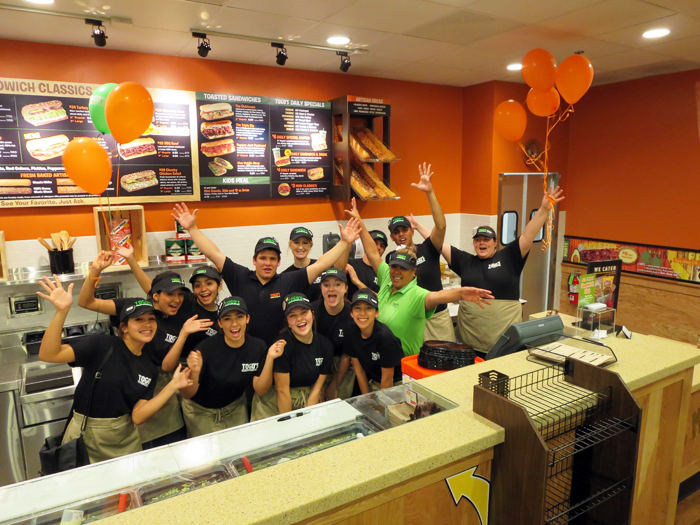 Our sandwich franchise: West Coast, laid back, one-on-one service
Togo's sandwich franchises are not a sandwich assembly line. Our sandwiches are custom-built, one at a time, for each guest. The service is what you might find at a traditional deli, with the deli worker greeting you with a smile, listening to your order from behind the counter, then crafting your custom- made sandwich. Want a little more mustard, more onions, or a touch of Italian dressing? No problem!
Togo's has a lot of regular guests, and it doesn't take long to start to recognize the regulars and get to know them, their friends, and their families.
What Makes Togo's Different?
Our sandwiches are bigger, and so are our sales
Togo's sets itself apart from other sub franchises by offering big, fresh, meaty sandwiches and one-on-one service — both of which guests enjoy.
"How do you set yourself apart in the restaurant business? The simple answer is that you give guests the best value, and that's not just about price," says Chairman and CEO Tony Gioia. "It's about the quality and freshness of the food you are offering, how the menu is set up, giving people choices, and providing an outstanding guest experience."
He continues: "What is the ambience? How do you feel when you visit? What is the emotional connection your guests have with the food and the restaurant? Of course, price matters, too. Ultimately, you need to pick two or three things and be the best at those in your category. For us, it's big, fresh, meaty sandwiches and laid-back, one-on-one service. That is the heart of the guest experience, and everything we do is about bringing that guest experience to life."
What sets us apart for investors?
Togo's puts huge emphasis on training, because exceptional service is a big part of what makes our sub shop franchises special. Our Chief Operating Officer Jim Peros has been part of the leadership teams of IHOP and Taco Bell — two of the biggest franchise brands in the restaurant industry — and brings operational and franchise support expertise that is unheard of for a smaller, close-knit brand like Togo's. Franchisees can expect regular contact from coaches who will help them and their managers look for ways to improve operations and boost financial performan ce.
At the same time, Togo's uses its company restaurant as a laboratory. As new limited-time-offer menu items are being developed, Togo's will check to see how easy it is to stock ingredients and prepare the items in its restaurants. Is there room to stock the necessary ingredients, even in smaller refrigerators? Does the item require too much prep space? Here's another example: Togo's recently tested new labor models in its restaurants to see if it could cut down on hourly labor costs without impacting service. It's one of many efforts that are constantly underway to increase profitability for franchisees. If an idea from Togo's management doesn't work out, our company restaurants take the bumps and bruises. When an idea is a success, we share it with all our franchisees.
"There is a lot of sandwich competition out there, but there aren't many that do it like Togo's," Tony says. "Lots of chains are imitating each other, but nobody does big, fresh, meaty sandwiches and one-on-one service like Togo's."
Testimonials
"When my wife and I met Tony Gioia, CEO of Togo's, we really liked him and felt Togo's would be a good choice for us. Tony was frank and clear about his growth plans for Togo's, and he knows how to build major brands. He was a lifelong fan of Togo's before coming over from his previous position as President of Baskin-Robbins. With Togo's, franchisees come first. When we were with a pizza franchise, they didn't care if things weren't good; they just wanted their money. Togo's is completely different — they're always willing to help you if you need them."
— Dave Quinn, owner in Beaverton, Oregon
"I think the Togo's support team offers five very important words that are important to all franchisees, and they are, 'How may I serve you?' The communication with the executives and the leadership team is very important, but it's that willingness they have to serve us as franchisees and build that relationship that works well for both of us. I'm very excited about the future of Togo's."
— Tony Hardin, owner in Gilroy, CA
"Support and training. I can call my FSM (Franchise Support Manager) or call whoever the next person is down the line. They'll return my call the same day, often within the hour. The amount of support that we get at Togo's, you can't even compare it to any other franchise. We actually are in another franchise, a different one, and we know from that experience — the support from Togo's compared to the support from the other franchise, you can't even compare it."
— David Karsan, owner in Santa Cruz
"I think this is a great opportunity to get into. One time I answered the phone, and I heard the CEO of Togo's, Tony Gioia, on the other end asking me how I was doing, if there was anything else he could do to help us. I have never heard of a CEO calling franchisees and asking, 'What can we do for you?' "
— Melody Stroing, owner in Sacramento
Is this your franchise?
Contact us to unlock your franchise's page to add content and get leads!