Batteries Plus Recognizes Franchise Owners for Year of Extraordinary Sales Success
Franchisees Honored with Awards for Achieving Top Total Sales and Top Commercial Sales Across Franchise System
HARTLAND, Wis., (July 26, 2023) – Batteries Plus, the world's leading specialty battery franchise, recently recognized dozens of franchisees in the system during its annual Sales Achievement Event. In celebrating a year of extraordinary sales, more than 40 ownership groups received the President's Club award for achieving more than $1.2 million in sales, more than 22 ownership groups were honored with the Platinum Club award for achieving more than $1.5 million in sales, and 13 franchise groups received the Diamond Club award for achieving more than $2 million in sales across 16 stores.

Included in the exclusive group of Diamond Club winners were multi-unit franchise owners Dustin and Lauren Myers, whose four stores across Pennsylvania and Maryland accomplished $7.2 million in sales for the year, earning them the award for Top Total Sales in the Batteries Plus franchise system. After achieving nearly $6 million in commercial sales alone, the Myers also received the award for Top Commercial Sales amongst multi-unit owners.
"The Myers are a proven example of how crucial commercial sales are to Batteries Plus stores in finding success," said Joe Malmuth, Chief Franchising Officer for Batteries Plus. "The accounts they've been able to secure to help provide all the power needs to large local businesses, such as major hospitals in the area, are an inspiration to the whole franchise system as we continue drive a large focus into commercial sales."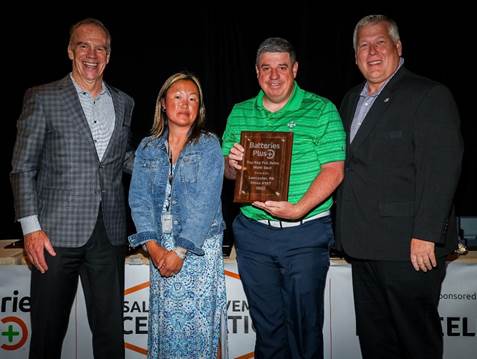 The Myers were additionally recognized with awards for Top Overall Sales Month as well as Top Key Fob Sales, while Dustin Myers was recognized as a Brand Ambassador for his dedication to growing the business and representing the Batteries Plus brand through the development process for the next generation of owners.
Also included in the Diamond Club winners was Mark Doggett, whose store in Raleigh, North Carolina was recognized for achieving the Top Total Sales of a single store owner, as well as the Top Commercial Sales of a single store owner.
"Franchise owners like Mark and Dustin demonstrate that Batteries Plus' services extend far beyond local sales," said Jon Sica, Chief Business Officer at Batteries Plus. "The extraordinary success our franchise owners have achieved can be directly attributed to their thorough execution of Batteries Plus' strong commercial sales strategy."
To learn more about Batteries Plus, including information on the franchise opportunity or to tour a store virtually, visit batteriesplusfranchise.com.
ABOUT BATTERIES PLUS:
Batteries Plus, founded in 1988 and headquartered in Hartland, WI, is a leading omnichannel retailer of batteries, specialty light bulbs and phone repair services for the direct-to-consumer and commercial channels. The retailer also offers key programming, replacement and cutting services. Through a nationwide network of stores, the company offers a differentiated value proposition of unrivaled product selection, in-stock availability and customer service. Batteries Plus is owned by Freeman Spogli, a private equity firm based in Los Angeles and New York City. To learn more about one of Forbes®' Best Franchises to Buy in America, visit https://www.batteriesplusfranchise.com.
PuroClean, Contractor's Alliance Network Expand Partnership in New Markets
TAMARAC, Fla. – (September 15, 2022) – PuroClean, one of the country's leading property restoration and remediation franchises, is continuing its partnership with Contractor's Alliance Network, LLC, a wholly-owned subsidiary and exclusive vendor network for Heritage Insurance Holdings, Inc. ("Heritage").
Capriotti's and Wing Zone
Chief Restaurant and Chief Technology Officer Add 50 Years of Combined Industry Experience to Premiere Fast-Casual Brands