DICKEY'S LOOKS TO TOP 2020 RECORD-SETTING FUNDRAISING EFFORTS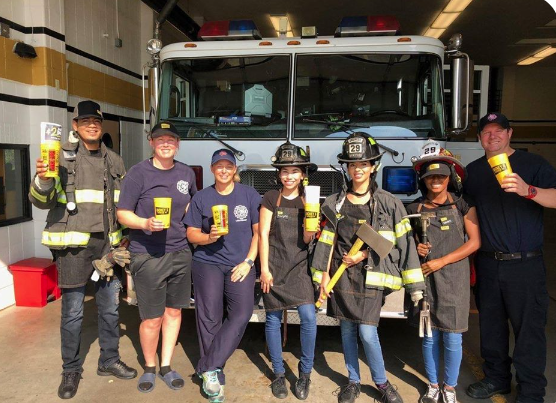 Dickey's Barbecue Pit releases results of 2020 first-responder initiatives and its plans for 2021.
DALLAS (February 2, 2021) – Award-winning barbecue restaurant franchise Dickey's Barbecue Pit in partnership with the Dickey Foundation is announcing they sold over 1.2 million of their limited-edition first responder Big Yellow Cups in 2020.
In July, Dickey's unveiled its first charitable Big Yellow Cup and in the three-month period the brand sold more than 800,000 First Responder Tribute Cups. In October, the brand sold nearly 500,000 Pink Big Yellow Cups in the limited-edition charitable cup's one-month run.
Dickey's accumulated more than $150,000 in funds for front line heroes by donating a portion of the proceeds from every tribute cup sold to the Dickey Foundation, which provides safety equipment such as helmets, shields, respiratory masks and overall support for local first responders.
"Doing both well and good is one of our guiding principles here at our family brand, in fact it's something we say every day on our system-wide call. We believe that when you're good to your community, everything else will fall into place and taking a look at where we are standing now and the success we've has this past year, I would say that has never been more true," said Laura Rea Dickey, CEO of Dickey's Barbecue Restaurants, Inc.
This past year, more than 500 Dickey's Barbecue Pit locations gave thanks to their local firefighters, nurses, EMTs and front-line workers for their tireless efforts by giving away more than 10,000 Pulled Pork Classic Sandwiches to their community's heroes.
In a continuation of their efforts, Dickey's is donating a portion of the proceeds from every cup sold this year to the Dickey Foundation to provide more localized support to first responders across the country.
Dickey's also launched their Dickey's Doing Good podcast to give community heroes a platform to share stories about their community, great barbecue and experience on the front line.
Learn more about franchise opportunities with Dickey's Barbecue Pit by visiting franchise.dickeys.com or call (866) 340-6188. To find your nearest Dickey's Barbecue Pit location, visit dickeys.com/locations.
About Dickey's Barbecue Restaurants, Inc.
Dickey's Barbecue Restaurants, Inc., the world's largest barbecue concept, was founded in 1941 by Travis Dickey. For the past 80 years, Dickey's Barbecue Pit has served millions of guests Legit. Texas. Barbecue.™ At Dickey's, all our barbecued meats are smoked onsite in a hickory wood burning pit. Dickey's proudly believes there's no shortcut to true barbecue and it's why they never say bbq. The Dallas-based, family-run barbecue franchise offers several slow-smoked meats and wholesome sides with 'No B.S. (Bad Stuff)' included. The fast-casual concept has expanded worldwide with two international locations in the UAE and operates over 500 locations in 44 states. In 2016, Dickey's won first place on Fast Casual's "Top 100 Movers and Shakers" list and was named a Top 500 Franchise by Entrepreneur in 2018. Dickey's Barbecue Pit has also been recognized by Fox News, Franchise Times, The Wall Street Journal, QSR Magazine, Forbes Magazine and Nation's Restaurant News. For more information, visit www.dickeys.com.
GRANITE TRANSFORMATIONS ANNOUNCES FRANCHISE OPPORTUNITIES IN THE RAPIDLY EXPANDING HOME REMODELING SPACE
MIAMI, FL (March 10, 2016) – Granite Transformations, a global full-service residential and commercial remodeling franchise known for their revolutionary, proprietary resurfacing process, is pleased to announce that franchise opportunities are now available throughout North America. With more than 20 years of franchising experience, the company offers a unique and thriving business model that has made its presence known in eight countries on four continents across the globe, with more than 150 franchise locations worldwide, including 74 North American locations.The home improvement business has seen continued growth and success over the past several years, and with a moderate entry-level investment, the opportunity proves to be an enticing venture for prospective franchise owners with a significant potential for profit and future growth.The Granite Transformations story is a rich, centuries-old Italian heritage turned global entrepreneurial dream. The company presents time-challenged and quality-conscious homeowners a premium surface design solution without the demolition hassle of traditional kitchen and bath remodeling. Using an exclusive selection of the highest-quality granite, recycled glass and quartz counter tops and mosaic tiles – all offering a lifetime warranty – its "over-the-top"installation process virtually eliminates the need for demolition, shortening a project timeline and easing the stress and mess of typical home renovations. The product's versatility allows for a wide range of uses and brings added value and growth potential, appealing to both homeowners and commercial businesses alike looking to renovate or build new."Granite Transformations offers one of the most dynamic and fulfilling franchise opportunities in the rapidly expanding home remodeling space," says Andrea Di Giuseppe, International Chief Executive Officer. "Customers are looking to spend wisely and make a smart investment – they want the most attractive, quality, sustainable product, which is exactly what we offer coupled with the fastest install process available to immediately increase home value."With renovations continually on the rise, franchise owners enjoy minimal risk and consistent demand no matter the state of the economy. Homeowners are choosing to renovate the key areas of their homes – kitchens and bathrooms– rather than build or buy new, and their recognition of the value of this important, long-term investment is an undeniable owner benefit.Di Giuseppe continues, "From the very beginning, Granite Transformations has stayed true to its artistic tradition,respect for natural resources and commitment to innovation, and the company is committed to the continuing expansion, growth and success of our franchise system."
Interview with Tim Courtney, CruiseOne's Director of Franchise Development
Founded in 1992, the CruiseOne franchise is now one of the leading travel retailers in the country. As part of World Travel Holdings (WTH), CruiseOne maintains its position as a premier vacation supplier, providing millions of people access to the world's most fascinating destinations through its 775 franchise owners. This year, Entrepreneur Magazine named CruiseOne one of its Top 50 franchises, out of over 4,000 operating franchise systems worldwide.