Entrepreneur's Edge: Untamed Sandwiches
Last week, I had the opportunity to speak with Andy Jacobi, founder of NYC restaurant Untamed Sandwiches. Andy opened Untamed in January 2014, but is already deep into the rewards and challenges of owning his own business.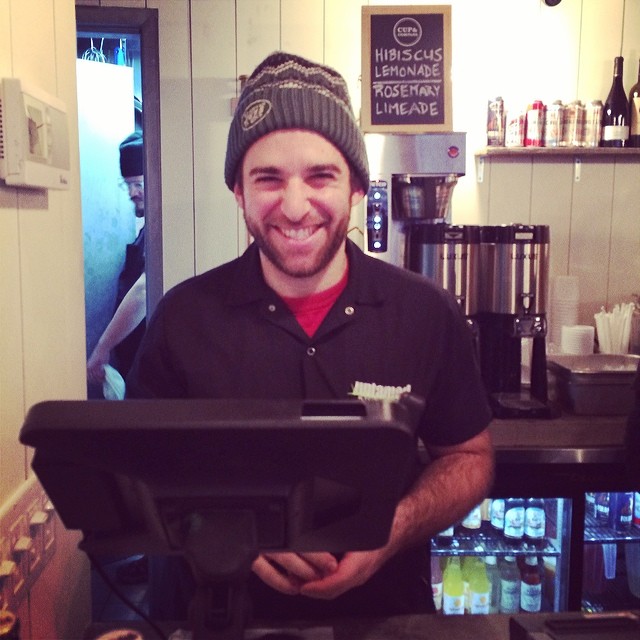 A sneak peak at what you'll learn from this interview:
You can start your own business even if you weren't that kid who sold lemonade on the corner. In Andy's words, "I'm not someone who has been a serial entrepreneur since I was a kid.But I've always excelled most when I could take ownership of the things I was doing."
For Andy, the best part of being an entrepreneur is "the satisfaction from starting something from scratch,seeing it build, and turning it into something great."
If you're thinking seriously about starting your own business, Andy has some advice for you- either go with what you know, or do your research. "A lot of the failures in entrepreneurship," Andy explains,"Come from people who haven't done their homework before starting something."
Check out the full interview transcript below.
RM (Interviewer): Tell me about your background before starting Untamed.

Andy Jacobi (Founder of Untamed Sandwiches): I've been in finance majority of career before business school. While I was in business school,I worked for a grass fed meat company as Director of Sales and Marketing. I sold grass fed buffalo meat, which is very expensive.It was eye-opening to see a startup in the meat world.I did that for a year in school, and one customer - a chef working at 2 different restaurants, eventually became my partner for Untamed.
RM: What led you to start Untamed?
AJ: I went to business school knowing that I wanted to do something entrepreneurial in the food world. But I wasn't sure what. The reason I went to Wild Idea [the grass fed meat company] is because I care passionately about sustainable food and being a force for good. With Untamed, I get to do that on the consumer-facing side.
RM: You said you went into business school knowing that you wanted to do something entrepreneurial - have you always thought you wanted to be an entrepreneur?
AJ: Being an entrepreneur is something that I always envisioned doing. I'm not someone who has been a serial entrepreneur since I was a kid, but I've always excelled most when I could take ownership of the things I was doing. I don't enjoy just having a job or a set of tasks to do in a day. I always saw entrepreneurship as a culmination of applying skills you have built up into something you are passionate about.
RM: What do you think your strengths are as a business owner?
AJ: Any entrepreneur needs to be jack of all trades and master of none. With food, it's not enough just to be a smart business person. You need to be very detail-oriented. You can't have an off day. I needed someone like [my partner] Ricky - my skills are in business. You need to know your limitations. I needed someone who focused on the food.
RM: When you told your friends and family you wanted to start something, what did they think?
AJ: At first, they were apprehensive. I worked in finance - avery lucrative industry, and it's scary to my family for me to jump into the unknown. Over time, as they've seen what we've done and what we have built, they have been our biggest supporters. It's extremely understandable that they will ask a lot of questions if they care about you, but I feel likeI have answered those questions.
RM: Are you happy you decided to take the leap into entrepreneurship?
AJ: Oh yeah. Definitely. It's extremely challenging in every sense of the word, and I'm still working 80 hours a week every week. But it's also a lot of fun.
RM: How did you fund Untamed?
AJ: We did take on investors. We did a friends and family round when we first opened. As a restaurant startup, it's very difficult to find institutional investors that want to invest in you.
RM: What is most different compared to working for somebody?
AJ: When you start your own business, time management becomes really challenging. You want to do everything, have your hands on everything. You can't, and it's not a smart way to build a business. As you grow, you have to proactively look for ways to delegate things that you used to oversee.
RM: Aside from delegating more, how is your day-to-day different?
AJ: Day-to-day of an entrepreneur is always going to be insane. There is never-ending number of tasks you are focused on. The buck stops with me, and that drives a lot of what I do. At [my former company]Wild Idea, I had specific things I was focused on. I cared deeply about the company, so I took on new stuff, but there is a limit to where my responsibilities could go.
RM: What are the benefits of running your own business?
AJ: You hope that at some point there is a financial benefit, but the real benefit is the satisfaction from starting something from scratch and seeing it build and turning into something great. I also get a kick out of talking to customers on a day-to-day basis.
RM: From a business perspective, how are things going?
Things are going really well. We have exceeded expectations, and I'm looking forward to expanding at some point, but there's always the day-to-day hustle. I heard one of the founders of Foursquare speak, and someone asked him, "When did you say - wow, we have made it?" He sighed - "I don't know that we HAVE made it." I can relate. I don't know if I'll ever get to the point of "we made it."
RM: Our audience includes a lot of people who are thinking about making the plunge into entrepreneurship. If you could tell them anything, what would you tell them?
Coming from business school,where entrepreneurship has become more popular to do and talk about, I think it's important to remember to start a business that you understand. A lot of the failures in entrepreneurship come from people who haven't done their homework before starting something.
Kid to Kid opens its 100th franchise location
"My husband and I decided to open a store in the Frisco area because it is such a rapidly growing area with a lot of families," says Tracy Schwegman, Frisco store owner. "We are both thrilled about being the 100th Kid to Kid store!"
Business Management Expert Brandon Harrison To Open New Griswold Home Care in Texas
March 4, 2021 – Blue Bell, Pa. – Continuing its steady expansion into key growth markets, Griswold Home Care, a 200-location leader in senior care, has awarded a franchise in Katy, TX to new franchisee Brandon Harrison. The new location marks the 21st unit in Texas for the fast-growing franchise, which has plans to add another 15 locations to the market.