International Minute Press Franchisees Kim and Bob FitzGibbons Share Post-Pandemic Growth Strategies in Meridian, Idaho
Kim and Bob use a combination of in-person networking, internet marketing, and direct mail as they build on the sales momentum they gained during the pandemic.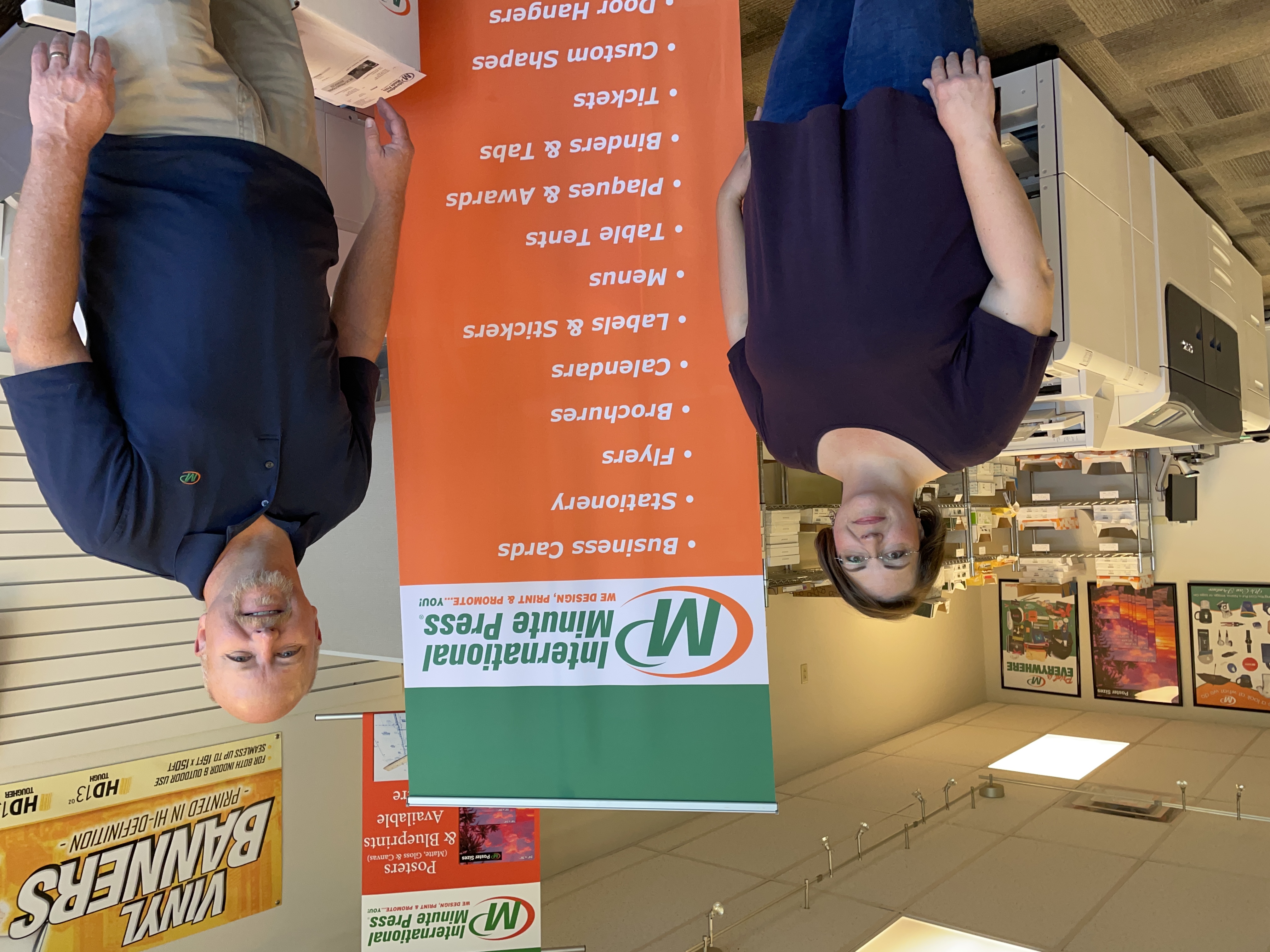 As more and more businesses reopen and their community gets back to normal, Kim and Bob FitzGibbons are ready to rock and roll in Meridian, Idaho. Their International Minute Press design, printing, and marketing center is located at 2020 E. Overland Road, Suite 110, Meridian, ID 83642. (Minuteman Press International operates as International Minute Press in Idaho.)
Kim says, "There was a real sense of community during the pandemic, and it was very rewarding when we could help serve other businesses. We are excited to be involved in all of the printing opportunities that are coming our way as business life gets back to normal."
Kim and Bob first got started in April 2020, right when the pandemic first hit. Of that experience, Kim says, "We were helping restaurants rebrand themselves completely during the shutdown, handling their design and marketing needs in addition to printing. When reaching out to other business owners throughout the past year, we have felt that most everyone has been receptive to the vast services we offer, especially since they know we are a local business and we can meet with them personally."
Kim adds, "Banners and direct mail have been great resources that we have been able to offer our customers. This allowed them to stay relevant to their customers at a time when face-to-face interactions were limited and now they see how valuable our products and services are in driving their own sales."
By helping others at the height of the pandemic and with post-pandemic growth today, International Minute Press in Meridian has also been able to grow their sales. Kim explains, "Our business has grown through internet marketing and through networking groups included Kiwanis, BNI, the Chamber of Commerce and relationships through our church. We've also utilized direct mail to reach those not within our networking circles."
When meeting with other local business owners, Kim takes a fantastic, educational approach. She shares, "This is a crucial time for all businesses. We have tried to be a resource of knowledge and service as everyone returns to businesses being open. This includes walking them through utilizing direct mail and the importance of advertising so that the community will know that their business is still here and vital to the community."
"The community of Meridian is rapidly growing. Everyone we have encountered has been excited about the growth and changes within our community. This includes what we have to offer through our business; diverse print, promotional and apparel pieces with our own personal touch and the relationships that we are growing." – Kim FitzGibbons, co-owner, International Minute Press, Meridian, Idaho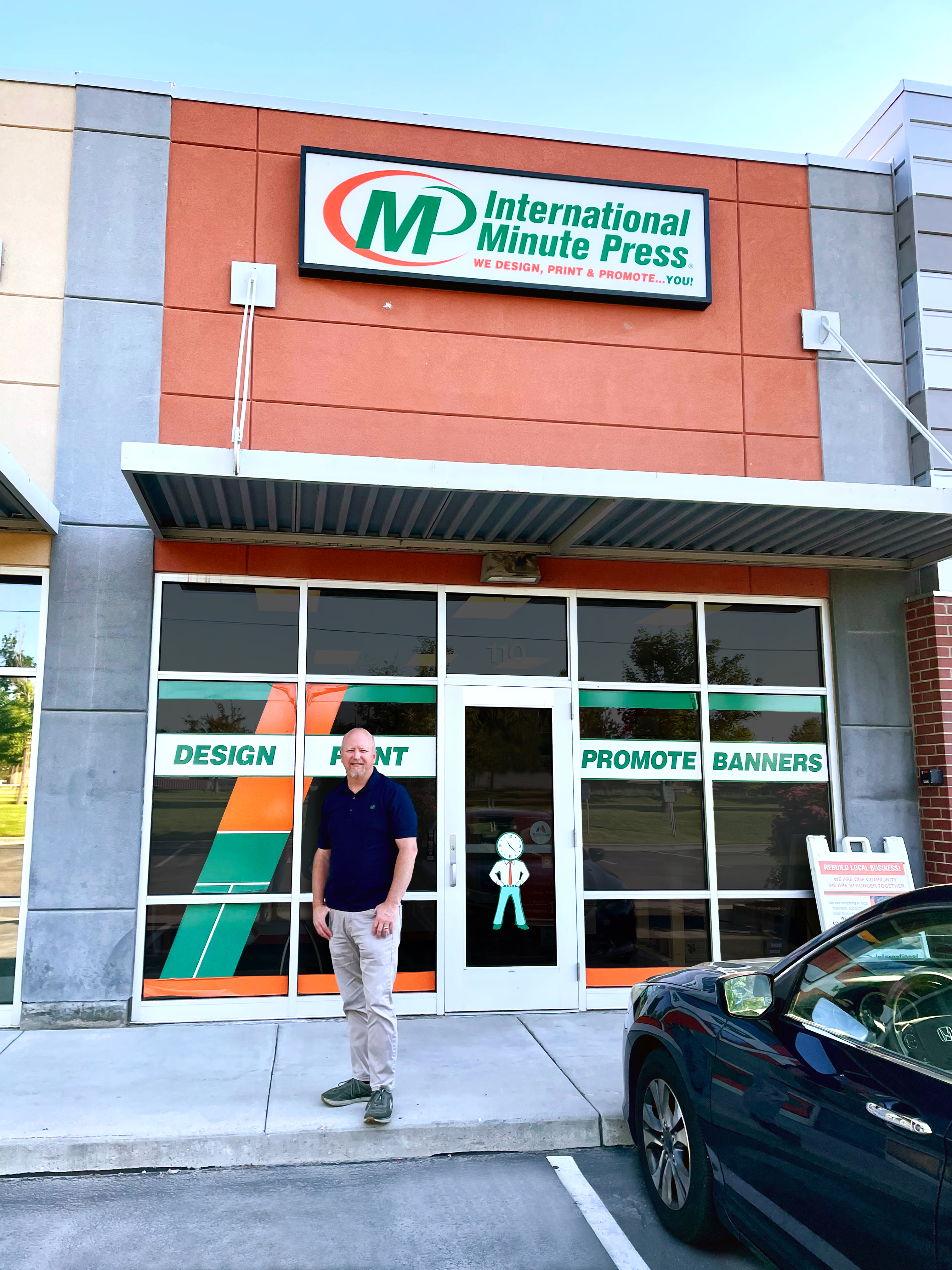 It's important to love and believe in what you do, and Kim's love of print shines through. She says, "Printing is a vital part of everyday life, including the business world. People like to touch and see things in person. Print is something that everyone utilizes in some way or another and it makes an impact that digital cannot. It makes the best impact when that printing is well done. We are tactile people and will remain so even as business practices change over time."
Kim also appreciates the ability to balance work and family lives. She shares, "Personally, we are grateful to be in control of our careers by of working with Minuteman Press International. This includes how we spend our time as a family. Our children recognize that we work together each day toward the same goal; to operate a successful business in our community, which we love. It's very rewarding to teach our 12 and 14-year-olds how to do many of the tasks involved in our day to day jobs."
Before owning their own business, Bob and Kim had separate careers. Kim says, "Bob's background was in sales, business management and photography including photographic printing. My degree was in Graphic Arts and Printing Technology but was underutilized in previous career paths as I pursued photography and worked in customer service. Together, our strengths have come together to create the perfect storm in working with Minuteman Press International as our support team."
Speaking of the support she has received, Kim adds, "Minuteman Press International has been very supportive of us throughout the past year. With it being our first year in business, we needed that support in multiple ways and received it. Although our class was the first to have virtual training done by Zoom meetings and we never made it to New York, we feel like we are a part of the team each time we interact with someone from the home office. Our regional team has been terrific in supporting and encouraging us throughout this unprecedented year."
Ultimately, Kim and Bob's primary message when networking and marketing her business is simple and effective. "We encourage other local businesses to stick together and utilize one another's services. If a community is going to grow and be sustainable, local businesses need to support one another. That message resonates with our clients and has helped us all build each other up together."
For more information on International Minute Press in Meridian, Idaho, visit https://minuteman.com/us/locations/id/meridian.
Learn more about #1 rated Minuteman Press franchise opportunities and read Minuteman Press International franchise reviews at https://minutemanpressfranchise.com.
Contact:
Minuteman Press International
Franchise Opportunities, 1-800-645-3006
https://minutemanpressfranchise.com
or
Media:
Chris Biscuiti, 631-249-1370
National Guard Veteran Darin Overstreet Transitions to Owning Minuteman Press Franchise in Aurora, Colorado
AURORA, Colo. & DENVER – Darin Overstreet, co-owner of the Minuteman Press franchise located at 14190 E. Jewell Ave., Suite 1, has retired from the Colorado National Guard where he served as Chief Public Affairs Officer for the Joint Task Force - Centennial. Today, Darin, who also served in the U.S. Air Force, runs Minuteman Press in Aurora along with his wife Anne. Together, Darin and Anne provide local businesses and non-profits with design, printing, marketing, and mailing services.