PuroClean Notes Shift in Network Diversity, Recognizes Emergence of Outstanding Hispanic Franchise Owners This Hispanic Heritage Month
One-third of new Franchise Owners Joining Thriving Restoration Brand So Far in 2021 are of Hispanic/Latino origin; Hispanic Owners Took Top Awards During Annual Convention Earlier This Year, Recognized for Making Outstanding Impact in Their Local Communities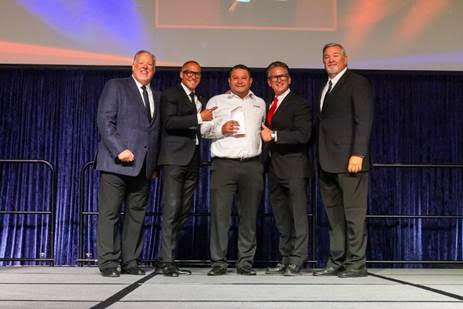 TAMARAC, Fla. – (October 4, 2021) – PuroClean, one of the country's leading restoration and remediation franchises, is celebrating diversity and inclusion this Hispanic Heritage Month, recognizing the emergence of a new group of outstanding franchise owners within its system. So far in 2021, the company has welcomed about one-third of new franchise owners who are of Hispanic or Latino descent. Even more impressively, PuroClean's top honors were awarded to Hispanic franchise owners at the annual PuroClean Annual International Convention earlier this year. Husband-and-wife team Ivan and Karina Oliver from PuroClean of San Antonio Northwest were awarded "Franchise of the Year," multi-unit owners, David Shiffman and Ricardo Herdan earned top honors with the Hot Shot award, and, the first-ever PuroClean Cares Award was given to Nelson Rivera.
"As a company that is committed to inclusion, we seek out franchise owners from varying backgrounds who share a passion for relentlessly serving their local communities," said PuroClean President and COO Steve White. "Hispanic Heritage Month is an ideal time to take a moment and recognize the outstanding Hispanic entrepreneurs who have joined our family in recent years. That said, the recognition is not, and will not, be limited to just one month. I look forward to celebrating the continued growth and achievements of this group of outstanding owners for months and years to come."
Earlier this year, during PuroClean's Annual International Convention, the coveted Franchise of the Year recognition went to Ivan and Karina Oliver, husband-and-wife owners of PuroClean of San Antonio Northwest. This award recognizes the PuroClean business that achieved the highest ranking in over 12 criteria, including sales growth, branding excellence, and profitability, to name a few. The Olivers relocated to the U.S. from Mexico in 2010 to follow their entrepreneurial dream and create new opportunities for their family.
David Shiffman and Ricardo Herdan, both originated from Venezuela, are very active in the Jewish community and met doing community service over 10 years ago. These multi-unit owners have three South Florida licensed locations, in Aventura, Downtown Miami, and Davie.
Nelson Rivera, owner of PuroClean of Morristown, NJ, was honored during the convention as the first-ever recipient of the PuroClean Cares Award, recognizing the charitable contributions he has made to his community in Northern New Jersey. A native of Puerto Rico, Nelson continues to go above and beyond since purchasing his PuroClean business with his wife, Sujey. Rivera, a career firefighter, has executed a community-based business plan, giving back a portion of his profits to the communities he serves.
In addition to their business endeavors and local community contributions, the Olivers, Rivera, and Shiffman and Herdan also led teams across state lines to conduct emergency remediation services earlier this year as severe winter storms swept through Texas. Nelson even went a step further, shopping for numerous people he found living in tents under a bridge, who had been affected by the unexpected freeze.
"It is an honor to be recognized by PuroClean for the work we do every day, knowing that choosing to give back makes an impact in other peoples' lives," said Rivera, who is currently planning for his second PuroClean location. "I'm both proud and inspired to see other Hispanic and Latino owners accomplishing success within this franchise, and I look forward to being part of helping champion continued diversity within PuroClean – and the restoration industry – in the future."
PuroClean is one of the leading restoration franchise companies in the nation. Each year, PuroClean performs thousands of jobs throughout the United States and Canada, providing restoration services from common household mishaps to large-scale disasters.
For more information about PuroClean, contact 800-775-7876 or visit www.puroclean.com; for franchise information, visit www.purocleanfranchise.com/.
About PuroClean
PuroClean is a leading, world-class service brand that provides water damage remediation, fire and smoke damage mitigation, mold removal, and biohazard clean-up services, working with both residential and commercial customers across the U.S. and Canada. Founded in 2001, PuroClean is a diverse, fast-growing network of more than 360 North American franchise locations, each independently owned and operated. With a commitment to respond within two hours, the professionals at PuroClean are thoroughly screened, insured, and trained in utilizing the latest cutting-edge mitigation technology to complete the remediation task at hand. PuroClean has earned numerous awards within franchising and the greater global business community, including "The Franchise Satisfaction Award" from Franchise Business Review, ranking on The Franchise 500 from Entrepreneur Magazine, Inc. Magazine's "5000 Fastest Growing Private Companies" and Franchise Times' "Top 400," and being named a Top Franchise for Veterans by Entrepreneur Magazine.
###
Media Contacts:
Hemsworth Communications
Jillian Mushman / Jennifer Gordillo
954-716-7614 or PuroCleanPR@HemsworthCommunications.com
Francoach, Franchising 101 – Episode 91
In this episode of Francoach, they welcomed Ray Titus, CEO of United Franchise Group, to the show this week. Ray has decades of experience in franchising and in this conversation he and FranCoach's CEO, Tim Parmeter, take a deep dive into the history of franchising, where Ray sees the industry going in the next decade, and his company that is made up of ten different franchise brands.