Interview with Neil Pritchard, Owner and President of The Resume Hut
The Resume Hut Franchise started creating success stories for its clients over twenty-six years ago in 1986. The company began by helping people prepare compelling resumes that would get them noticed and interviewed. Beyond that, The Resume Hut helps its clients win the job, and coaches them to succeed in their careers.
The Resume Hut has earned its reputation through outstanding results and the quality of its work -- whether that work is an entry-level resume or a sophisticated CEO marketing plan.
Neil Pritchard, The Resume Hut's owner and President, worked previously at Nygard International (women's fashion) as VP of Human Resources; at the Yanke Group of Companies (transportation) as VP of Human Resources, Marketing, and Risk Management; and at Halliburton, Brown & Root (energy solutions and engineering) as Global Team Lead of Organizational Development.
Franchise Help (FH): What sets The Resume Hut apart from other career consulting and resume service providers?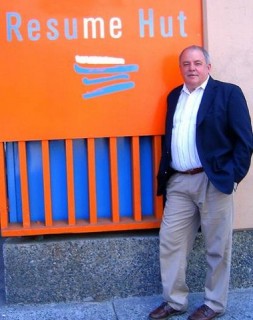 Neil Pritchard (NP): Aside from some very unique marketing programs, our service offering is client-oriented and provides personalized employment consulting services. We are personal employment consultants, helping people get work. That differs from selling resumes!
The Resume Hut has a unique and sought after consulting model which will become nationally branded and recognized as the trusted source for those seeking employment assistance.
We desire a presence in every major urban center where our client research indicates acceptable or superior revenues.This is an opportunity to create a branded, scalable business where none currently exists.
FH: Why should someone interested in a career consulting and resume service business go with a franchise like The Resume Hut, versus starting a mom-and-pop operation?
NP: 26 years of experience, complete process development, a huge database of existing clients around the world, and national and international brand recognition are just a few of the reasons.
FH: How competitive is the market for career consulting and resume services? What are you doing to compete with other service providers?
NP: Our service speaks for itself. We have repeatedly been nominated by our customers for Better Business Bureau awards for business ethics. We do not advertise because our referral and repeat business is so strong. Other competitors (the procession of startups) come and go while The Resume Hut endures.
FH: What kind of work background or skills set are you looking for in a franchisee?
NP: For Master Franchisees, we look for business development and management skills. For Unit Franchisees, we look for human resources and recruiting skills.
FH: How do you determine whether a given geographic territory is a good market for The Resume Hut?
NP: We have spent considerable time and effort researching populations and determining appropriate demographic footprints. Based upon that research, we know what areas will provide a sound return on investment.
FH: What kind of training and support can your franchisees expect to receive?
NP: We will provide training in our head office as well as ongoing training at the franchisee's site. Quality control is critical to our brand, so there will be substantial training to equip our franchisees with the tools they need to provide their clients with consistent and competent consulting services.
FH: How many franchise units do you have currently? Where do you have the greatest concentration of units?
NP: This is a new venture. We just recently decided to expand the business.
FH: What are the critical success factors in this line of business?
NP: Referrals and repeat business driven from raving fans!
FH: What can you tell us about the estimated initial investment, royalty fee, and profit potential for The Resume Hut franchise?
NP: The ROI is related to the geographic area and is extremely high. Royalty fees and franchise fees are low (a strategic decision) in order to stimulate growth and franchisee profitability.
FH: Which geographic markets are you targeting for expansion?
NP: Canada, the US, and selected markets globally.
FH: Is there anything else you wish to share about The Resume Hut?
NP: My vision for The Resume Hut is to be the first place that job seekers go to for sound, no nonsense, and objective advice. We will become a known and trusted brand and we will strive to earn this position by setting and maintaining the highest ethical and professional standards, autographing our work with excellence and creating success stories one client at a time.
We want to earn the right to be our clients' trusted partners; guiding them, helping them, and coaching them throughout their career or business undertaking. We will grow the business globally through a strong franchise network and will succeed together.
PERSPIRE SAUNA STUDIO SET TO EXCEED FRANCHISE GROWTH GOALS IN 2021
Perspire Sauna Studio, the nation's fastest-growing infrared sauna franchise, continues its growth trajectory in 2021 and is forecasted to award 20-30 new franchises over the next 12 months. While much of the fitness and wellness industry continues to struggle amid the pandemic, Perspire continues to expand its footprint across the U.S.