Facebook Live – Your Franchise's Own TV Channel?
I don't know how many of you are watching the World Series, but if you are then you have seen some really weird Facebook advertisements. If you need a refresher:
Facebook Live TV Commercial, 'Dentist'

Facebook Live TV Commercial, 'Teddy Bear'

Facebook Live TV Commercial, 'Beach'

And if you're like the vast majority of Americans, then you're probably thinking a few different things.
WTF
Why are these ads on TV?
What's Facebook Live?
I really don't have a good answer for you on the first two questions, so I'm not even going to try. However, we happen to be digital marketing experts over here at FranchiseHelp, so let's dig into number three.
Video. Heard of it?
If you're an avid reader of the Lead Generation Resource Center, then you know that video is a big deal. The two most recent mosts are likely of the most interest:
The fact of the matter is that, as the internet becomes faster and mobile devices become better, videos are quickly becoming the preferred method of consumption on the web. For a look at all the different ways that video is taking over, check out what Hyperfine Media says about it.
I'm assuming that's more than you wanted, but hopefully I get the point across.
Screw It, Let's Do It Live
As video becomes more and more popular, the latest innovation is that these aren't videos that are being produced by professional agencies. Increasingly, videos are being produced the same way everything else is, by people on their phones.
The first version of this phenomenon hitting the mainstream was the launch of an app called Periscope. Periscope, launched in March 2015, is a Twitter add-on that lets users broadcast exactly what's going on right there.
(As a fun fact, the two co-founders thought of the idea while trying to see what was going on during Turkish protests in Taksim Square. They wanted to see what was going on rather than simply read 140 character updates on Twitter.)
And thus, the live video revolution started. And frankly, there's no turning back.
Facebook Live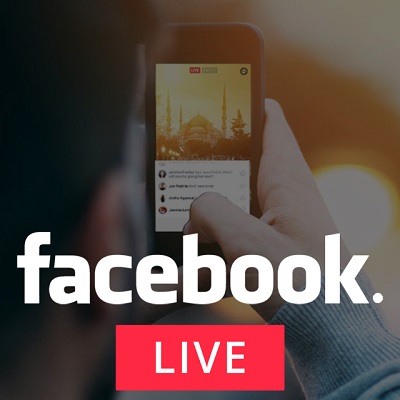 It was only a matter of time until Facebook got involved. And their venture into the live video world is branded as Facebook Live.
Now, Facebook users (both people and companies) have the ability to share live video with their followers. You could easily imagine broadcasting seminars, big company announcements, interviews, or anything else!
And the best parts are…
You don't need expensive video equipment or expensive video experts. As long as you have a smartphone or tablet and a Facebook account, you're ready to start!
The video lives on after the original broadcast. That's right. It's not just a live broadcast, but the content lives on in your Timeline.
So while it's true that the World Series ads focus on the more whimsical applications of the new technology, there are plenty of opportunities for marketing franchises. So check out Facebook Live today, and start your franchise's broadcast!
Inbox Changes – Here We Go Again...
Before I dig into what is a very dynamic topic for email marketing, I want to talk about mailboxes. In 1775, when Benjamin Franklin became the first postmaster general of the U.S., mailboxes looked something like this:
When Should You Serve Facebook Ads. AKA We Tried to Outsmart Facebook
We love Facebook ads here at FranchiseHelp. They're a great tool to use to reach a very specific audience with a more narrative message than you can usually accomplish with search ads. But beyond that we love the details you can get out of the data and the amount you can tweak your campaigns to take advantage of all sorts of small details. That's why we figured that Facebook would be the perfect place to run this experiment. We created a set of ten different ads and then ran each ad in 24 different adsets, one for each hour of the day. We let these ads run for a full month and believe it or not, a best time started to emerge.