FranTech Feature Report || Phone Un-Verification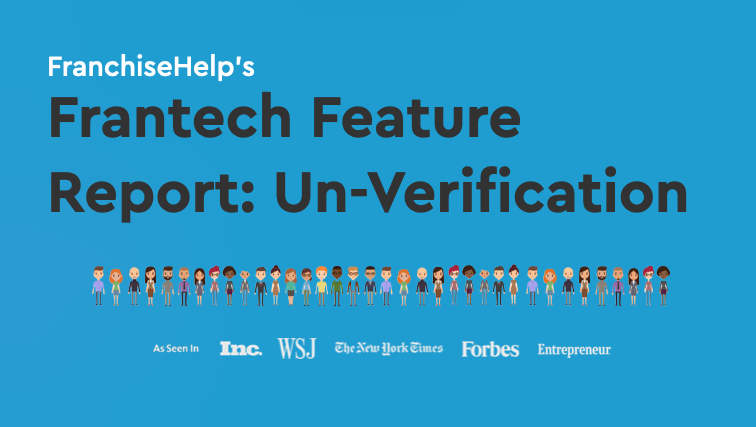 FranchiseHelp's mission is to introduce brands and potential franchise owners to each other in a tech forward way.
We've spent the past three decades modernizing our technology infrastructure to help our clients thrive and make the industry better. We love nothing more than finding new and exciting ways to make these innovations more robust and sophisticated so our clients' brands can thrive.
But long before the franchise industry gets access to our latest features, our team spends countless hours solving these problems internally. Architecting a technology startup is no easy task, and like any digital organization, progress for FranchiseHelp is driven in significant part by the productivity of our developers.
In this new series, we're going to be sharing that progress with you. What's more, we'll make sure you understand how the latest frantech can help your franchise organization navigate business growth in a hyper focused way.
Today's FranTech Feature Report: Phone Un-verification
FranchiseHelp has been innovating on verification technology for franchise lead generation since 2010. We've implemented automated phone verification, text verification, third party data validation, white pages verification and verification via two factor authentication, i.e. your account password is one factor, and possession of your phone is the second factor. Each of these verification tools has made verification faster and more accurate than the one before.
In September of 2020, our tech partner Twilio released an API that returns a list of phone numbers that cell phone carriers identify as "deactivated." (You can read more about this on Twilio's Support Page.) A deactivated phone number is one that belonged to someone, and then was released by that person. These phone numbers may later be picked up and used by someone else. There are thousands of such numbers reported by Twilio each day.
Deactivated numbers can be a problem if the original owner of a number signs up with an online service, and later it becomes deactivated and eventually gets picked up by another person. Since the number has already been verified, online systems continue treating it as a valid number for marketing and leads.
How We Solved The Problem
At FranchiseHelp, our digital marketing drives millions of users to our site every year. You can imagine, then, that our system gathers a lot of user phone numbers.
In October 2020, FranchiseHelp began using Twilio's API to get a list of deactivated numbers every day and automatically unsubscribe them for our texts. We consistently find over 100 of these numbers in our database per day on average, the majority from old users who haven't been on the site in a long time.
Starting today, we are now going a step further and "un-verifying" these phone numbers. This means that the next time someone tries to use that number on FranchiseHelp, the system requires the user to go through phone verification again. This process happens automatically each time we receive a new list of deactivated numbers.
We now also un-verify numbers that are reported to us by our clients through our normal lead replacement process. You can help us with this by continuing to send back any lead you receive with a bad phone number. When you do, we'll be able to replace the lead for you and also ensure the number is un-verified for the future.
Why This Matters To Your Brand
With every new piece of technology we ship, we're always aiming to improve the quality of leads for our clients and the user experience for potential leads. While deactivated numbers are relatively rare, making up only a small fraction of a percent of our users, this feature will eliminate some frustrating issues.
This feature is particularly relevant in the lead generation world, where our clients deeply care that a lead's phone number is their actual phone number. It's extremely frustrating (and expensive!) to pay for a lead only to discover that the person you thought would make an ideal candidate turns out to be someone else.
Our new feature aims to prevent that moment from happening. We're tamping down on that error to make sure our clients are calling the right leads with the right opportunities. And consumers aren't left with a negative impression of their brand.
This is one of the reasons FranchiseHelp's portal has been on the top of the game for several years now. We understand frandev professionals might have a mindset that they need a hundred leads every month, as our industry conversion numbers might suggest that as a magic number.
But the secret to franchising success is having leads that sustain life in the sales funnel. Un-verification is the latest tool in our robust verification toolkit to help make that happen for you.
With this exciting new feature, we're confident your brand will be able to use our portal to meet potential franchise owners in a tech forward, cost efficient way.
# # #
That wraps up this edition of the FranTech Feature Report. By the time you read this, our development team will already be hard at work on the next update. And when it ships, we'll be excited to share our progress with you.
Remember, franchising is all about implementing things that are proven to work. And we'll be here every step of the way as the innovation partner to help you navigate your business growth in a hyper focused way.
Angelo Luppino is a Senior Software Engineer at FranchiseHelp. His phone number, contrary to popular belief, is not 917/LOW-ZONE.
Browser Evolution 2014-2016: A Silent Killer
Over the course of the last few months, we've started to pick up our coverage of website design and actually capturing contact information from people visiting your site. You can check out the two most recent articles here:
Measure Franchise Lead Response Times in Seconds Not Days
Proper timing is a crucial part of any marketing venture. Frankly, proper timing can make or break a marketing campaign's performance. For example, a company attempting to target simply adults will find themselves purchasing TV spots late into the evening, well after the rest of the family has gone to sleep. (Think about the commercials on David Letterman's show.)