Which Lead Source Is Best? Finding The Right Mix For Your Franchise Brand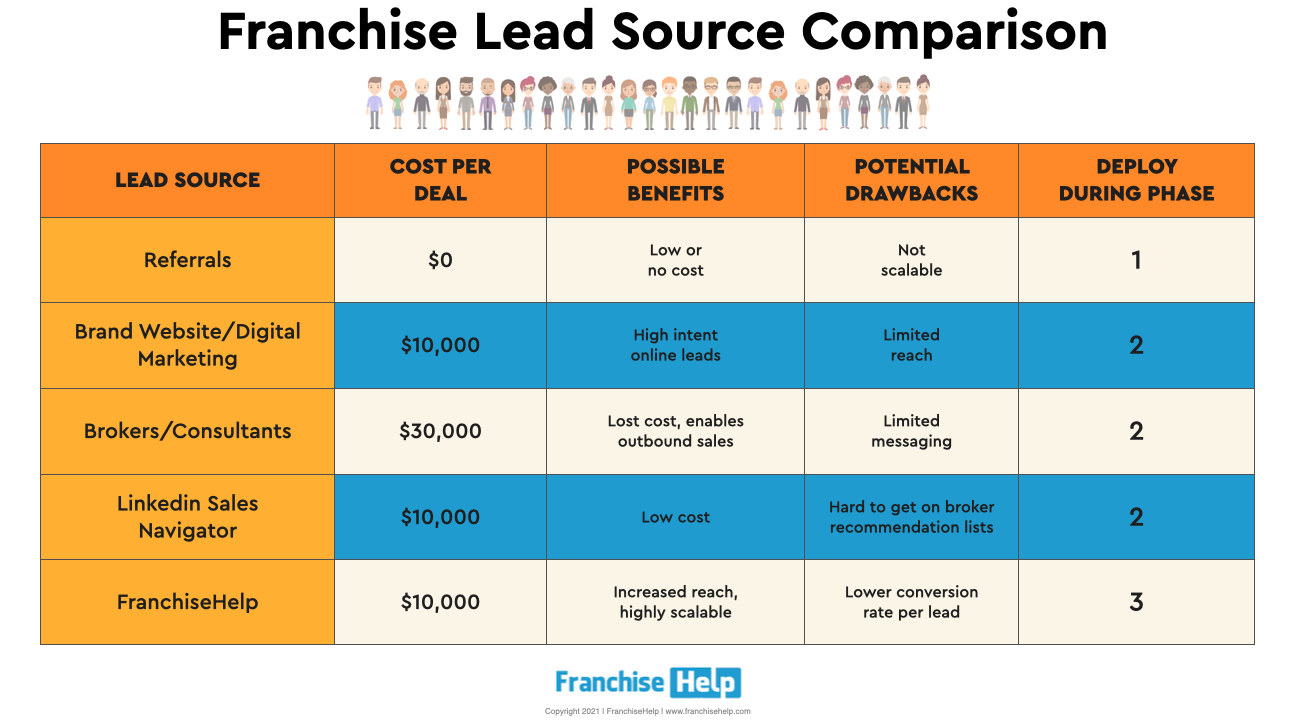 Franchise lead generation is a complex ecosystem.
There are seemingly endless lead sources to choose from. From friends and family to social media to portals to brokers, it's easy to get caught up in thinking about which ones are better or worse for your organization.
The real challenge is, what can you do with the main different lead sources that exist for you? And how can you find the right mix that suits your leads?
In this article, we'd like to do a lead source comparison to help you answer those questions. We've teamed up with our colleague Rob Huntington, CEO of West Side Franchise Group for key insight. We'll explore the five main categories:
Referrals
Brand Website
Linkedin Sales Navigator
Brokers/Consultants
Portals
Before we break down each lead source, it's important for your brand to consider its place along the franchising spectrum:
Phase 1 -- Emerging: If you're new to franchising we recommend starting with referrals as your primary lead source
Phase 2 -- Intermediate: If your organization has been franchising for some time, and is ready to grow more, it's time to move into websites, social media and brokers.
Phase 3 -- Advanced: If your brand is a veteran in to the franchising model and is looking to scale growth even more, portals will be your optimal lead source
With that, let's dig into each of the lead sources.
Referrals
Referrals are the golden ticket of franchise leads. They come from trusted sources, and generally cost very little. These leads for potential franchise candidates might come from friends, family members, customers, other franchises or people in your network. (Pet cats don't qualify, sorry!)
Rob Huntington made a great point about referrals during our recent interview:
"If you're growing organically as a karate studio, here's how it works. Someone takes karate class, loves it, and decides to open a location in their area. As that process scales, more referrals will start coming from franchisees, customers and employees."
Now, because of the organic and interpersonal nature of this lead source, you won't pay much in dollars for referrals, but there can be costs in the way of political or social capital, opportunity cost and time. Also because of this, it's not the most scalable option for most brands. We estimate most brands can get 1-3 deals per month from referrals.
Rob also noted:
"Friends and family are great if you can do it, but you can't get many deals from them. As a brand, your franchisees are customers."
If you are getting a good stream of referrals, use them! They are a great way of getting new franchisees without spending much money, and best of all they can be really excited about your brand before you even meet them.
But don't make plans to scale your franchise using this type of deal. Once you've gotten what you can from your referral network, you'll want to look into running some digital marketing campaigns, using tools like Linkedin Sales Navigator, and using consultants.
Brand Website
Running your own digital marketing campaigns can be a bit more work and expense than receiving referrals, but most brands find it to be a relatively effective source for high-intent leads with some direct knowledge of your brand. These leads will be generated via your brand's website, and may come from SEO and organic search, paid search or social media, or content marketing.
Success with this lead source hinges largely on the efficacy of your marketing engine and the usability of your website. If your organization has a dedicated team member to manage the process, you can get a significant number of deals per month.
Cost-wise, we're looking at web development and design labor, along with scaling advertising costs. This source can be scaled by increasing your digital budget, but will likely still top out before you reach your full growth goals.
Rob Huntington added some insights for this lead source as well:
"Advertising the brand is hard to do unless you're good at it. Finding people who want franchises for your karate academy is going to be hard, unless you have a celebrity brand name attached to it. Whereas a hundred unit franchise system will have a lot of organic. McDonalds, for example, actively has people into the funnel in love with them. Their website is the best lead source."
When considering a digital marketing strategy, consider honestly what your strengths are as a franchisor. Should you run digital ads internally? Or is this a job better handled by an agency or portal? Regardless of your digital skills, every franchise should have a lead form on their website, and you should consider leads from your website to be high-intent and work them accordingly.
Linkedin Sales Navigator
Chances are, your sales team is already using Linkedin Sales Navigator. The advanced search functionality helps you find the right people and companies with a search experience that delivers the most relevant franchise candidates.
Similar to internal digital marketing, your success in finding quality leads in this category depends on the efficacy of your marketing, allotted budget and who on your frandev team is doing the actual outreach. The main costs associated with Sales Navigator is the software cost for your salespeople, as well as the time spent researching and reaching out to prospects. If you have an effective sales team, there's not much better to help you in your targeted outbound efforts.
Here again with expertise on this channel is Rob:
"Linkedin is another good channel. The technology has figured out a way for average franchise development teams to use the sales navigator to solid success. You're not going to see tons of deals, necessarily. But brands are putting good money into it since it scales so effectively."
Brokers/Consultants
The broker/consultant marketplace has evolved significantly over the years and is a critical part of many brands' lead generation mix. (Read our series on the evolution of this industry in the past few years.) Brokers work with hundreds of franchise leads, and when they find one that's qualified and the right fit, they may bring a lead to you. Broker leads will enter your funnel well downstream of any other lead type, since the broker has done most of the screening and education in advance.
Broker leads are among the most likely to become a deal, but they're also the most expensive. For each deal closed, you'll pay a large percentage of the franchise fee as a commission fee for the broker. Most brands are more than happy to pay this fee every time, because they never have to pay it unless a deal has closed.
Any brand can receive leads from a broker, but not all brands receive them frequently. In order to make brokers a significant part of your franchise growth, you'll need to cultivate relationships with them. Implementing this strategy over the long term takes time, and a certain amount of networking with brokers who will pitch your brand regularly.
Once again, we tapped into Rob's brain for thoughts on this lead source:
"Franchise brokers often will get a few go to franchises they show to every client. These are the concepts with good unit economics, for a variety of income levels. If you're a new brand, the best to hope for are three or four brokers for you to be the main brand. It takes a lot of time to get brokers to prefer you. They don't just bring you deals because you exist. You need a relationship with a broker and they need to know you're good. Doing so takes a big charm offensive on the brand's part. It's a difficult mountain to climb, doable if you know playbooks, but not easy. You're not breaking through to top brokers at big brokerages unless you're really good."
You've got deals coming from referrals, digital marketing, Linkedin outreach, and brokers. Still want to grow more? Let's talk about portals.
Portals
These leads are generated by websites dedicated to connecting potential franchisees with franchisors. Portals list lots of different franchise brands that visitors can browse and request information on. Portals like FranchiseHelp run digital marketing to candidates interested in franchising generally, not one brand specifically. Using this expanded digital reach, portals are able to send you leads that you would never have found on your own, because they didn't know enough about your brand to Google you.
FranchiseHelp is the most sought solution for consistent real time delivery of leads to your frandev pipeline. We maintain the number one ranking with unparalleled digital marketing and continual improvement to our proprietary quiz and filtration technology.
But instead of tooting our own horn any further, we'll let Rob share his experience with our portal:
"If you tap everything else out, Franchise is your best answer for getting more deals. If you're not using this portal, you're plateaued. But when well executed, over the eighteen month time horizon, your sales funnel will have built up. FranchiseHelp's portal works within the ones who bite. The immediate text message verification is the best in the industry and it gets deals. And if your brand has a good policy against wasting time on unqualified buyers, you can surface the ones who are serious, work them and get deals."
Portal leads are certainly not the high-intent organic search leads you'll receive on your own website, nor the low-effort leads primed by a broker. But they are serious leads, and with a good process to follow up, you can use them to scale up lead volume and fill your pipeline as high as you need to, for as long as you need to. It will take significant time to ramp up, but once you've built your pipeline you'll be able to get deals month after month. It's the ultimate scalable source.
# # #
As you can see, franchise lead generation really is a complex ecosystem. We made a handy comparison chart so you can visualize the upsides, downsides, costs and revenue potential of each: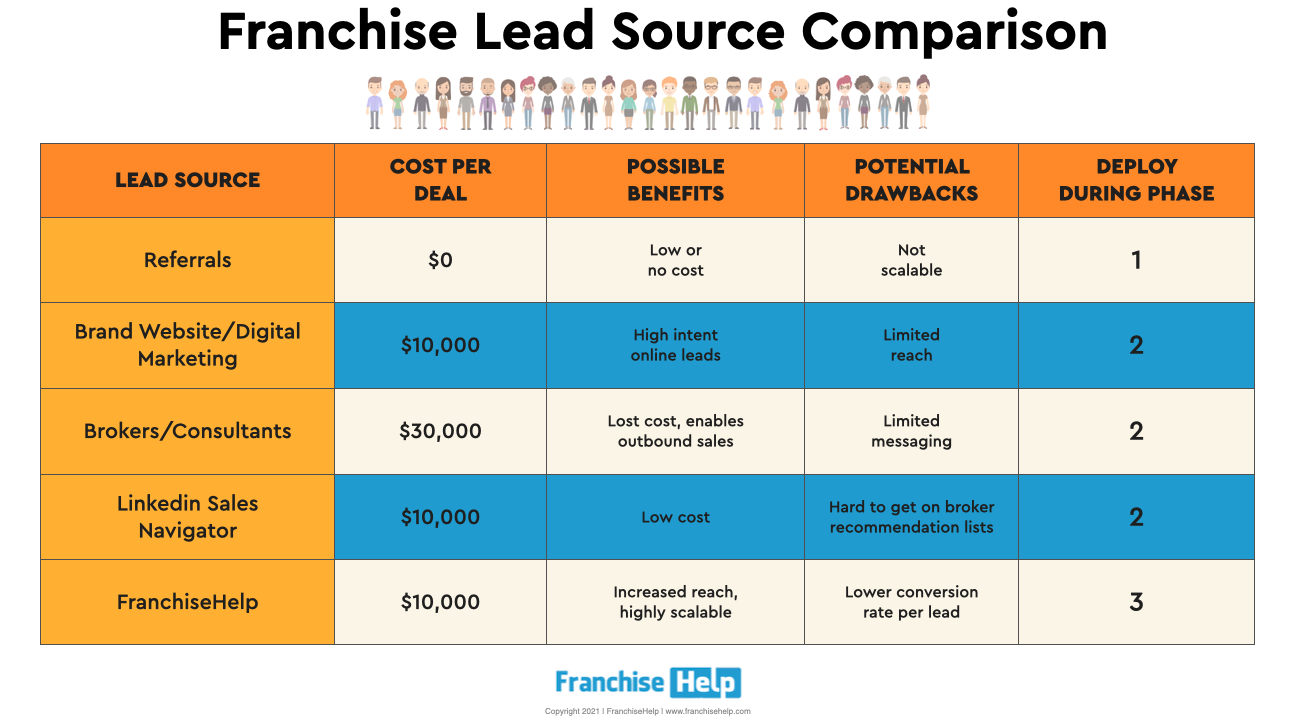 Among these different lead sources to choose from (Referrals, Digital Marketing, Brokers/Consultants, Social Media, Portals) it's up to you to find the right mix that suits your franchise organization.
Share this with your frandev and marketing teams at your next meeting, and you'll be sure to hit your growth goals this year.

Rob Huntington, CEO of West Side Franchise Group, helps aspiring owners invest in the right franchise for their goals. Learn more about his work here.
How Are You Growing Your Franchise?
Every year franchises spend hundreds of thousands of dollars on franchise development marketing across different channels. We took a look at how effective some of those channels are.