Franchise Feature: How The Barre Code Became A Top Results Driven Fitness Franchise (Full Webinar)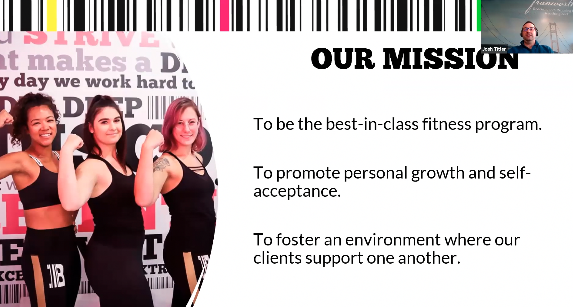 Are you looking to own a business that can make money and make people feel great about themselves?
Are you looking for a franchise that is multiple businesses rolled into one?
This week we hosted another Franchise Feature with, The Barre Code, where they shared about one of the most efficient, results-driven and unique fitness programs on the market today!
This business is in the right industry for strong growth! It is a low investment, small footprint franchise, that offers a recurring revenue model and the opportunity to scale giving franchise owners substantial results! As a franchisee, you will get to experience the personal satisfaction of living your passion while changing lives!

For those who missed out, here's the video of the full webinar:

What else does this Franchise Feature offer?
The ability for you to to create financial independence
Single or multi-unit opportunities for qualified prospects
Site selection and build-out assistance from approved vendor partners
Top notch marketing and operational support
Multiple stream revenue sources - membership, retail, online sales and on-demand sales
Unique product combining multiple franchises into one
Feel-good, empowering business that helps people and makes money
Ability to be an owner-operator or an executive owner (managing a manager)
Continuing education and support
To learn more, check out The Barre Club's website, or you can email direct to jessica@franchisehelp.com, and we'll connect you with the right team to explore this opportunity.
What is an Area Representative?
The reason why anyone would choose being an Area Representative is that they are paid a certain portion of the initial franchise fee of each new franchisee they solicit as compensation. Aside from the sales commission the area representative may get paid by the franchisor a portion of the royalties received for servicing franchisees. In some cases, franchisors will pay the area representatives a portion of the fee received from new franchisees in the reps' territory even though the area representative may have had nothing to do with the screening or recommending that particular franchisee. However, all these and other contingencies- such as compensation for furnishing many of the pre-opening and on-going services to the franchisee- should be covered in the area representation agreement.
Franchising and the Economy Infographic
In all the talk about deficits,unemployment, and the precarious state of our nation's economy, one of America's most powerful engines for recovery is often (and foolishly) excluded from the conversation -- a classic case of missing what's right under our nose. Developed and perfected right here in the U.S., the franchise business model represents the ideal blend of national heft and local business, accounting for hundreds of thousands of stores, millions of jobs, and billions in annual output.