Franchise Feature: How The Barre Code Became A Top Results Driven Fitness Franchise (Full Webinar)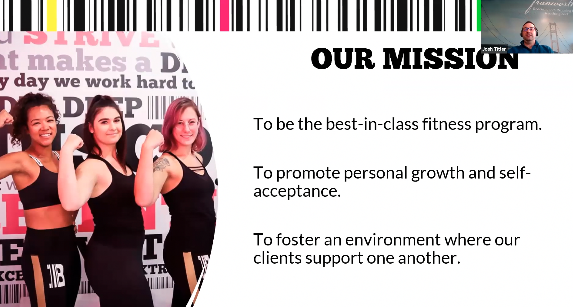 Are you looking to own a business that can make money and make people feel great about themselves?
Are you looking for a franchise that is multiple businesses rolled into one?
This week we hosted another Franchise Feature with, The Barre Code, where they shared about one of the most efficient, results-driven and unique fitness programs on the market today!
This business is in the right industry for strong growth! It is a low investment, small footprint franchise, that offers a recurring revenue model and the opportunity to scale giving franchise owners substantial results! As a franchisee, you will get to experience the personal satisfaction of living your passion while changing lives!

For those who missed out, here's the video of the full webinar:

What else does this Franchise Feature offer?
The ability for you to to create financial independence
Single or multi-unit opportunities for qualified prospects
Site selection and build-out assistance from approved vendor partners
Top notch marketing and operational support
Multiple stream revenue sources - membership, retail, online sales and on-demand sales
Unique product combining multiple franchises into one
Feel-good, empowering business that helps people and makes money
Ability to be an owner-operator or an executive owner (managing a manager)
Continuing education and support
To learn more, check out The Barre Club's website, or you can email direct to jessica@franchisehelp.com, and we'll connect you with the right team to explore this opportunity.
Best Pizza Franchise Opportunities in 2015
Tasty, classic, and lucrative, pizza franchises should definitely be considered if you want to open a food franchise. Pizza franchise opportunities are incredibly fast-growing, and are definitely not going to leave American's diets any time soon. (Imagine your life without pizza!) To get you started, we've listed some of the best pizza franchises below, so you can start comparing your options today.
A Break Down of Franchise Royalty Fees
When you first start your franchise you typically pay a franchise fee upfront. This will cover a variety of things that depend on the franchise you're dealing with, but often it will go towards initial training, marketing, and the rights to use the franchises logos, names, systems, and products. But that's not the only fee that franchisees will pay to a franchise. In addition to the initial franchise fees, the vast majority of franchises will charge their franchisees royalties that can come in one form or another. These royalties will often go towards ongoing training, sales of goods directly from franchisor to franchisee, and advertising and marketing efforts. The exact terms for these royalties are set out in your franchise agreement, but they come in a few common forms.