Franchise Feature: How The Barre Code Became A Top Results Driven Fitness Franchise (Full Webinar)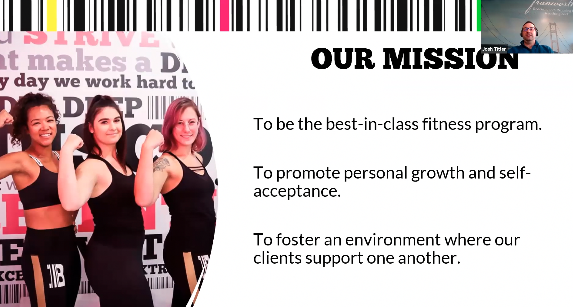 Are you looking to own a business that can make money and make people feel great about themselves?
Are you looking for a franchise that is multiple businesses rolled into one?
This week we hosted another Franchise Feature with, The Barre Code, where they shared about one of the most efficient, results-driven and unique fitness programs on the market today!
This business is in the right industry for strong growth! It is a low investment, small footprint franchise, that offers a recurring revenue model and the opportunity to scale giving franchise owners substantial results! As a franchisee, you will get to experience the personal satisfaction of living your passion while changing lives!

For those who missed out, here's the video of the full webinar:

What else does this Franchise Feature offer?
The ability for you to to create financial independence
Single or multi-unit opportunities for qualified prospects
Site selection and build-out assistance from approved vendor partners
Top notch marketing and operational support
Multiple stream revenue sources - membership, retail, online sales and on-demand sales
Unique product combining multiple franchises into one
Feel-good, empowering business that helps people and makes money
Ability to be an owner-operator or an executive owner (managing a manager)
Continuing education and support
To learn more, check out The Barre Club's website, or you can email direct to jessica@franchisehelp.com, and we'll connect you with the right team to explore this opportunity.
Protect Your Brand: Trademark Monitoring for Franchisors
Almost all franchisors own at least one federally registered trademark (and if they don't, they should). As a general principle, brand owners are required to monitor and enforce their trademark rights in order to retain the exclusivity afforded by federal trademark registrations. This takes on additional complexities for franchisors—who need to make sure not only that no one is using their trademarks without authorization, but also that franchisees are making proper use of their marks.
Before You Can Lead Others...
During my work for the past decade, both running and consulting to companies at every level of the business spectrum, I have noticed a curious and extremely prevalent trend.
Franchise Buying Tips: Purchase Without Passion
Yet that is exactly what most franchisees do. It's good to be enthusiastic about your future business plans. It's bad to fall in love with the deal and let your emotions take the lead. Think that won't happen to you? If you talk to a hundred franchisees you will find that few knew exactly what they were getting into. Most are sensible people with plenty of information who selectively twisted the facts to support an emotional decision.