Franchisee Focus: Why Maria Kirgan Opened Perspire Sauna Studio For Personal (And Professional) Wellness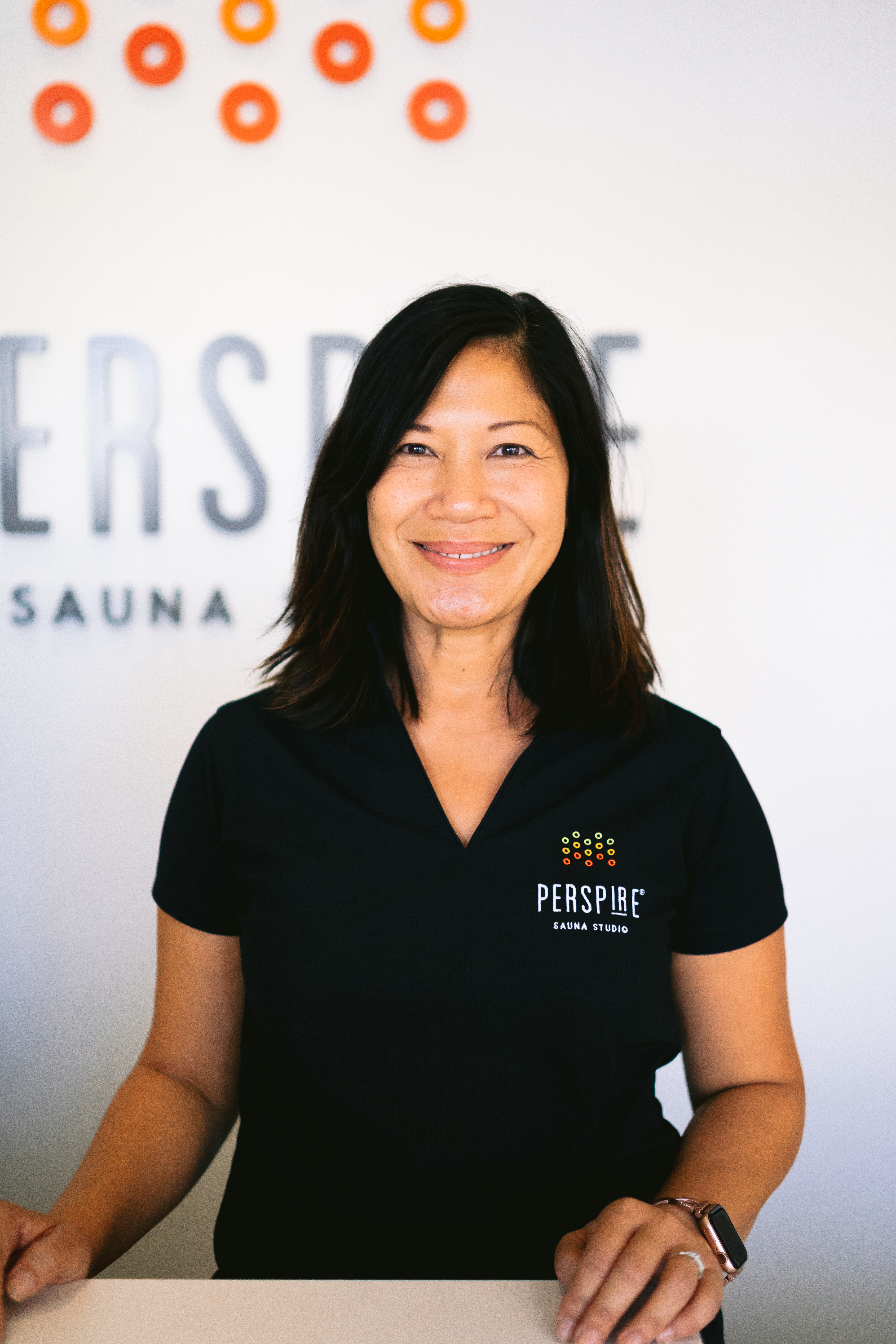 Last year we profiled Perspire Sauna Studio, one of the hottest franchise brands in the health and wellness space, both literally and figuratively.
Perspire spent the past decade developing the infrared sauna studio model before opening it up to the franchise market three years ago. They've now set the standard for infrared saunas in their communities in a friendly, comfortable, spa like atmosphere centered around hospitality and of course, sweat.
Recently, we sat down with Dana Point and Laguna Niguel owner Maria Kirgan to learn about her journey not only as a small business owner, but also as a cancer survivor. She shared her story about how infrared saunas have been essential to her personal and professional wellbeing.
Where does your health journey begin?
Two years ago, I was diagnosed with stage two breast cancer. My family didn't have a history of this disease, so it was a bit of a surprise. Over a period of nine months, I was required to undergo every treatment protocol, from double mastectomy surgery to chemotherapy to radiation therapy.
How did you make the connection between cancer and infrared therapy?
My personal trainer recommended trying infrared therapy as a way to eliminate metals from my system. The first time I tried Perspire Sauna Studios, it felt completely relaxing and therapeutic. But the real benefit was the cumulative effect of the treatment. I quickly became a premium member and saw amazing results with less and less pain.
When you're diagnosed with hormone positive breast cancer, you're put on hormone blocking medication for a long time. One of the common side effects of that treatment is joint pain. I used to wake up in the middle of the night in agony. It negatively impacted my mental health, despite being active and doing everything to help like acupuncture and psychological therapy. And I was deeply anxious and depressed about the whole thing.
In learning about the many different treatment options, I wanted to make my own decision about my care. Five doctors were telling me different things, and it became nerve racking. Infrared sauna turned out to be what was best for my body and mind post cancer treatment recovery, and Perspire was the place to do it.
How did you transition from customer to franchisee?
Going to Perspire regularly got me wondering, what would it be like to own one of those? And I began doing a reevaluation of my life.
Having spent three decades working as a tech company executive, I was used to being responsible for $500 million in product, with fifty percent travel time. I may have had top airline status, but the job was stressful and imbalanced my life. I was missing my three children and wanted to completely change my life, chart my own destiny and be in the wellness space.
But I had never owned my own business before. I was always in the corporate world, so becoming a franchisee felt like jumping off a cliff. My mentor told me, if you're going to do it, go all in. You can't work a full time job and also start something else.
What happened next?
I began doing all the analysis, and realized that could make this happen without having a negative impact on my family, financially speaking. The next step was rolling over my retirement funds from the past 23 years and using that as a jumping off point.
And reading things like the Franchise Disclosure Document and the Lease Agreement were not easy, but thankfully my skills in the corporate world prepared me for that kind of work. I've launched and managed products, analyzed P&L's and understand how to make customers happy by offering a product or service that improves their lives, so the transition was a natural fit.
How did the opening of your franchise go?
Looking for a store location during the pandemic was challenging, and it took us a few months to find location. Throw in construction, hiring and training, and it was certainly a lot of work. Lots of twelve hour days!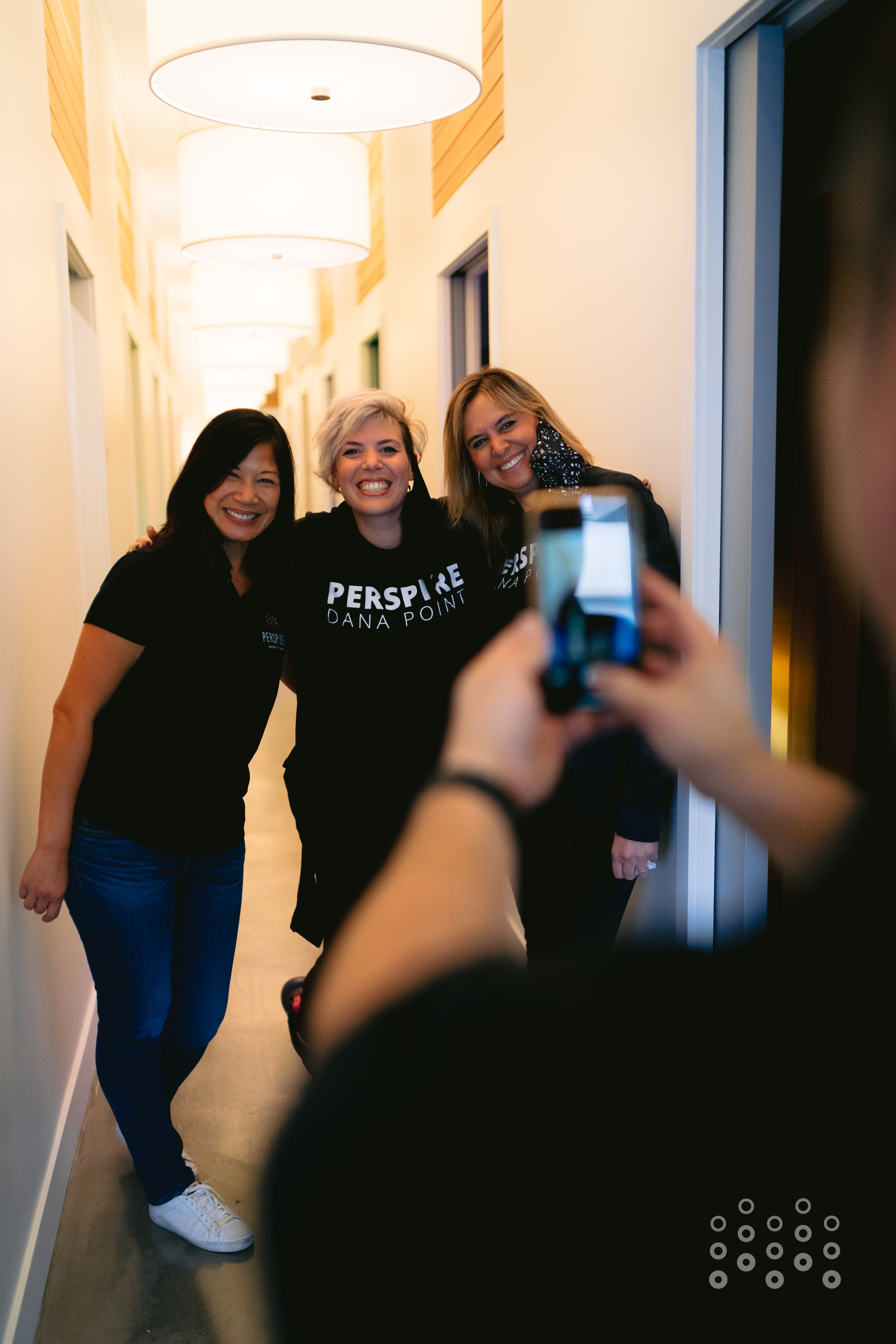 Thankfully, Perspire Sauna Studio, as a franchise organization, thrived in 2020 since many gyms were closed. Covid attracted customers who wanted privacy and social distance, but also an opportunity to detox safely and comfortably. We're fortunate to now have 270+ members at our location, and an amazing staff to keep everything running smoothly in just 3 months after opening.
What's your typical schedule like?
Well, thanks to my awesome team, I don't have to spend 12 hours there each day. Maybe an hour or two at each location, plus sauna time for myself, and the rest of the day I can operate remotely from home. Spending my time on owner activities like tracking metrics.
Today, owning my own business has flexibility unlike I ever had before. Now I can pick up my kids from school and take them to activities. I can also spend more time on myself being active and always looking for the next growth opportunity. Perspire does collaboration with businesses like health cafes and fitness studios, and that makes me feel more tightly integrated with the health minded community. It's definitely a different life, and I love it.
And Perspire, as an organization, offers an unparalleled partnership. Had I gone about this myself, I would have spent a whole lot of money creating my own brand and making very expensive mistakes. That's why it's such a huge advantage to work with a franchise organization that's already established in our county. It's like having ten years experience when starting your first location.
What about your health? Cancer got you started on this career journey, but how are you feeling today?
I'm going to be on preventative medication for ten years. The joint pain is still going to be there but so glad it's almost nonexistent with infrared. But I've never been happier in my entire life. Infrared therapy has become a critical part of my lifestyle. And from a career standpoint, to be doing something I love that actually matters to me and impacts my life and sharing that with my community is priceless. Having flexibility and also actually making money? Being profitable the first month? That's crazy!
Actually, it's not crazy. It's Perspire Sauna Studio.
Learn more about Maria Kirgan and her location of Perspire Sauna Studio here.
Why I Have an Issue with the Forbes Franchise Rankings
The 5-Year Growth Rate and 5-Year Franchise Continuity are both great independent metrics of how a franchise is doing on average. As a potential franchisee both of these statistics are vital for selecting a franchise - you want to select a franchise that will provide you with a high return on investment and which will survive in the long run. I think these are, as FRANdata and Forbes suggested, two of the biggest (if not the two biggest) and most obvious metrics for whether or not a franchise is a "good" opportunity for a franchisee. But how do you use these to determine which franchise is BEST? This is the fundamental difficulty in coming up with a ranking system - it isn't the difficulty in separating the good from the meh from the bad - it's separating the great from the good and the best from the great. In the case of these rankings I found it to be pretty difficult to comprehend how they differentiated between the top ranked franchises. For instance, if you look at the difference between Discover Map (Forbes #4), Just Between Friends (Forbes #5), & Seniors Helping Seniors (Forbes #6) they all have extremely close continuity ratings and substantially different growth rates. In fact, in the case of these three, the overall rankings are opposite the growth rate rankings. Seniors Helping Seniors is ranked at the bottom of these three franchises despite having a growth rate that is 31 percentage points higher than Discovery Map and a continuity that is only 2 percentage points lower. This suggested to me that continuity was viewed as the dominant factor. But that logic didn't hold for the rest on the "Economy Class" Top 10, as BrightStar Care (Forbes #7) had the same growth rate as Pop-a-Lock (Forbes #8) but a continuity rate that was 12 percentage points lower. These comparisons show that these were not the only two factors that went into the rankings, which is understandable, but no other factors that are explicitly listed in their results seem to be major factors.
Considerations for Developing a Franchise System
This article briefly outlines some of the key factors -- brand identity, policies & procedures, expansion targets, and management systems -- that businesses need take into consideration when evaluating whether their concept is ripe for franchising.