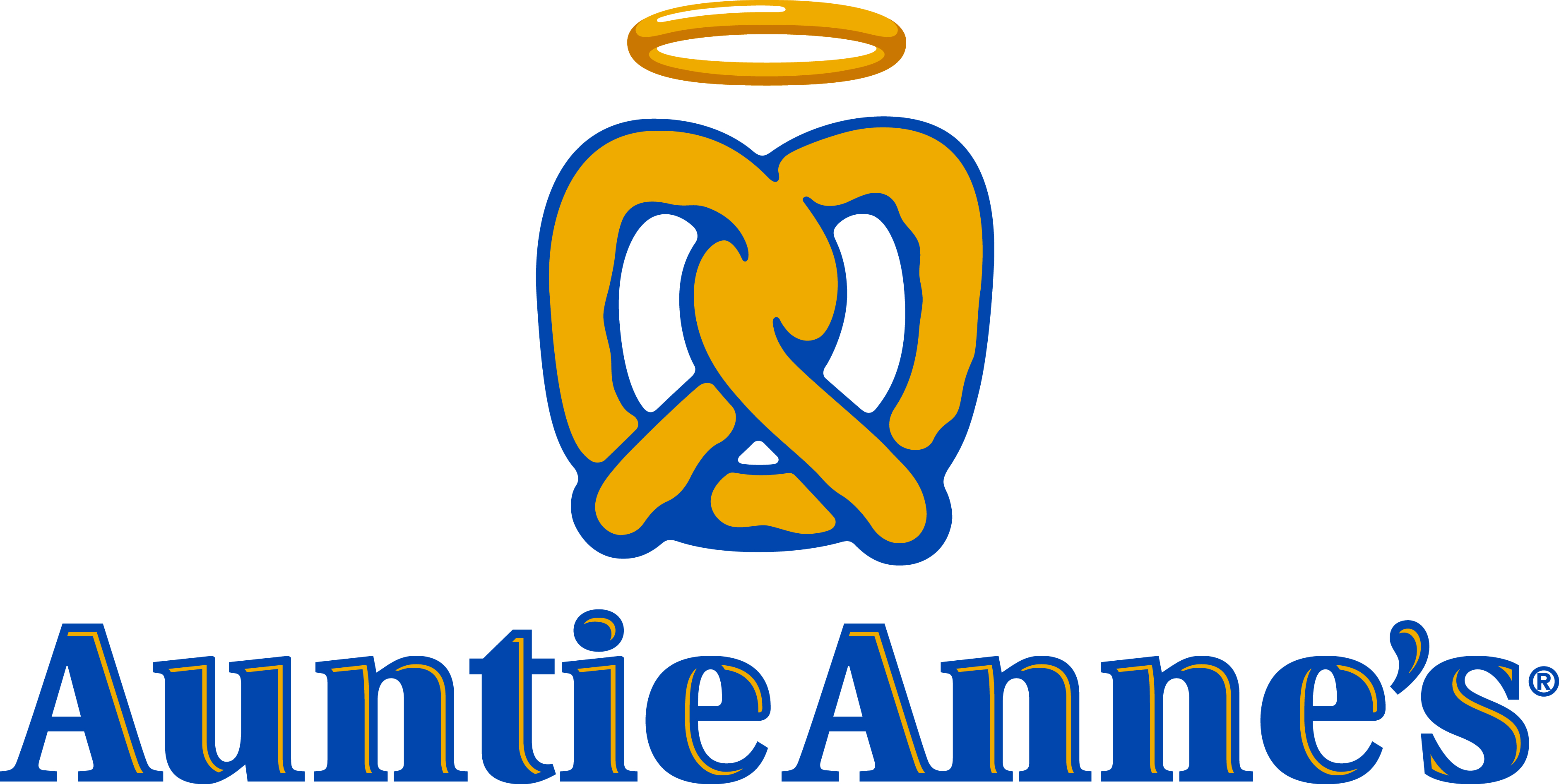 Auntie Anne's is the world's largest Pretzel franchise and is known for its signature in-store baking process, which results in irresistibly fresh, hot pretzels, perfect for dipping in a variety of sauces.
| | |
| --- | --- |
| | $120,000 |
| Net worth required | $300,000 - $580,000 |
| Investment | $100,550 - $503,500 |
| | $10,500 - $35,500 |
| Royalty | 7.0% |
| Offers Financing | Yes |
| Units in operation | 1,903 |
| Founded | 1988 |
| Franchising Since | 1989 |
Own an Auntie Anne's Franchise - Questions & Answers
What is it?
Auntie Anne's sells warm, freshly baked pretzles in a variety of styles and flavors
Also offers menu items like pretzel dogs, mini-pretzel dogs, and an assortment of dips and beverages
How does it make money?
In-store sales of pretzel-related menu items
Sales of gift cards, catering services, and take-home items like pretzel kits
Who is it for?
Someone who enjoys interacting with people and making delicious food
Franchisees familiar with food service and the restaurant business
What would you do as a franchisee?
Open and oversee daily operation of a pretzel-related fast-food store
Hire and manage food service personnel
Promote your Auntie Anne's store to attract a regular customer base
Why Auntie Anne's®?
Product, purpose, and people are what set Auntie Anne's® Pretzels apart from other franchise concepts. We equip aspiring business owners with the same know-how that turned a small farmer's market stand into the world's largest soft pretzel chain. Our strength and success as a franchise system have been proven since 1988.
Our Product
The statement holds true, "It's not a pretzel, it's an Auntie Anne's®." Unique in flavor and texture, Auntie Anne's soft pretzels stand above the rest. The quality of our soft pretzel dough, its hand-rolled, freshly-baked nature, along with the warm responsiveness of our crew members makes a visit to Auntie Anne's®as comforting as the food. We pride ourselves on knowing and promoting best-in-class quick service experiences.
Our People
People are truly the secret ingredient to Auntie Anne's® success. Behind the scenes, our Franchise Business Consultants and Corporate Support Teams work in tandem to boost franchise business operations through real estate, crew member training, register support, marketing, advertising, legal, operations, menu innovation, accounting, and more.
Our Purpose
Auntie Anne's® was founded on the motivation to help others. Our purpose is unchanged – we aspire to help others. That is why we do what we do; that is why we exist. From the first shovel that goes into the ground to build a new location to the clever quip that's printed on our packaging to the relationships we build with our landlords, our franchisees, and our guests, we exist to help others.
Testimonials
At the end of the day, our franchisees are truly the best barometer of our performance as a franchisor. It's not just our promise or our purpose, but our performance that they need. We're proud to be among a select group of franchise systems that hold the honor of being above 90 percent in our Franchise Report year after year.
"As a franchisee, you decide how far you want to go. You're in control, and noone can merge you out of that job."
Ernie Boyce

, Multi-Unit Operator, Mid-West Region
"Whether you're an experienced business person or a first-time franchisee, Auntie Anne's® corporate staff offers a lot of support to help you grow your business."
Bret Stewart

, Multi-Unit Operator, Northwest Region
"Auntie Anne's® is not the typical franchise system. We're involved in other franchise concepts, and the relationship with Auntie Anne's® is much more of a collaborative one."
Scott Rubin

, Multi-Unit Operator, Mid-West & West Regions
In my opinion the beauty of being part of a franchise system is that you're able to utilize operations that have been tried and tested."
Lisa Fullerton

, Multi-Unit Operator, West Region
PRETZEL FRANCHISE AWARDS & HONORS
Recognition from our franchisees, our partners, and others in our industry both humble and inspire us. And, while we are pleased with the results of our work, we are also dedicated to continuous improvement in every area of business. Pleased, but not satisfied – we work each day with our franchisees, our partners and peers, our guests, and our industry to reflect and seize upon the opportunities we have to excel.
Here are some of the accolades we have earned to-date.
Is this your franchise?
Contact us to unlock your franchise's page to add content and get leads!