Income Store, part of Today's Growth, a 3-Time Inc. 500/5000 honoree, is in their 24th year in business. Income Store partners with investors to acquire and grow revenue-generating websites. Income Store is then paid a percentage of revenue the sites generate in exchange for ongoing website management and growth services.
What industry are you interested in?
Take this short quiz and find the perfect franchise for you to start!
| | |
| --- | --- |
| | $100,000 |
| Net worth required | $300,000 |
| Investment | $100,000 - $5,000,000 |
| Units in operation | 755 |
What is it?
Income Store identifies, purchases, and grows websites and other web properties that create revenue
Once Income Store acquires a site, it manages the website, including hosting, content creation, marketing, and monetization
Income Store is a division of Today's Growth Consultant, Inc. (TGC), a 3-time honoree on the Inc 500/5000 rankings
How does it make money?
Similar to a real estate model, Income Store is paid nothing upfront, instead earning a percentage of revenue generated by the websites they partner on to acquire and grow
Who is it for?
People with sufficient capital seeking a passive, hands-off business model
Business owners with enthusiasm for web-based businesses
Investors who understand real estate or property management looking for a similar business model in the online space
What would you do as a Site Partner?
Partner with Income Store to fund the purchase of revenue-generating websites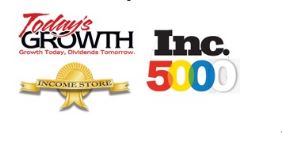 Hands Off Business Ownership
Income Store, part of Today's Growth, a 3-Time Inc.500/5000 honoree, is in their 24th year in business. Income Store builds and buys revenue-generating websites.
To date, they are partnered on over 710 revenue-generating website assets seen by over 200 million people each year. Income Store's model is similar to real estate rental property and franchising. Income Store finds the best locations and categories to build or buy, then seeks a partner to fund the project in exchange for a percentage of revenue.
Currently on the table are their next 7 revenue-generating platforms. Platforms range from sports and politics, to cooking and wine, to beer & cheese, and others.
Each of the seven projects delivers a monthly revenue share to the partner ranging between $2500 to $7000+ per month, or $30,000 to $80,000+ each year.
They are looking for capital investments of $200,000 for each of the seven properties. After funding, Income Store builds, manages, monetizes and maintains the property.
Income Store's website platforms are in use throughout all of North America, Costa Rica, Europe and Dubai. They enjoy partnering with individuals, companies and private equity firms.
Similar to a real estate agent, Income Store acts as an agent and then manager, finding or building "Revenue Generating" websites for individuals, groups and funds. They refer to the individuals, groups and funds as "Site Partners".
Income Store uses the term Site Partner because they have skin in the game. Instead of getting paid an upfront fee, like a real estate agent, Income Store receives a revenue share on each site purchased or built.
Income Store is unique on many levels. They are the only company that acts as the "Buyer/Builder - Host - Manager – Content Writer - Marketing Agency - Monetization Agency and Maintenance Arm" for a website purchase or buildout. What makes them truly unique is that they perform all of the aforementioned services on a "pay per performance" basis. If the site partner doesn't make money, Income Store doesn't make money. Income Store protects all site partners with a "Consulting Performance Guarantee."
Ken Courtright, Founder: Since 1992, from small businesses to NASDAQ, Ken has consulted for 3100 companies. Forming TGC/Income Store in 2009, Ken bridged "Growth Consulting" with the "Internet". Recently authoring "Online Income: Navigating the Internet Minefield", co-authoring "Against the Grain" with Brian Tracy and now releasing the next "Guerrilla Marketing" book, Ken, a Best-Selling author in 5 different categories, has recently been featured on WLS, WGN, Website Magazine, FOX, CBS, ABC, NBC, A&E;, BIO and recently USA Today. Ken is well known for his iTunes business podcast "Today's Growth: Growing Business Today".
See what Income Store is saying
Is this your franchise?
Contact us to unlock your franchise's page to add content and get leads!