@WORK is a professional employee recruiting franchise ranked as one of the top U.S. staffing agencies by Staffing Industry Report. @WORK uniquely offers franchisees four custom programs to meet employment demand in any market, including staffing for small business, medical, in-home care, and corporate executive positions.
| | |
| --- | --- |
| | $100,001 |
| Net worth required | $250,000 |
| Investment | $99,500 - $174,500 |
| | $35,000 |
| Units in operation | 90 |
Own a The @WORK Group Franchise - Questions & Answers
What is it?
Professional staffing agency that recruits, screens, and places job candidates in small business, medical, in-home care, and corporate positions
Places employees in temp, full-time, contracted and other career roles
Highlights office and assistance personnel, medical employees, at-home services and professional recruiting
How does it make money?
Companies pay @WORK franchisees for professional recruiting and staffing services based on a percentage of hired employees' salaries
Who is it for?
Someone who communicates well with business owners and employees
Those passionate about running a business that helps both individuals and businesses
Entrepreneurs who thrive when juggling multiple clients, partnerships, and deadlines simultaneously
HR experience is not necessary, but a corporate, small business, administrative, recruiting, or HR background is helpful
What would you do as a franchisee?
Partner with businesses in your community to understand and supply their staffing needs
Work with potential employees to evaluate their career path and help place them in their ideal jobs
Promote @WORK in the community to grow ongoing client list
4 Staffing Programs, One Franchise Fee
Now is the time to capitalize on a high-growth industry. The U.S. Staffing industry is anticipated to grow faster and add more jobs over the next decade than just about any other industry. The industry generated over $97 billion dollars last year and is expected to see an increase of 12% over last year.
A Day in the Life of a Staffing Professional
Staffing is - quite simply - matching great people with great companies. As a staffing owner, you will be meeting with both employers and candidates. When consulting with employers your goal will be to become a strategic partner in the workforce. You will learn all about their hiring practices, company's culture, and growth strategy. You will network with hiring managers and human resource professionals. When they have an open position, you want them to call on you to fill that last minute need or long term position because you have taken the time to get to know them. You know exactly which candidate will meet their needs because just like you built a relationship with the hiring managers, you have also built a relationship with your employees. You have pre-screened, interviewed, and tested every applicant that has come through your door. You know their strengths and weaknesses. You want the best for your employees so will do you due diligence to place them in a position where they can succeed.
The best part of about the Staffing industry is it allows you to make a difference in your community, have a work/life balance, and leave a legacy for future generations. For most offices, no two days are alike. Staffing is fast paced, fun, and rewarding.
Why @WORK
The @WORK Group offers the best low investment franchise in the staffing industry. You will spend less and make more money using their model, when comparing with other staffing franchises. In today's market it is important to diversify your business, @WORK allows you to do that by choosing programs specific to your transferable skills and your market. @WORK offers ongoing training and support that covers all subjects important to your business success, with a strong focus on management of an @WORK office.
In more than 20 years in business, @WORK has grown to be named by Staffing Industry Report as one the Top U.S. staffing firms. What makes @WORK unique in the industry is that they grant franchisees the ability to offer a customized staffing program to fit the needs and demands of their individual markets! As an @WORK franchise owner, you receive the rights to run a successful staffing business in the following programs:
@WORK Personnel Services: Represents the most traditional niche in today's staffing marketplace. According to a U.S. Chamber of Commerce survey, 98% of all companies use some form of personnel staffing. This program includes staffing all positions from the general laborer to the general manager.
@WORK Medical Services: The shortage of nurses and allied health professionals is becoming more acute and companies are paying considerable fees for the services of these employees. Includes staffing of healthcare professionals in medical facilities.
@WORK HelpingHands: Supplies non-medical home care, in-home care and service assistants to people who need help performing daily tasks.
@WORK Search Group: Full-service, direct-hire recruiting franchise opportunity which provides franchisees with the tools to recruit highly sought accounting, engineering, information systems, human resource and sales professionals.
Yep, that's right! You receive the rights to all four staffing programs. You decide which programs you want to develop choose one or choose them all, which are entirely up to you.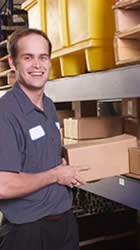 @WORK Provides You with Everything You Need
@WORK takes care of all the back office support such as advancing you the funds to pay your employees and invoicing your clients so that you can focus on what you do best- recruiting and networking with area businesses.
NO PREVIOUS STAFFING EXPERIENCE REQUIRED. Success in the staffing industry comes from listening to your customers, understanding their needs, and developing workforce solutions to the problems they face. @WORK's marketing strategy will train you how to stay "top of mind" with your potential clients with the goal of growing your office and the @WORK brand.
Testimonials
"@WORK has the system, support, experience, and programs that put it in front of any other franchise operation I researched. My analysis convinced me that @WORK provides the greatest possible opportunity to succeed."
"Owning your own business is not easy. What I've learned is that @WORK has the support owners need to reduce their burdens and let them concentrate on growing their business."
"The great thing about being part of @WORK network is that you have the support of a major national company at the same time you have the autonomy and independence to make all your decisions for yourself."
Is this your franchise?
Contact us to unlock your franchise's page to add content and get leads!