Batteries Plus Announces Continued Partnership with Country Music Stars to Power Their Tours
World's Leading Specialty Battery Franchise Demonstrates Power Expertise by Powering the Summer Tours of Justin Moore, Lucas Hoge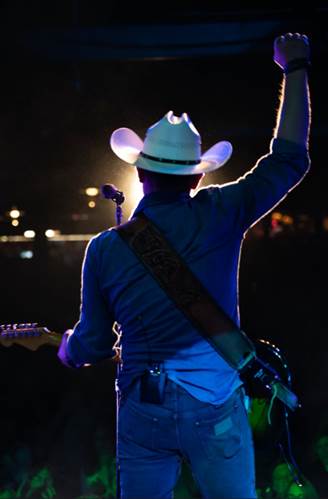 HARTLAND, Wis., (May 11, 2023) – Batteries Plus, the world's leading specialty battery franchise, announced today it is renewing its partnerships with multi-Platinum country artist Justin Moore (The Valory Music Co.) and Billboard No. 1-charting country artist Lucas Hoge. Between microphones, ear pieces, monitors, and more, production for the average concert requires about 200 batteries. With more than 30 shows planned between Moore and Hoge across the country this summer, providing these power essentials will help guarantee they and their fans don't miss a beat! Through both of these agreements, Batteries Plus is capitalizing on its commitment to bring power to lives through music and adventure.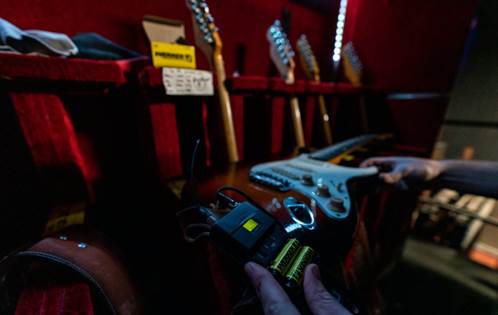 As part of its ongoing partnership with Moore, Batteries Plus is outfitting his summer tour with all of its power needs – both backstage and onstage. The brand is providing batteries for all of Moore's onstage equipment, as well as flashlights to assist the crew backstage and as they load up trucks late at night, bays for guitar players, and even the battery for the tour bus. Batteries Plus is also supplying Moore's tour with an abundance of backup batteries to ensure all the sound and equipment is working and the music keeps playing all night long. With a wife and four children, Moore's life is much more than concerts, that's why Batteries Plus is also powering his life at home so he can relax and recharge between gigs.
"With hits that have become summer anthems in the country world over the years, Justin Moore's concerts require more than just a few good batteries to keep the music playing and his fans singing along with all their favorite songs," said Shawn Budiac, Vice President of Category Management at Batteries Plus. "That's why we're proud to partner with a musician as iconic as Justin Moore as we provide all the power he needs – both at home and on the road – so he and his crew don't have to worry about anything except bringing his energy to the crowd."
Batteries Plus is also continuing its partnership with Lucas Hoge by powering up the artist's "Glory Days Tour," helping him stay connected while living life on the road. The brand will also provide all the power essentials, including generators and lithium batteries, for Hoge's popular Sportsman Channel TV series, "Hoge Wild."
"Batteries Plus is dedicated to powering lives, from battery solutions for everyday needs to powering all of our favorite outdoor, summer activities," Budiac said. "A partnership with an outdoorsman like Lucas Hoge, who enjoys adventures and outdoor activities to the extreme, is an extraordinary example of just how Batteries Plus can help you keep up with all the fun this summer, no matter how active it might be or what power it requires."
With over 700 stores nationwide, Batteries Plus offers consumers unmatched products and services to fulfill all their battery needs, from powering cars, boats, RVs and motorcycles, to cell phones, key fobs, laptop and tablets. For more information on Batteries Plus' products and services and to find the nearest Batteries Plus retail store near you, please visit https://www.batteriesplus.com.
ABOUT BATTERIES PLUS:
Batteries Plus, founded in 1988 and headquartered in Hartland, WI, is a leading omnichannel retailer of batteries, specialty light bulbs and phone repair services for the direct-to-consumer and commercial channels. The retailer also offers key programming, replacement and cutting services. Through a nationwide network of stores, the company offers a differentiated value proposition of unrivaled product selection, in-stock availability and customer service. Batteries Plus is owned by Freeman Spogli, a private equity firm based in Los Angeles and New York City. To learn more about one of Forbes®' Best Franchises to Buy in America, visit https://www.batteriesplusfranchise.com.
PuroClean Soars to #97 on Entrepreneur Magazine's Coveted "Franchise 500"
TAMARAC, Fla. – (January 7, 2022) – PuroClean, a leading restoration and remediation franchise, is celebrating earning the 97th spot on Entrepreneur magazine's 2022 Franchise 500®, its current highest ranking following an impressive multi-year growth streak. Announced today, PuroClean ranked 2nd in the restoration service franchise category, reflecting the leadership and innovation it has brought to the thriving and essential industry. For the fourth consecutive year, PuroClean has moved up on the overall list, jumping an additional 5 places and rising more than 160 spots since first appearing in 2018.
Fully Promoted Spotlights Remarkable Success of Canadian Franchisees at First Canadian Expo in Ontario
WEST PALM BEACH, FL, May 24, 2022 /24-7PressRelease/ — With growth outpacing the rest of the industry, the branded-promotions and marketing services company Fully Promoted celebrated the success of its Canadian franchisees and revved up the excitement for an even better year ahead at its first-ever Canadian National Conference. Sixty-five franchisees, corporate employees and vendors attended the Fully Promoted Canada Expo held in Niagara Falls.