From Fry Cook to Franchise Owner and Developer: HWY 55's J.R. Cottle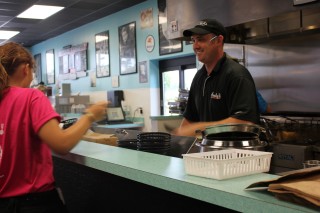 FranchiseHelp interviews J.R. Cottle, franchisee and area developer of Highway 55 (formerly known as Andy's Burgers Shakes & Fries) casual restaurants. J.R. started working as a fry cook at HWY 55 as a teen and now owns multiple HWY 55 restaurants with plans to introduce the franchise to South Carolina. He draws upon his experience as an employee and his current perspective as a franchise owner to offer his advice and best practices to prospective franchisees, employees, and employers alike.
Andy's Burgers Shakes & Fries, the '50s- style restaurant franchise, officially changed its name to Highway 55 (HWY 55) as of February 24, 2012. The restaurant chain's concept will stay the same since its establishment in 1991 and Highway 55 continues to deliver the brand's traditional American classics in the a family-friendly, '50s diner setting.
FranchiseHelp: Briefly describe your path up the Andy's career ladder, starting from when you were a fry cook.
J.R. Cottle: I started when I was 15 years old in Richlands, NC. I was hired as a fry cook at $4.75 per hour. I worked my way up within the store to become head cook, or basically a shift leader. Once I graduated high school,I went to college for a semester with a plan to become a high school History teacher. It didn't take long to realize that wasn't my calling.
I talked to Marian Lacoe, the owner of the store that I would eventually manage, and she gave me theopportunity to manage my first restaurant in Jacksonville, NC. I went on to manage several other HWY 55 (then known as Andy's) restaurants over the next few years. I eventually ended up in Rockingham, NC where at age 24 I bought my first store from Kenny Moore, the President of the company. I owned/operated that store for about two years and then got the opportunity to purchase my second location in Lumberton, NC. I put anew manager, Chris Toothe, in that location and helped him turn the sales around in that store. After Chris had great success there, and Rockingham was still doing well, I bought my third location in Locust, NC. That store has been at the top of the sales sheets in our company since day one, and continues to remain there.
In late 2011, Kenny approached me and another owner, Chris Lacoe,and gave us the opportunity to buy the rights to franchise the concept in South Carolina. We will be opening at least 50 restaurants in the next seven years to help grow our company outside of North Carolina.
FH: Why did you decide to pursue a career within HWY 55? What skills or traits kept you moving from employee to entrepreneur?
JRC: There are a few reasons that I decided to pursue HWY 55 as a career. The most important to me is the fact that I trusted the people that were around me. Rarely will you see the president of a company make an effort to establish a relationship with a 15 year- old kid, and continue to help mentor and motivate that kid along the path to success. This mindset has filtered down from Kenny to everyone else in the company. Our company is a family and we have always been there for each other, even as the company has grown.
Growing up, I was always involved in sports, and I love to compete. My competitiveness has driven me to want to be the best at everything I do. I take pride in running great restaurants, but am never satisfied. I like to look for ways to make the people in my stores better, not just inside the restaurant, but out in their everyday lives as well. A lot of people get to a point where they've made a lot of money, or had success in their occupation, and get complacent -- I always know there is more out there for me to do. I'm here to achieve something great and I can't relax a bit until I know all of my work is done and I have helped impact some other people's futures.
FH: Since you have the perspective as an employee and now a franchisee, what are some of the aspects that set the two roles apart the most?
JRC: As an employee, you have responsibilities that basically boil down to "are you doing your best every time you work?" You are asked to come in, work hard, smile, and be passionate about what you are doing. That isn't always easy for a 16-year-old guy or girl who has a lot of other stuff on their plate. Generally, work is not even in the top three as a priority.
As a franchisee, it is our responsibility to get the most that we can out of each person in our store. We have to play a ton of different roles to our employees. You turn into a father figure, big brother, psychiatrist, or whatever the situation calls for. One of the things I tell my operators is that you have to teach the young people working for you, and even the older ones sometimes, how to have a job, and how to serve other people. We work in a Servant Leader-style company, which is the one thing that separates our company from the others. We deal with a lot of young people who think the world revolves around them, and we owe it to these kids to teach them otherwise, and to teach them that it is an honorable thing to serve people. We teach them that if you put the needs of your customers, coworkers, and family before yours that it will eventually pay dividends to you.
FH: As a follow-up, what is similar in your experience of the two roles?
JRC: There are similarities in the roles of employer and employee as well. As an employer, we have to set the example. We have to be willing to do the same things that we are asking our employees to do. My employees know that their managers and myself are going to give 100% every time we come in, even when it is hard to do so. The common goal for everyone in the restaurant is the same: "make the customer's experience the best it can be"-- we just have to accomplish it a little bit differently. My job as a franchisee is to hold my managers accountable, and make sure that they are doing the same to their employees to ensure that their restaurant is the best it can be.
FH: As a franchisee and employer, what kinds of insights do you take from your experience as an employee?
JRC: As an employee, I was very observant of the leaders in the store I worked in, and the leaders in the corporate office. I knew how I felt when certain situations were handled a certain way. If I was doing something wrong and my manager got on me about it, how did I feel about how I was treated? Did I learn anything from it? As an employee, I liked to be held accountable, but I liked for it to be done with tact. I didn't want to feel belittled, and I never did, but I also knew that if I wanted to be treated like an adult in the restaurant, that I needed to act like one while I was working. I also realized that even when I wasn't on the clock, my actions outside of the restaurant, especially in a small community, were a reflection on my place of work, and that has allowed me to stress that to my staff.
FH: In your years of experience, what consumer trends have you been seeing? How has HWY 55 changed in that time?
JRC: The number one trend I have noticed, and this isn't just in our company, is that everyone that comes through your door wants to be respected. By respected I mean they want you to smile, greet them when they come in, serve them while they are eating with you, thank them for coming in, and invite them back. We serve great food at HWY 55, but our service defines us; it separates us from the competition. Our guests that come in are a part of our family, and we try our best to treat them that way.
We understand that the economy is hurting right now, and that people are very cautious about how they spend their money. When our guests come in, we try to remember that they CHOSE to eat with us when they could have gone somewhere closer, or cheaper, and we sincerely appreciate that. I think with the economic swing that we have endured the last several years, we have become a better company and a more aware company. I know personally in my company we have implemented different procedures throughout our business day to make sure that we are ringing everyone up correctly, not just to make sure we don't undercharge, but that we don't overcharge as well.
We have also hired carefully. We make sure that we hire the right people, not necessarily the most experienced. We try to hire people of good character, because that is something you can't teach. We want our employees to be respectful and humble when they go to a table and take care of a family who worked hard all week and chose to spend their money with us.
FH: As a developer of new franchise locations, what are some of the things you look for, logistically, to create a successful outlet?
JRC: I like to find locations in high-traffic places. We have found that in the strip centers we put restaurants in, most have been very successful. We like having other draws to that particular area, whether it is shoe stores, clothing stores, grocery stores. We seem to all complement each other pretty well, and we can help make that center a one-stop shop. Personally, I also like being in an area where a lot of recreational sports are played. Our philosophy and atmosphere click really well with young kids who may want to come get a meal after a baseball game or soccer game.
FH: What advice do you have for other employees looking to make their way up the ladder?
JRC: BE THERE! These are the two most important words of advice I can give someone looking to have success in any business. For our company in particular, you have to put the work in. This is not a get rich quick scheme, and being successful isn't going to come easily. It took me a while to understand that, but if you put your heart into it, and dedicate yourself to being better each day than you were the day before and hold others to that same standard,you can do something special. Surround yourself with positive people, and people who are wanting to go there with you. In our business you can't do it alone -- I've tried; you need people around you who are going to challenge you to work at a level that you didn't know you had in you.
Perspire Sauna Studio Announces Multi-Market Texas Development for 15 New Studios
COSTA MESA, CA (AUGUST 17, 2023) – Perspire Sauna Studio, one of the fastest-growing sauna franchise brands specializing in full-spectrum infrared (IR) and red-light therapy (RLT), has been fortifying its footprint in key markets across the country throughout the year, as consumer interest continues to inflate the national conversation. The State of Texas is the latest territory to see significant buildout, with 15 franchise locations currently in development across some of the state's leading cities.