PuroClean Names Four Franchise Owners in Inaugural. PuroClean Mentor Class at Annual International Convention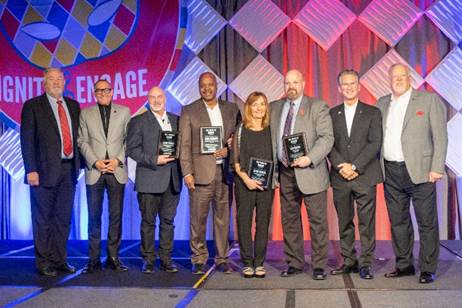 Pictured L-R: Bart Meador, Vice Chairman Frank Torre, Chris Tucker, Nigel Belgrave, Becky Edgren, Bob Jordan, Chairman, and CEO Mark W. Davis, and President and COO Steve White
Restoration and Remediation Franchise Honored Becky Edgren,
Nigel Belgrave, Chris Tucker and Bob Jordan for Mentorship in their Locations
TAMARAC, Fla. — (May 4, 2023) — PuroClean, one of the country's leading property restoration and remediation franchises, recently recognized four franchise owners at its annual PuroClean International Convention for their mentorship throughout the year. Selected from more than 430 PuroClean franchise locations across North America, those recognized in the inaugural PuroClean Mentorship Program include Becky Edgren of PuroClean Emergency Services in Moraine, Ohio; Nigel Belgrave of PuroClean Certified Restoration Specialists in Auburn, Massachusetts; Chris Tucker of PuroClean Property Restoration in Fort Worth, Texas; and Bob Jordan of PuroClean Northwest in Lynnwood, Washington; for appreciation of their service for teaching the PuroClean Way and maintaining the PuroClean brand standard of excellence.
Under the leadership of Bud Summers, executive vice president of operations and training, the mentorship pilot program was developed by Bart Meador, vice president of operations – residential storm, for new PuroClean franchise owner mentees interested in being mentored and receiving focused one-on-one coaching as they launch their new franchise. Due to the success and added value of this once-optional mentor program, effective May 2023, it will be mandatory for all new owners to complete the program.
"The mentorship program is a great opportunity for new owners to bridge the gap between new franchise training and responding to their first job," Edgren said. "I am honored to be part of the mentorship program and hope that the experiences we share with these new owners help them feel more confident and better prepared to achieve their goals."
The four franchisees were recognized with the mentorship honor as a testament to consistently providing the PuroClean standard of service on a local level across the country.
"Mentoring new franchise owners has been a great experience," Belgrave said. "It feels good to give back and help new owners navigate the challenges of starting a PuroClean business. Having owners come to our location and witness how our operation is run has the bonus of making my staff feel proud of what they are doing.
"As we educate others, it also provides the repeated opportunity to evaluate what we do and the effectiveness of our processes. All around, mentoring has been a rewarding and positive experience."
Amongst the four recipients, the franchise owners have also been recognized as top-earning business leaders, having all been honored by the brand on multiple occasions for their influence and camaraderie within the network, sharing their wealth of knowledge and expertise with incoming franchise owners and upholding the PuroClean culture of 'Servant Leadership,' 'Extreme Ownership' and 'Active Collaboration.'
"Everyone should have a Paul, Barnabas and Timothy in their life – Paul as the mentor, Barnabas as the encourager, and Timothy as the student," Jordan said. "In one's PuroClean career, everyone can be all three – mentor, encourager, student. It means a lot to me when I'm the student to be mentored and encouraged, and it's a joy and privilege to serve as a mentor and encourager to those new to our industry and have a hand in their long-term success."
"Bart Meador [senior vice president of operations] and I set up the mentoring program in late 2021, and since its inception, I have had the privilege to mentor 19 new owners," Tucker said. "Several of them have received PuroClean Hot Shot awards and were named Franchise of the Year. I really enjoy teaching new owners, taking the knowledge that they have learned and now being able to apply it to real-world situations and help them become successful owners."
"This pilot program was launched at last year's PuroClean Convention and is comprised of four franchise owner mentors who have agreed to adopt and teach the principles of the PuroClean Way, maintaining the PuroClean brand standards of excellence, and are committed to using our approved systems in every aspect of their business," PuroClean President and COO Steve White said. "The program is designed for new franchise owner mentees who, after completing our new owner training, may elect to be mentored. The success of this program proves that mentorship works! Thank you to Becky Edgren, Bob Jordan, Chris Tucker, and Nigel Belgrave for upholding your part of the process."
For more than 20 years, PuroClean has helped home and business owners with their restoration and remediation needs, serving communities across the United States and Canada with a network of more than 430 offices.
As a leading franchise concept, the PuroClean model is ideal for business entrepreneurs passionate about contributing to their communities during times of need or natural disasters. PuroClean franchise owners receive extensive training on proper remediation and restoration techniques through the PuroClean Academy, both hands-on and classroom-based, and are provided with pre-opening training courses to help prepare for the launch of their local PuroClean business. The company also offers marketing support to help franchise owners realize success.
For more information about PuroClean, call 800-775-7876 or visit www.PuroClean.com. For more information about franchising opportunities, visit www.PuroCleanFranchise.com.
# # #
MEDIA NOTE: High resolution photos can be found here.
About PuroClean:
PuroClean is a leading, world-class service brand for property water damage remediation, fire and smoke damage mitigation, mold removal and biohazard clean-up services, working with both residential and commercial customers across the U.S. and Canada. Founded in 2001, PuroClean is a diverse, fast-growing network of over 430 North American franchise locations, each independently owned and operated. With a commitment to responding within two hours, the professionals at PuroClean are thoroughly screened, insured and trained in utilizing the latest cutting-edge mitigation technology to complete the remediation task at hand. PuroClean has earned numerous awards within franchising and the greater global business community including "The Franchise Satisfaction Award" from Franchise Business Review, ranking on multiple lists including the Entrepreneur Magazine Franchise 500, the Inc. Magazine "5,000 Fastest Growing Private Companies" and Franchise Times "Top 400," and being named a Top Franchise for Veterans by Entrepreneur Magazine. PuroClean has the highest customer service satisfaction score among three of the top five residential insurance companies in the U.S. For more information about PuroClean, call 800-775-7876 or visit www.PuroClean.com; for franchise information, visit www.PuroCleanFranchise.com.
Media Contacts:
Hemsworth Communications
Mandy Holm / Anna Pool
954-716-7614 or PuroCleanPR@HemsworthCommunications.com