United Franchise Group Announces the Addition of Office Evolution, under the Recently Formed UFG Coworks Division
The combination of Venture X and Office Evolution establishes the largest privately-owned global franchisor in the coworking industry.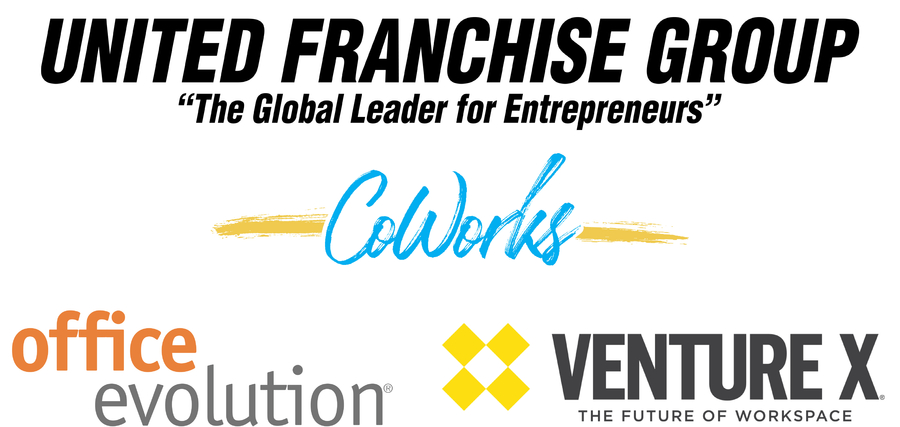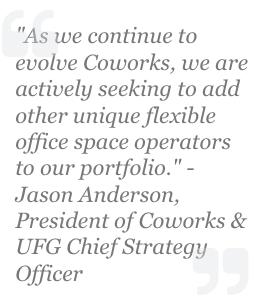 WEST PALM BEACH, FL, May 03, 2022 /24-7PressRelease/ -- Ray Titus, Founder and CEO of United Franchise Group™ (UFG) and Mark Hemmeter, Founder and CEO of Office Evolution® (OE) are pleased to announce a strategic alliance. Venture X®, a UFG affiliated company, and Office Evolution will now exist within the newly formed UFG coworking division, Coworks™, as part of the United Franchise Group family of affiliated brands. This merger will make UFG's Coworks division the largest privately-owned franchisor in the coworking industry, worldwide, offering professionals two tiers of flexible office workspaces and access to membership benefits across the globe.
"It is obvious that the coworking industry is rapidly evolving and as the industry grows, it is being consolidated through acquisitions by the largest players," said Ray Titus, CEO of United Franchise Group, "With workplace flexibility becoming a driving force in today's business, I'm very pleased that Coworks, and therefore UFG, are at the leading edge of this transformation."
Their leadership agrees that the intention is to keep both highly recognized, distinguished, and valuable coworking brands running separately under the Coworks division and consider adding other brands with differentiating assets in the future.
The global leader for entrepreneurs, United Franchise Group is home to a family of affiliated brands and consultants with over three decades of experience operating in the franchising industry, spanning over 60 countries, and connecting some of the world's largest industry-leading names.
Although professional business sources widely differ on the current value assessment of the coworking industry, analysts agree that it is poised to double in growth within the next three to five years, predicting values of between 40 and 50 billion dollars. A staggering statistic for a market that only just began in the early 2000's and was then described as a movement. Business challenges of the past couple years have ramped up the need for flexible office space as working remotely emerged as not only mainstream but also a competitive advantage and an essential employee benefit.
Office Evolution was founded in 2003 in Colorado. Based in Denver, the team and its franchisees have grown OE into North America's largest privately owned, shared-office, executive suites, and coworking franchisor. They have 75 locations, in 25 states with another 5 locations under construction.
"Wherever they live, people need places to work, think and dream," said Mark Hemmeter, CEO of Office Evolution. "I'm so happy that, by joining forces with UFG and Coworks, we'll be there with tomorrow's workforce, every step of the way."
Catering to small business owners, Office Evolution locations are affordable, flexible-work spaces, often in suburbs or secondary markets, with ground floor placement utilizing one employee to run an average unit of 10,000 square feet. Venture X builds its premium, high-end coworking locations in prime urban and suburban locations, with elevated views, utilizing two employees per unit with an average of over 20,000 square feet. The investment levels also vary greatly for individual locations of both Venture X and Office Evolution.
"We are especially enthusiastic about the synergies that our companies share — like marketing, sales, real estate, and training — strengths that will support a seamless integration as well as our international master licensing initiatives," said Michael White, President of Venture X. "With membership reciprocity between Venture X and Office Evolution, our combined coworking space offerings will be extremely attractive for professionals."
The combined footprint of Venture X and Office Evolution through UFG's Coworks division is over 130 locations worldwide, with estimates of over 100 more in various stages of development. The company leadership has formed a strategic plan that not only adds other brands but surpasses all other coworking companies in number of locations, within the next 3 years.
"With the variety of choices, we can now provide within our flexible office spaces," comments Jason Anderson, UFG Chief Strategy Officer and President of Coworks. "Our goal is to offer members unique levels of amenities and benefits available in our locations, comparable to the brands and loyalty programs within Marriott's Bonvoy. As we continue to evolve Coworks, we are actively seeking to add other unique flexible office space operators to our portfolio, making us the clear franchise leader in the coworking industry."
About United Franchise Group
Led by CEO Ray Titus, United Franchise Group™ (UFG) is home to an affiliated family of brands and consultants including Accurate Franchising Inc.™, FranchiseMart®, Franchise Real Estate™, Fully Promoted®, Network Lead Exchange™ (NLX), Preveer™ (formerly Resource Operations International), Signarama®, Transworld Business Advisors®, and the Coworks™ division consisting of Office Evolution® and Venture X® as well as a food division featuring Jon Smith Subs®, The Great Greek Mediterranean Grill®, and Graze Craze®. With over three decades in the franchising industry and more than 1,600 franchisees throughout the world, United Franchise Group offers unprecedented leadership and solid business opportunities for entrepreneurs.
About Office Evolution
Office Evolution® (OE), a shared workspace – coworking environment, cultivated on the principles of 'Ohana', the Hawaiian tradition referencing family working towards a common goal. OE was founded in 2003 in Boulder, Colorado by Mark Hemmeter a lifelong entrepreneur and real estate enthusiast from Hawaii. In 2022, Office Evolution joined Coworks™ the largest privately held affiliated coworking franchise network on the planet, associated with United Franchise Group™ (UFG), a successful community of affiliated brands and consultants. Office Evolution is serious about supporting small business owners – the Dreamers, Risk-Takers and Doers who dare to chase their passions. For more information about Office Evolution visit www.officeevolution.com and for information about franchise opportunities visit www.officeevolution.com/development.
About Venture X
Venture X® is a flexible workspace and community that is a blend of boutique hotel and modern office styles, with an elevated level of design that feels professional and welcoming. Each Venture X location features beautifully curated spaces and a highly developed environment within a community where people love coming to work every day. Venture X is part of a successful family of associated companies, consultants, and brands, affiliated with the United Franchise Group™ (UFG), and has been recognized by Inc. as one of the best co-working spaces in the United States. For information about Venture X visit www.venturex.com and for information about franchise opportunities visit www.venturexfranchise.com.
About Coworks
Coworks™ specializes in franchising within the coworking industry, offering solutions, expertise, and shared service options within the flexible workspace franchise community. Part of the United Franchise Group™ (UFG) family of affiliated brands and consultants, Coworks was founded in 2021 by Ray Titus, founder and CEO of United Franchise Group, with the express intention of building a framework to connect a variety of coworking brands, services, and amenities within the coworking industry, providing the largest privately owned affiliated franchise network of flexible, professional, and shared office space options on the planet. For more information about Coworks, visit www.coworksllc.com.
WAYBACK BURGERS TO OPEN THIRD OHIO LOCATION
Wayback Burgers offers delicious burgers, cooked to order, available as a single, classic double, triple and triple triple (nine) patty, and rich, thick milkshakes, served in an environment that hearkens back to a simpler place and time – when "customer service" meant something and everyone felt the warmth of the community. Going "way" beyond the burger, Wayback Burgers offers crispy and grilled chicken sandwiches, veggie burgers, turkey burgers, fresh salads and delicious sides, including fries, onion rings and House-Made Chips.
Batteries Plus Recognizes Franchise Owners for Year of Extraordinary Sales Success
HARTLAND, Wis., (July 26, 2023) – Batteries Plus, the world's leading specialty battery franchise, recently recognized dozens of franchisees in the system during its annual Sales Achievement Event. In celebrating a year of extraordinary sales, more than 40 ownership groups received the President's Club award for achieving more than $1.2 million in sales, more than 22 ownership groups were honored with the Platinum Club award for achieving more than $1.5 million in sales, and 13 franchise groups received the Diamond Club award for achieving more than $2 million in sales across 16 stores.