Will flexible workspace franchisors maintain momentum, with Paula Mercer of Venture X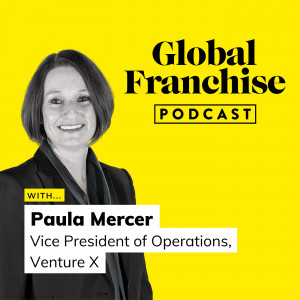 Episode notes
The coworking space is one of franchising's newest trends, and brands that have managed to perfect the essentials that workers want from these flexible sites are seeing returns that would make even the most established F&B frontrunners enviable. They may require hefty initial fees – which can climb to over $1m just to get started – but this sector shows no signs of stopping.
Venture X is one competitor within the space that has managed to go from strength to strength since its 2012 founding. After joining the United Franchise Group in 2016 to begin franchising its concept, Venture X now has over 45 locations open around the world, with a total of 130 in development.
But what is Venture X doing that its competitors aren't, and how is it ushering in the 'coworking 3.0' evolution? To learn more, we caught up with Paula Mercer, vice president of operations for Venture X. Paula has been with UFG for over a decade, and has seen this coworking powerhouse grow from an idea into an international staple.
To keep your finger on the beating pulse of franchising, sign up for our newsletter at global-franchise.com, subscribe to our definitive magazine, and join the conversation with our experts today on LinkedIn, Twitter and Facebook.
Ⓛ https://www.linkedin.com/company/global-franchise/
ⓣ https://twitter.com/globalfranmag
GRANITE TRANSFORMATIONS ANNOUNCES FRANCHISE OPPORTUNITIES IN THE RAPIDLY EXPANDING HOME REMODELING SPACE
MIAMI, FL (March 10, 2016) – Granite Transformations, a global full-service residential and commercial remodeling franchise known for their revolutionary, proprietary resurfacing process, is pleased to announce that franchise opportunities are now available throughout North America. With more than 20 years of franchising experience, the company offers a unique and thriving business model that has made its presence known in eight countries on four continents across the globe, with more than 150 franchise locations worldwide, including 74 North American locations.The home improvement business has seen continued growth and success over the past several years, and with a moderate entry-level investment, the opportunity proves to be an enticing venture for prospective franchise owners with a significant potential for profit and future growth.The Granite Transformations story is a rich, centuries-old Italian heritage turned global entrepreneurial dream. The company presents time-challenged and quality-conscious homeowners a premium surface design solution without the demolition hassle of traditional kitchen and bath remodeling. Using an exclusive selection of the highest-quality granite, recycled glass and quartz counter tops and mosaic tiles – all offering a lifetime warranty – its "over-the-top"installation process virtually eliminates the need for demolition, shortening a project timeline and easing the stress and mess of typical home renovations. The product's versatility allows for a wide range of uses and brings added value and growth potential, appealing to both homeowners and commercial businesses alike looking to renovate or build new."Granite Transformations offers one of the most dynamic and fulfilling franchise opportunities in the rapidly expanding home remodeling space," says Andrea Di Giuseppe, International Chief Executive Officer. "Customers are looking to spend wisely and make a smart investment – they want the most attractive, quality, sustainable product, which is exactly what we offer coupled with the fastest install process available to immediately increase home value."With renovations continually on the rise, franchise owners enjoy minimal risk and consistent demand no matter the state of the economy. Homeowners are choosing to renovate the key areas of their homes – kitchens and bathrooms– rather than build or buy new, and their recognition of the value of this important, long-term investment is an undeniable owner benefit.Di Giuseppe continues, "From the very beginning, Granite Transformations has stayed true to its artistic tradition,respect for natural resources and commitment to innovation, and the company is committed to the continuing expansion, growth and success of our franchise system."
National Guard Veteran Darin Overstreet Transitions to Owning Minuteman Press Franchise in Aurora, Colorado
AURORA, Colo. & DENVER – Darin Overstreet, co-owner of the Minuteman Press franchise located at 14190 E. Jewell Ave., Suite 1, has retired from the Colorado National Guard where he served as Chief Public Affairs Officer for the Joint Task Force - Centennial. Today, Darin, who also served in the U.S. Air Force, runs Minuteman Press in Aurora along with his wife Anne. Together, Darin and Anne provide local businesses and non-profits with design, printing, marketing, and mailing services.