Will flexible workspace franchisors maintain momentum, with Paula Mercer of Venture X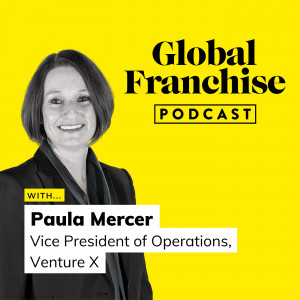 Episode notes
The coworking space is one of franchising's newest trends, and brands that have managed to perfect the essentials that workers want from these flexible sites are seeing returns that would make even the most established F&B frontrunners enviable. They may require hefty initial fees – which can climb to over $1m just to get started – but this sector shows no signs of stopping.
Venture X is one competitor within the space that has managed to go from strength to strength since its 2012 founding. After joining the United Franchise Group in 2016 to begin franchising its concept, Venture X now has over 45 locations open around the world, with a total of 130 in development.
But what is Venture X doing that its competitors aren't, and how is it ushering in the 'coworking 3.0' evolution? To learn more, we caught up with Paula Mercer, vice president of operations for Venture X. Paula has been with UFG for over a decade, and has seen this coworking powerhouse grow from an idea into an international staple.
To keep your finger on the beating pulse of franchising, sign up for our newsletter at global-franchise.com, subscribe to our definitive magazine, and join the conversation with our experts today on LinkedIn, Twitter and Facebook.
Ⓛ https://www.linkedin.com/company/global-franchise/
ⓣ https://twitter.com/globalfranmag
Dickeys Barbecue Pit Announces Expansion Plans Within New York State, Adding Two Stores in Buffalo, NY
(Buffalo, NY) Dickey's Barbecue Pit is expanding to Upstate New York with a development agreement just executed to open two new stores in Buffalo. Currently the closest Texas-style barbecue is over three hours' drive away, and the new restaurants will provide a new Fast Casual concept to the city overflowing with wings and pizza. The first new location will open by the end of 2016 with the second opening in 2017. Location sites are in the process of being selected.
Dickey's Barbecue Pit Signs Four-Store Agreement in Oregon
(Portland, OR) Dickey's Barbecue Pit is doubling its footprint in Oregon with a recently executed four-store development agreement. The Beaver State currently boasts four Dickey's locations. Owner/Operator Todd Saperstein owns two of those locations and plans to open one store per year for the next four years, possibly adding more locations in the future.
Cruise Planners Launches Enhanced Veterans Initiative Program
"Cruise Planners has always supported the military community and this Veterans Day we are proud to launch a revamped benefits package for them," said Michelle Fee, CEO and co-founder of Cruise Planners, an American Express Travel Representative. "The Veterans Initiative Program will incorporate all that Cruise Planners has to offer a franchise owner to be successful as well as additional marketing, technology and training support."