Will flexible workspace franchisors maintain momentum, with Paula Mercer of Venture X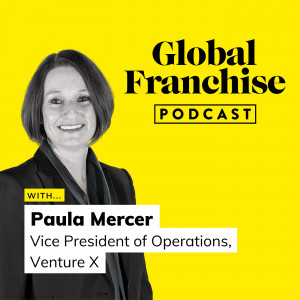 Episode notes
The coworking space is one of franchising's newest trends, and brands that have managed to perfect the essentials that workers want from these flexible sites are seeing returns that would make even the most established F&B frontrunners enviable. They may require hefty initial fees – which can climb to over $1m just to get started – but this sector shows no signs of stopping.
Venture X is one competitor within the space that has managed to go from strength to strength since its 2012 founding. After joining the United Franchise Group in 2016 to begin franchising its concept, Venture X now has over 45 locations open around the world, with a total of 130 in development.
But what is Venture X doing that its competitors aren't, and how is it ushering in the 'coworking 3.0' evolution? To learn more, we caught up with Paula Mercer, vice president of operations for Venture X. Paula has been with UFG for over a decade, and has seen this coworking powerhouse grow from an idea into an international staple.
To keep your finger on the beating pulse of franchising, sign up for our newsletter at global-franchise.com, subscribe to our definitive magazine, and join the conversation with our experts today on LinkedIn, Twitter and Facebook.
Ⓛ https://www.linkedin.com/company/global-franchise/
ⓣ https://twitter.com/globalfranmag
Wayback burgers Continues Record Growth In Second Quarter
Cheshire, CT, July 16, 2015– Wayback Burgers, a better burger fast casual chain based out of Cheshire CT, continues its strong 2015 growth with a strong second quarter performance both in international and domestic development.
Franchise Marketing Fund Disclosure: A Cold Stone Creamery Case Study
In the Cold Stone case, the franchisees are also seeking information relating the pricing of the supplies on which the franchisor is receiving the vendor rebates. If it turns out that the prices that vendors charge franchisees are artificially inflated in order to allow for payment of these "kickbacks" to the franchisor, then the franchisees no doubt will assert additional claims in their lawsuit against Kahala. Such claims may include fraud for inadequate or misleading disclosures in the Cold Stone FDD (if in fact information was withheld – at this point, we don't know who is right or wrong).