FranTech Feature Report || SMS Engagement Throttle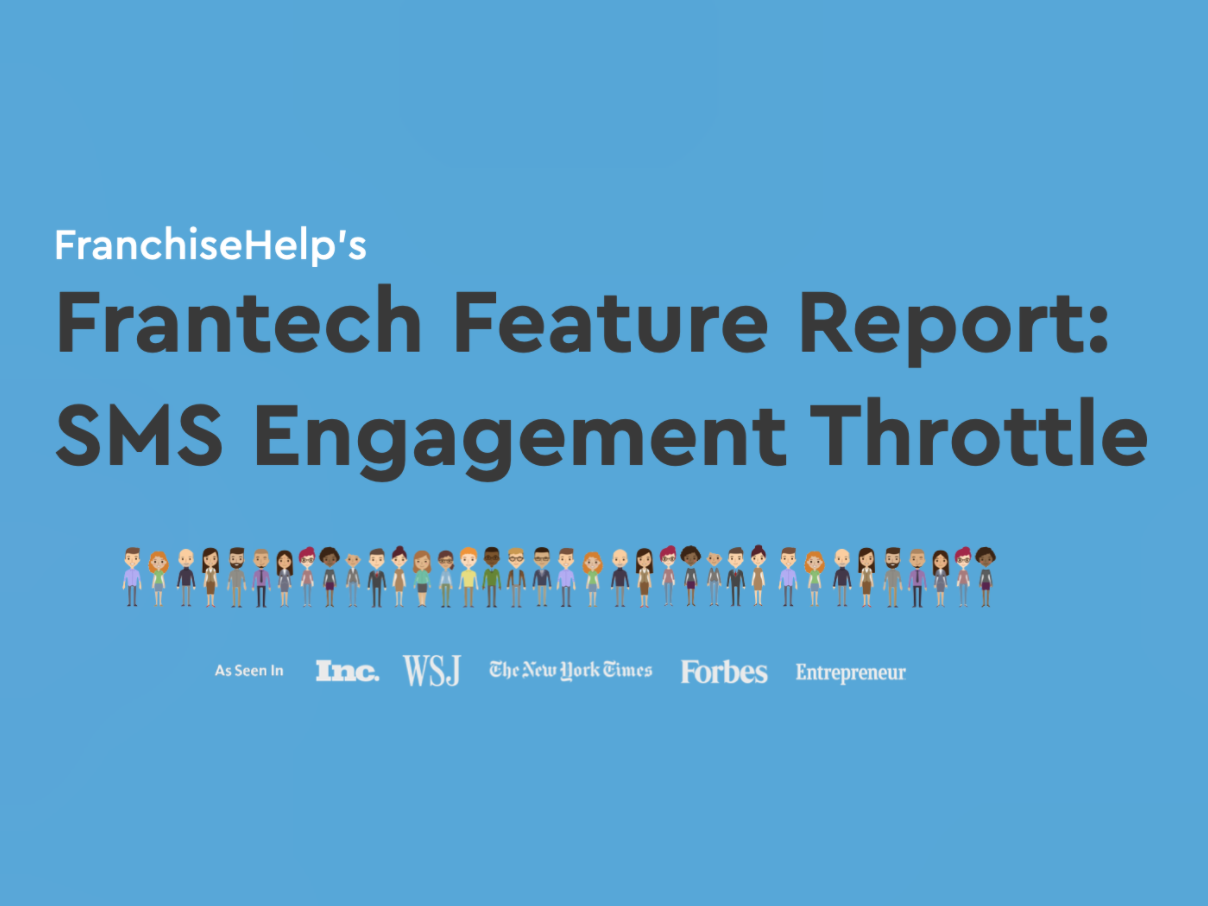 As we've written before in the Myth of Quality, a good individual portal lead possesses several key characteristics. This candidate ideally has:
Demonstrated interest in opening a franchise
Shown intent in your brand specifically.
Matched for your brand's geographical and financial requirements
But even then, it can still be hard for franchisors to find the best candidates. Brands often ask us how we curate our lists, and how we keep leads fresh, and we have an exciting answer for that.
In this edition of the Frantech Feature Report, we'll reveal how we use a technology called throttling to help franchise organizations connect with potential owners in an optimized way.
Today's FranTech Feature Report: SMS Engagement Throttle
If you were flying an airplane, and only had two gauges, on and off, that would be a problem.
Every pilot needs a mechanism to slowly make the aircraft's engines go faster on takeoff, and go slower on landing.
They need a lever, rather than a button. Otherwise it's going to be one hell of a bumpy ride.
In software, throttling works in a similar way. Developers use a lever called a throttle to regulate the speed at which application processing is conducted. It's a rate limiter.
And in the instance of helping franchise brands connect with candidates, throttling means our software is sending messages less frequently to candidates who are not engaged.
Our goal, as your marketing partner, is to spend less on sends that are unlikely to result in leads. We will want to see our text lead volume stay the same, while click rate goes up. This results in the best quality leads for your organization.
Starting today, FranchiseHelp now has the ability to define engagement throttles for SMS send streams. We will use this to send fewer Franchise of the Day text messages to users, aka, potential franchisees who are less engaged.
Here's how it works.
Using the throttle, before we send a text message to a candidate about a franchise opportunity, we look back at our recent sends to them and count how many links the user has clicked on. That count then determines a probability chance that we will send an offer to that user.
As an example, say a user has clicked two of our text messages this month. Awesome! We will continue to send them messages at the normal rate, as they've indicated they're currently engaged in their franchise search. If the user hasn't clicked on any links recently, we will send messages to them less frequently.
Okay, so why is throttling good for you as a franchisor?
First of all, throttling offers algorithmic reassurance that we're engaging with the highest quality candidates we can find. Our technology prevents us from resorting to simply going out, looking for just anybody to come in and submit. We only want people who are engaged who want more information on business opportunities. Throttling supports our goal of increasing the average engagement of users on our site.
Secondly, if someone isn't ready to open a franchise today, that's perfectly acceptable. We don't bother them as much. As a lead generation technology, we generally find potential buyers at the very early stages of the buying process. However, it's essential to your brand's success that FranchiseHelp is still there when they are ready. Life is as dynamic as the very technology that powers it. People's circumstances, be them financial, emotional or professional, change all the time. Today's disinterested candidate is tomorrow's engaged franchisee.
Ultimately, throttling is the lever that equips your franchise organization to take off (and land!) when the conditions are ideal.
# # #
That wraps up this edition of the FranTech Feature Report. By the time you read this, our development team will already be hard at work on the next update. And when it ships, we'll be excited to share our progress with you.
Remember, franchising is all about implementing things that are proven to work. And we'll be here every step of the way as the innovation partner to help you navigate your business growth in a hyper focused way.
Angelo Luppino is a Senior Software Engineer at FranchiseHelp. When he flies, he strangely prefers the middle seat.
Our First Chat Bot
A year ago Facebook made it possible for businesses to start building chat bots within Facebook Messenger to communicate with their customers. Right after the announcement we talked at great length about what a chat bot for FranchiseHelp would mean. And we couldn't really agree...