How to Build a Massively Valuable Franchisor, Part 4: The Universe of Fran Dev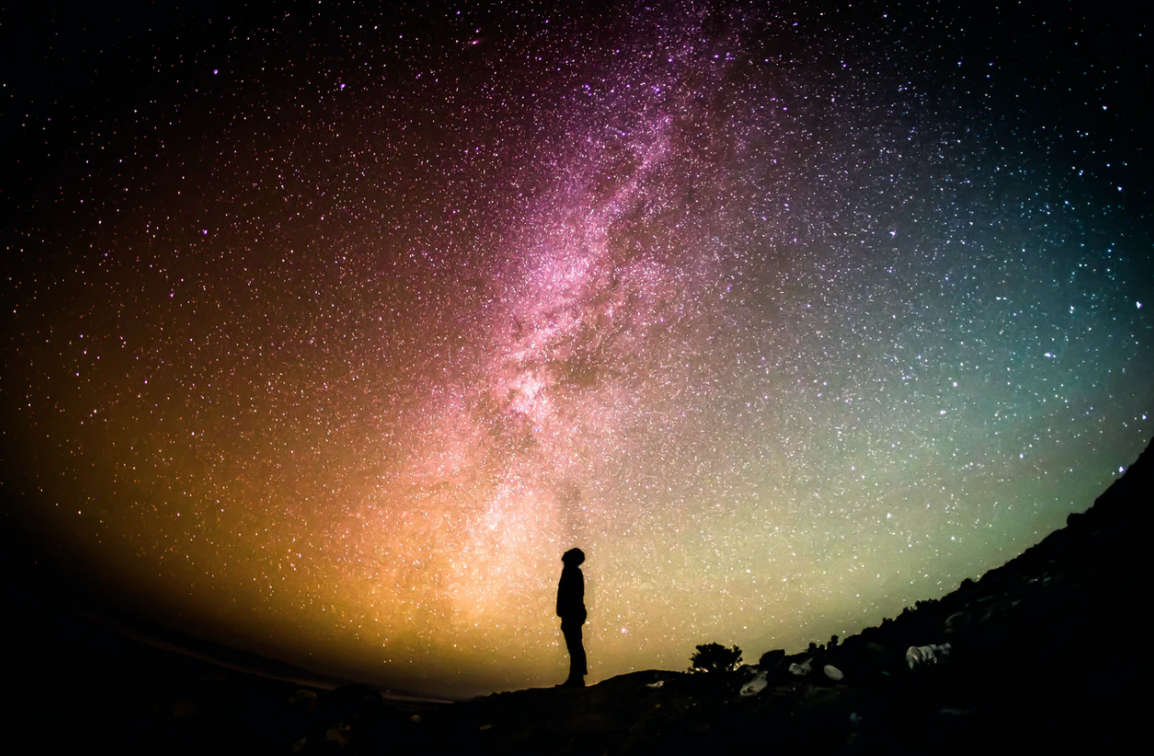 Franchising has its own unique language.
People who hear or read words like "fran dev," "zors" and "zees" think they're typos, but it's just the way people talk in this industry. For those who are new to the world of franchising, some of this terminology can make your head explode.
But a key component to becoming a massively valuable franchisor is learning and employing a robust vocabulary of franchising. It's a language that permits you to communicate with yourself and others about the process, helps you make sense of the otherwise complicated franchising world, conceptualize and describe your experience of doing great work.
By building an evolving glossary of what it means to be a massively valuable franchisor, you can significantly increase your chances of effectively managing the process.
Let's explore a few key terms that we at Metric Collective (FranchiseHelp, FranFunnel, Oakscale, BeTheBoss.com) use with our clients, in our work and throughout our technology. Keep in mind, there are as many definitions of these terms as there are franchisors to use them, so here's our take on it:
Franchise Development: A business process encompassing activities that range from the creation of a franchise, to the consulting, sales, and marketing efforts behind franchise offerings.
Franchise Developers: The people and companies who coordinate all of these activities, converting ideas, business processes, and intellectual property into franchises; and then marketing and selling those franchise opportunities to prospective buyers. Franchise development is different from franchise ownership or investing, although many developers also manage and own franchises and franchisors.
What's The Fran Dev Process Look Like?
Developers typically consult, imagine, build, and orchestrate the process of a business, packaging their intellectual property and operating procedures into a franchise offering. Many developers may take this process from beginning to end like Oakscale Franchise Development, however, many smaller developers may only undertake a small portion of the process.
Imagine there's a franchise seeking to create their offering, franchise agreements and other key documents. Developers assist with that. Other developers focus on the sales and marketing of franchises to prospective buyers i.e. franchisees, on the behalf of the business that intends to offer the franchise i.e. the franchisor. These companies are sometimes called Franchise Sales Organizations (FSO).
Some full service franchise developers who orchestrate the process of development from the beginning to end maintain an exclusive relationship with brands through royalties or equity similar to a publishing relationship seen in the music or publication industries. These firms take on a great deal of risk partnering with emerging franchise brands for the opportunity of sharing in the success, effectively aligning interest between the parties.
Now, there are also smaller, typically not well capitalized franchise developers who may partner with brands for small parts of the development process taking on a retainer and percentage of up front fees for brokering franchise offerings. These development companies have become scrutinized in recent years for their close connection to unscrupulous broker networks and the marketing and selling of marginally successful franchises.
Which Lead Source Is Best For Fran Dev?
Okay, one other point we wanted to make about the universe of franchise development. Because there are a lot of moving parts and keywords to understand, here are a few visualizations that might help you conceptualize the process.
Let's talk about lead sources. Our clients often ask us, as a company involved with every element of the franchising ecosystem (leads, tech, sales, brokers, developers, etc), which source is the best for franchise development?
It's a good question. Here's how that breaks down in the franchise development process: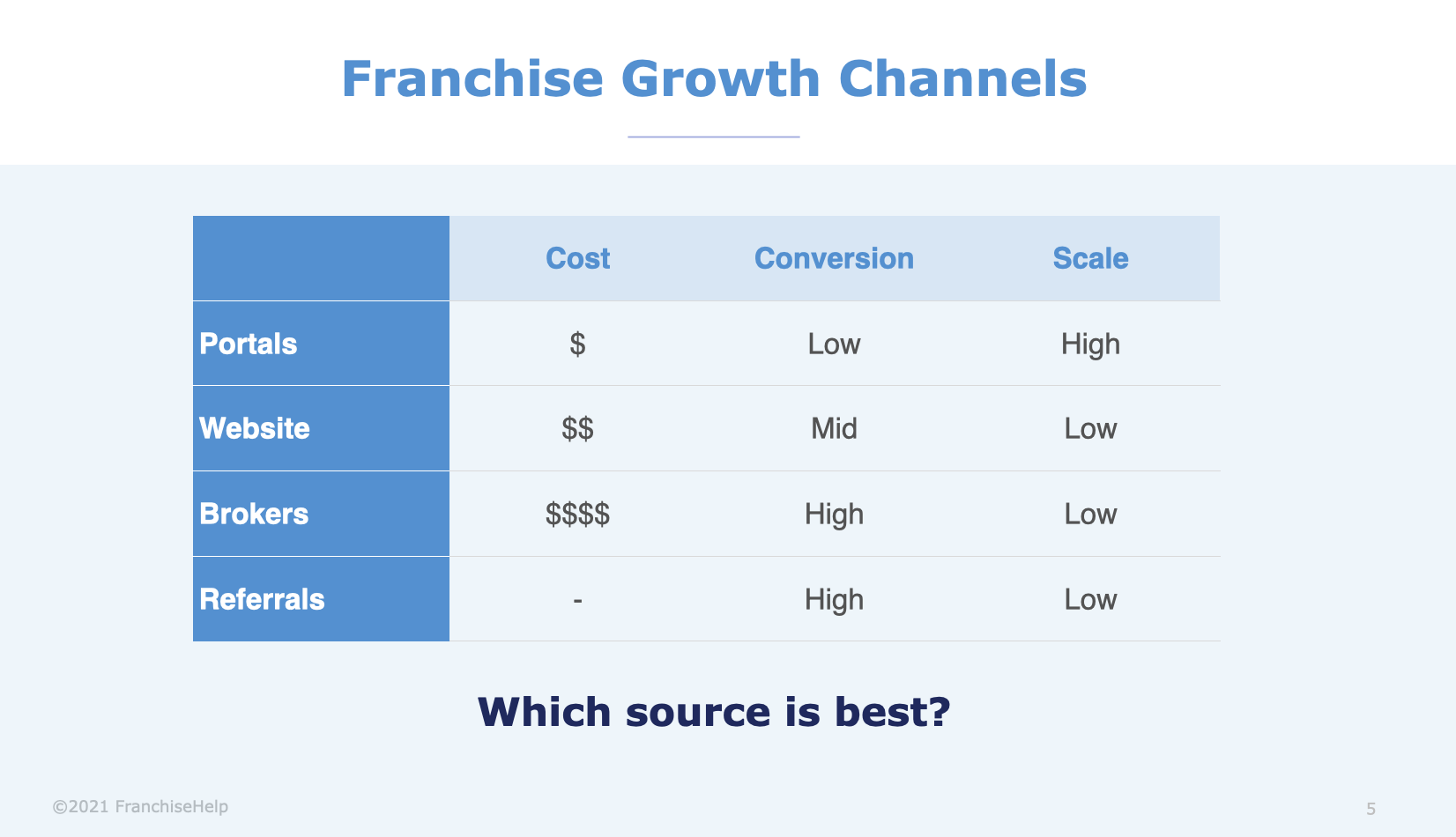 As you can see, each source can be the best for a certain stage in a franchise's growth. We tell our clients to start with the least expensive and most highly converting channels. And when you need to grow beyond those sources, add the next level for additional growth at scale.
We'll continue to explore more vocabulary words in future posts, but we wanted to start with these two big ones, franchise development and franchise developers.
Hope they help you make sense of the otherwise ambiguous franchising world!
Scott Ginsberg is Head of Content at FranchiseHelp. He enjoys writing about zee the best industry in the world. Zor welcome.
The Seven Deadly Sins of Franchising
In all of our years working with, educating and learning from franchisors, these are the trends that send brands in the wrong direction. Avoid them if you can!