Industry Pioneer & Leader FranchiseHelp Celebrates 25 Year Milestone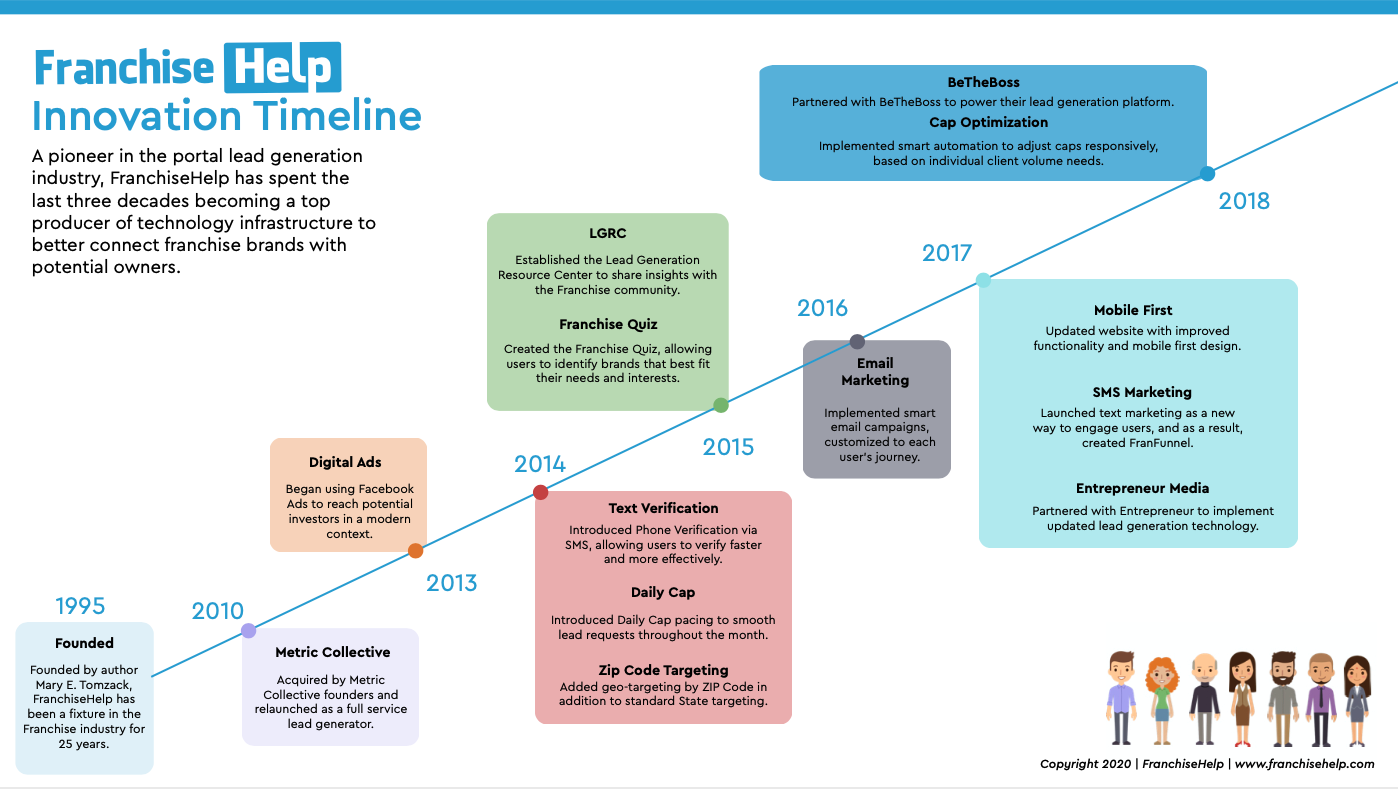 NEW YORK, August 13, 2020 -- FranchiseHelp, a pioneer in the portal lead generation industry, recently crossed their twenty five year milestone of helping potential franchise owners meet brands.

Originally started by entrepreneur and author Mary Tomzack in 1995, FranchiseHelp was designed to create an efficient lead generation portal. Today, the startup's franchise matching solution is in use annually by millions of users and leading brands around the nation.
From a single person to the industry leader
During the nineties, there were only a handful of lead generation portals in franchising. FranchiseHelp saw an opportunity to use the internet to efficiently connect brands and owners. At a time when many franchises grew through expensive and labor intensive sales efforts like phone calls and direct mail, FranchiseHelp was the first to introduce lead matching through quizzes.
In direct contrast to its humble beginnings as a one person shop, FranchiseHelp now employs twenty staff members across multiple offices in the country. Employing a cherry picked team of top writers, savvy engineers, product marketers and veteran franchise experts, they can harness a complete spectrum of skill sets to deliver a leading solution for their franchise brands.
Kayvon Bina, the Co-Founder of Metric Collective, parent company of FranchiseHelp, commented on the milestone. "For three decades, our unwavering mission has been to introduce brands and potential franchise owners to each other in a tech forward way. By combining data science and automation, we developed an innovative and personalized platform that appeals to both individuals and organizations alike."
Innovating frantech every step of the way
FranchiseHelp took portal lead generation from its first iteration to a more robust and sophisticated engineered system in 2010. Many of the ideas implemented in these early days were well ahead of their time. Innovations like automated call verification, zip code targeting, SMS marketing, quiz filtration and matching, and bespoke email blasts have since been adopted by multiple other lead generators in the space. Global brands like Entrepreneur have even purchased FranchiseHelp's underlying tech to run their own systems.
FranchiseHelp client Megan Kezell, Gorgeous Garage's PPC & SEO Account Manager, commented about the power of this technology. "We have had record breaking leads and sales due to people wanting to work on house projects during the quarantine!"
With a mission to make the industry better at every level, brands, franchisees, vendors and publications are seeing growth. And not only have FranchiseHelp's lead generation innovations been effective, they've also been copied. Anna Flowers, President of FranchiseHelp, explained how several of their team's ideas, from the simple design of buttons to the flow of quiz questions, have been popping up in other spots in recent years.
"The franchising industry is all about implementing things that are proven to work," said Flowers. "And our point is not just that we have this fancy lead generation quiz, but that our team wanted to invent new tech to help our clients thrive and make our industry better. We're committed to bringing new tools into the space in a way that supports our franchisor's brand growth. And now several of those tools have become industry standard."
Further commenting on their startup's history of both success and failure in frantech, Flowers added this. "We've had good ideas, we've had bad ideas, and we've even had one idea that went on to become its own SAAS company." The brand she's referring to is FranFunnel, which has become the leading text messaging solution to help salespeople qualify prospects and schedule appointments. That company recently celebrated its own thousand day milestone.
The future of frantech for a new generation
As the franchise industry prepares for its next decade, it continues to evolve and be incredibly competitive. As a company with a deep history of innovating to improve the development of brands, FranchiseHelp is thrilled to bring continual transformative technology so clients can navigate their business growth in a hyper focused way.
The demand for technology solutions is only growing, both from potential franchise owners to the brands themselves. With many smaller, emerging brands evaluating their options for expansion, they're also vetting portal sources by the criteria of technology innovation. Franchises are looking for more than just a powerful billboard to draw attention and build brand awareness for franchises, they're also looking for an innovation partner.
Angelo Luppino, Senior Software Engineer at FranchiseHelp, says their team will continue to innovate in this space for as long as they're around. "Our client base is among the largest in the world, and we won't stop bringing them ever better ways to connect them with future franchise owners to help grow their brands. Aaron Judge may be able to hit six homers in five straight Yankee games, but can he build and launch an interactive two factor text verification system used by a million people a year? I think not."
FranchiseHelp's transformation journey arrives at a time when the company is setting the stage for a new era of innovation and growth. In a fiercely competitive market, the leading producer of frantech continues to modernize its technology infrastructure to increase its ability to connect franchise brands with potential owners.
The company moves into its next era with a bigger vision to use its brand of franchise technology to launch entrepreneurial careers and grow brands. With an increasing number of franchises interested in customizing their experience to hit their brand goals, FranchiseHelp's technology will build on their existing capabilities and help accelerate growth, all with the sophisticated digital experience their clients expect from them.
- - -
Who's Using FranchiseHelp?
Neighborly Brands • United Franchise Group • Famous Brands International • Minuteman Press • Home Franchise Concepts • Kahala Brands • Belfor Franchise Group • Healthy YOU Vending • SYNERGY Homecare • Jackson Hewitt • Cruise Planners
How is FranchiseHelp Growing?
100,000 fresh Branded Leads sold in 2014 → 1,000,000 in 2019!
2019, two years after starting our Broker Marketplace, 100,000 leads sold!
Franchise Lead Generation at Scale
Ever wondered why we've packaged our services the way we do? The simple answer would be that it is because we generate leads at scale, but that's a little too simple - so today we're going to dive into the specifics of what that means.