Introducing FranCalc: Our Tool To Help Franchise Brands Forecast Sales & Optimize Marketing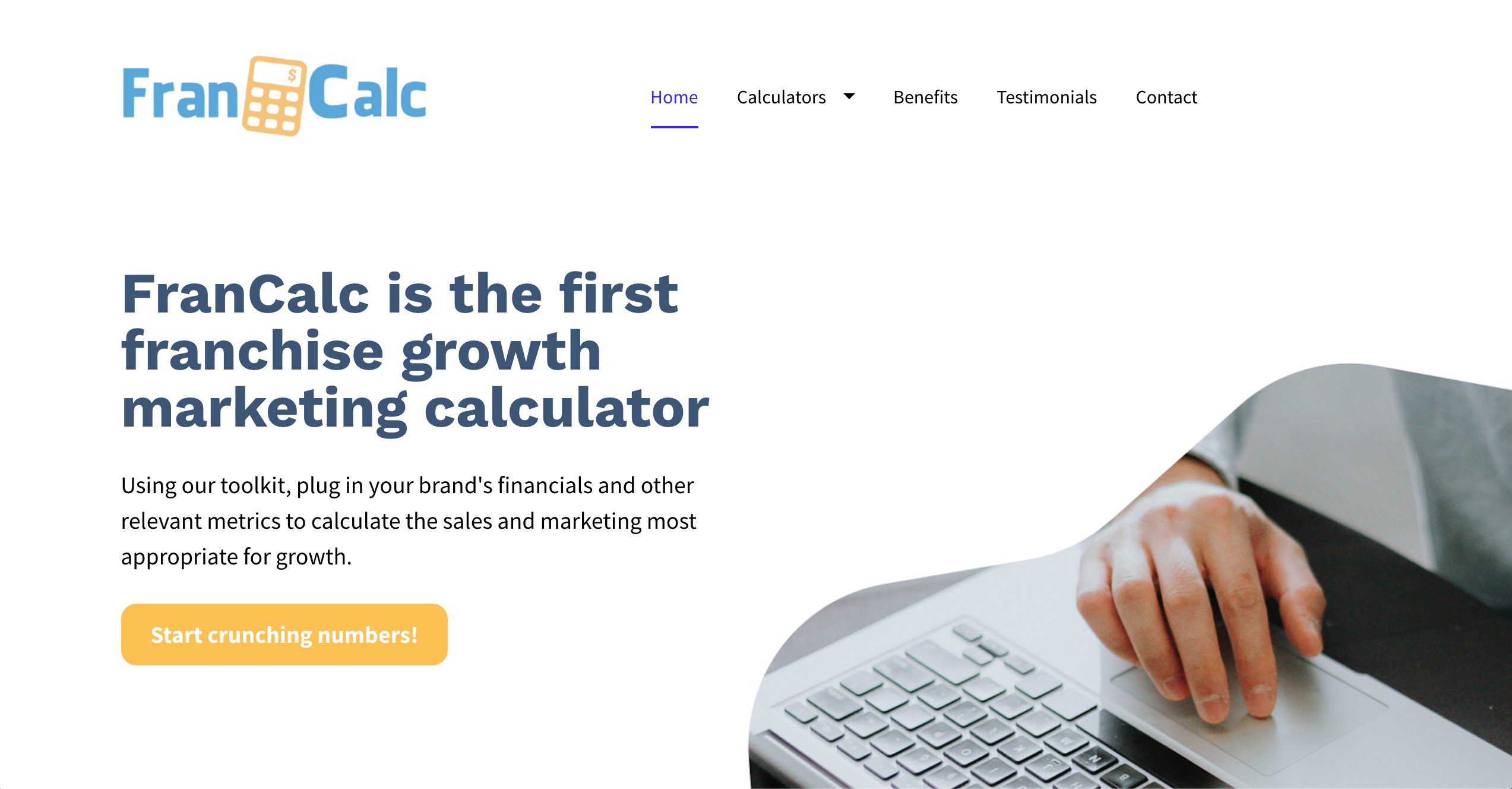 NEW YORK, February 9, 2021 /PRNewswire-PRWeb -- Metric Collective, the franchise technology holding company behind FranchiseHelp, FranFunnel and Oakscale, is launching its new tool called FranCalc, the world's first franchise growth marketing calculator. FranCalc allows companies to input data specific to their organization in order to see how various sales and marketing strategies will work for them.
FranCalc was created with a single mission: To help franchise brands use data driven budget planning to make smart, informed development decisions.
"Every brand needs lead generation, but paying for leads is a risk," explains Director of Strategic Growth Alfonso Flores. "Franchises want quality candidates, and sometimes digital marketing feels like buying a lottery ticket. But it doesn't have to. Franchising builds on implementing proven tools, so we launched FranCalc to help our clients navigate their business growth in a hyper focused way."
What is FranCalc?
FranCalc's suite of online calculator apps answers key questions on what needs to be done both strategically and tactically to help franchises open more locations:
*How do we optimize lead generation process and pricing?
*How can we forecast sales and track development goals accurately?
*How should we determine the ROI of our digital marketing efforts?
*How do we focus on the long term financial strategy of our franchise organization?
FranCalc is the first tool of its kind to empower franchisors to make informed and rational decisions. With a user friendly and easily configurable interface, organizations can see at a glance the many factors that are important in their business model and simplify their growth planning.
Some of FranCalc's initial tools include:
Kayvon Bina, Co-Founder of Metric Collective, is most excited about how FranCalc can help inform and refine development strategy across numerous verticals:
"This launch is a call to the industry. With the economic impact of the pandemic, every franchise brand is looking to award more units without increasing the development budget. Marketing and sales are under pressure to deliver more despite ever tightening resources. If franchisors can't change the development math soon, many careers, livelihoods, and entire franchise systems will be in jeopardy. We wanted to build a tool to help brands award more franchises at lower cost."
FranCalc is currently a free resource that any franchisor can use to:
*Simplify financial decisions making
*Better forecast sales and visualize metrics to track goals accurately
*Set expectations for digital marketing results with practical and thoughtful planning
*Think long term and focus on the important, longer lasting, financials of your franchise organization
About Metric Collective
Our founders bootstrapped Metric Collective in 2010, growing it to #244 on the Inc. 5000 list of America's fastest growing private companies. Organically and through acquisition, Metric has been assembling a portfolio of technology companies that serve franchise and SMB customers, two of the largest and most underserved markets relative to economic contribution and technology need. Their portfolio of brands includes FranchiseHelp, the leading consulting firm and lead generation provider; FranFunnel, the premiere text message automation platform; and Oakscale, the tech enabled franchise development firm.