Which messages appeal most to potential franchisees?
It depends, obviously!
What? You thought that the answer to this question would be straightforward? Unfortunately no.
That being said, there are lots of franchises out there that don't have a nuanced understanding of what types of messaging works.
When you visit their website, you see a single message that tries to hammer home a single point to every single person that visits.
The fact of the matter is that every single potential franchisee needs to be messaged to in a different way.
Later in the sales process, you'll solve this problem by dedicating a specific sales person to speak with them directly. However, at this point in the process, you'll have to settle for trying a number of different messages and seeing which ones work for your brand.
At the highest level, we think about different messages in 8 different categories: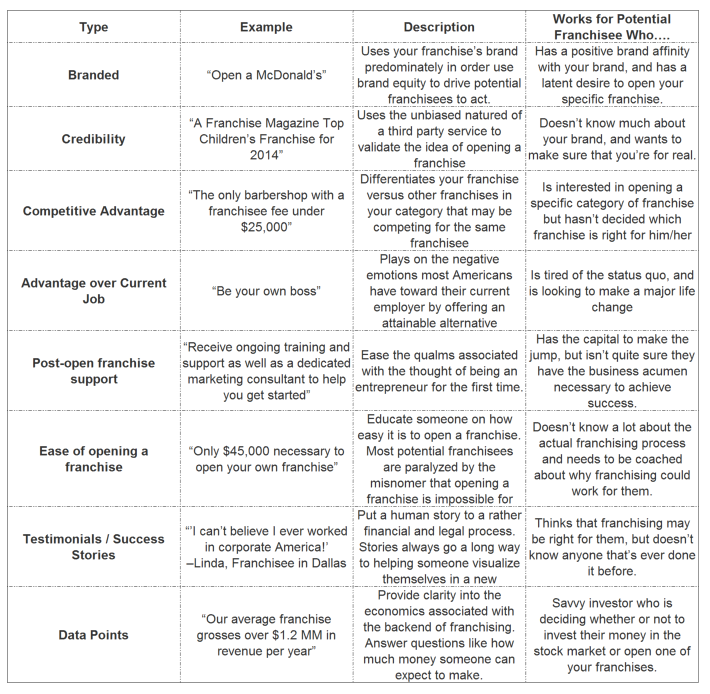 Wow. That's a lot. So what's next? How do figure out which types of messages work for your franchise.
Split testing! Duh!
Get a lot of different messages out there and see what sticks!
Have a question about messaging? Shoot us a note here.
Our best email of 2015 – And what it teaches us
Well, for 2015 I'm happy to report that we're probably going to end up sending well over 100 million emails! And that only means that we've learned more about how potential franchisees interact with email.
How franchise lead generation is NOT like the lottery – And why you think it is
Franchise lead generation is sometimes (incorrectly) compared to a lottery: A franchisor is paying a relatively small sum of money to purchase an individual lead ("buying a ticket") in the hopes that this lead will ultimately turn out to be their next franchisee ("a lottery ticket that pays out"). Based on this simple comparison of a lottery & franchise lead generation, it's easy to see why a franchise could consider lead generation as a lottery.