Which messages appeal most to potential franchisees?
It depends, obviously!
What? You thought that the answer to this question would be straightforward? Unfortunately no.
That being said, there are lots of franchises out there that don't have a nuanced understanding of what types of messaging works.
When you visit their website, you see a single message that tries to hammer home a single point to every single person that visits.
The fact of the matter is that every single potential franchisee needs to be messaged to in a different way.
Later in the sales process, you'll solve this problem by dedicating a specific sales person to speak with them directly. However, at this point in the process, you'll have to settle for trying a number of different messages and seeing which ones work for your brand.
At the highest level, we think about different messages in 8 different categories: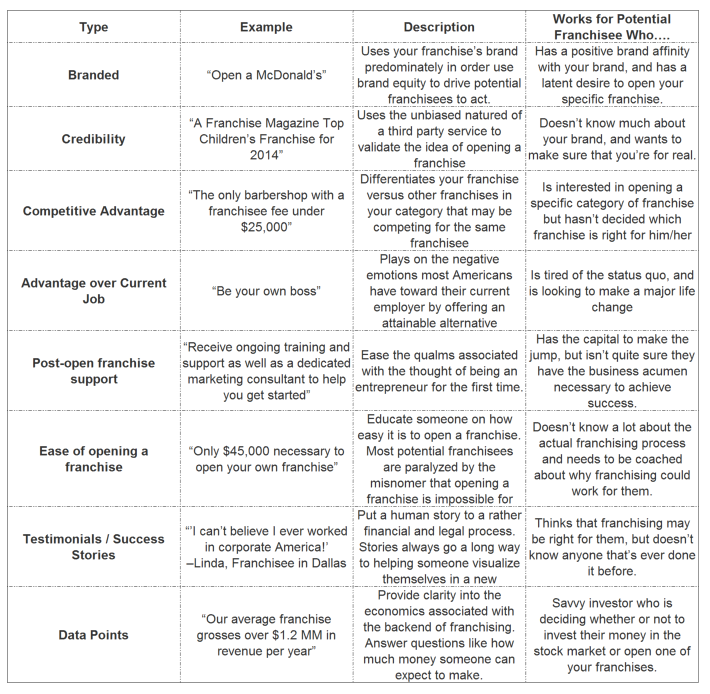 Wow. That's a lot. So what's next? How do figure out which types of messages work for your franchise.
Split testing! Duh!
Get a lot of different messages out there and see what sticks!
Have a question about messaging? Shoot us a note here.
"Call Me" Has Turned to "Text Me" for Franchisees
Last July, FranchiseHelp began its first experiment with text messages as a means of communicating with potential franchisees. The findings from those tests will transform franchise sales and development.
Guest Posting for Franchises
One of the strategies that internet marketers are turning to more and more frequently as the calendar turns to 2015 is the idea of the guest post.
Upon Seeing a BellSouth.Net Email Address
Not only does everyone have an account, but it seems that many people's primary form of communication has also become email. A new form of communication only 20 years ago, it has blown past every other form of communication, especially telephone calls, in a way that few could've predicted.