Which messages appeal most to potential franchisees?
It depends, obviously!
What? You thought that the answer to this question would be straightforward? Unfortunately no.
That being said, there are lots of franchises out there that don't have a nuanced understanding of what types of messaging works.
When you visit their website, you see a single message that tries to hammer home a single point to every single person that visits.
The fact of the matter is that every single potential franchisee needs to be messaged to in a different way.
Later in the sales process, you'll solve this problem by dedicating a specific sales person to speak with them directly. However, at this point in the process, you'll have to settle for trying a number of different messages and seeing which ones work for your brand.
At the highest level, we think about different messages in 8 different categories: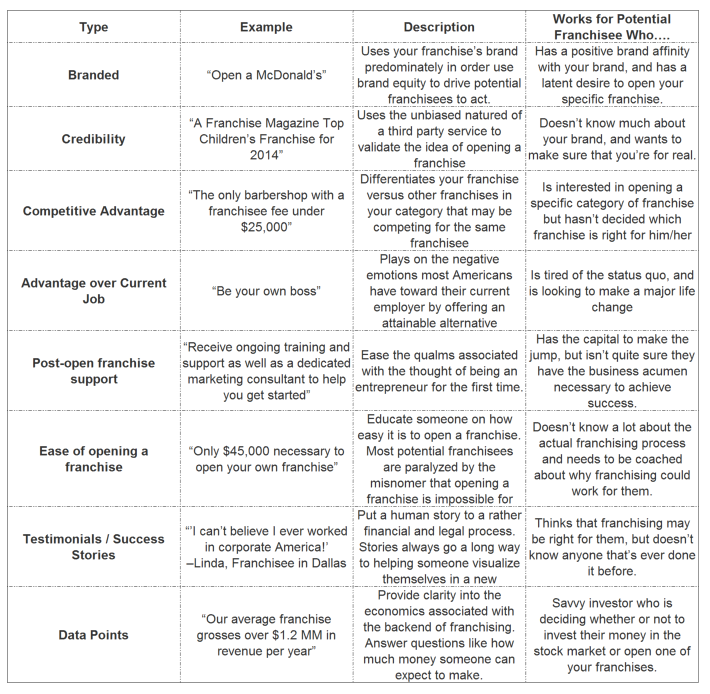 Wow. That's a lot. So what's next? How do figure out which types of messages work for your franchise.
Split testing! Duh!
Get a lot of different messages out there and see what sticks!
Have a question about messaging? Shoot us a note here.
A Split Test That Shows The Power of One Word
For part of our franchise selection experience, we use a selection button as one of our calls to action. Essentially for a user to select one of the franchises on our category pages, they must click a button:
Targeting Franchisees when Money is Not an Option
Every franchise is different. And because of this fact, every franchise's lead generation process needs to be slightly different than the next. What works for one franchise is going to be different from the next.
Mobilegeddon for Franchises
Depending on what you were doing in February 2011, it's possible that Google Panda is a four letter word around your office.