Which messages appeal most to potential franchisees?
It depends, obviously!
What? You thought that the answer to this question would be straightforward? Unfortunately no.
That being said, there are lots of franchises out there that don't have a nuanced understanding of what types of messaging works.
When you visit their website, you see a single message that tries to hammer home a single point to every single person that visits.
The fact of the matter is that every single potential franchisee needs to be messaged to in a different way.
Later in the sales process, you'll solve this problem by dedicating a specific sales person to speak with them directly. However, at this point in the process, you'll have to settle for trying a number of different messages and seeing which ones work for your brand.
At the highest level, we think about different messages in 8 different categories: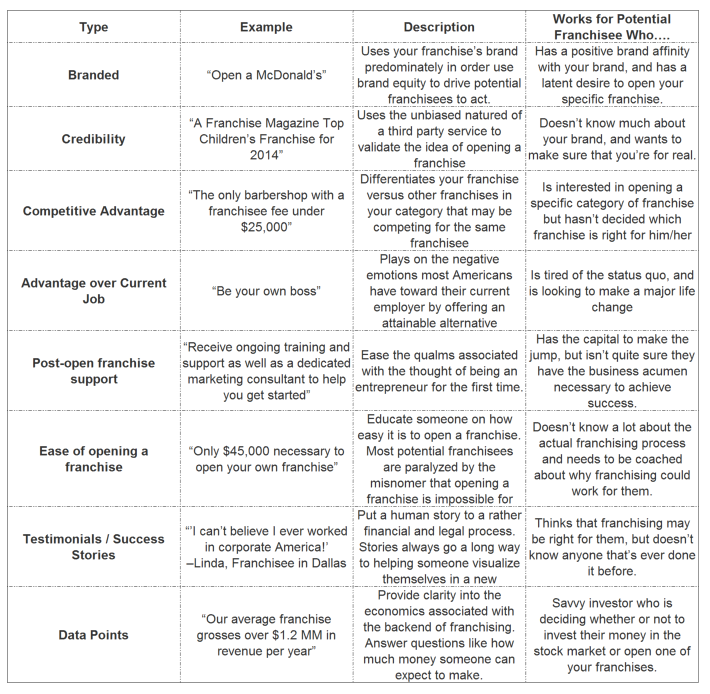 Wow. That's a lot. So what's next? How do figure out which types of messages work for your franchise.
Split testing! Duh!
Get a lot of different messages out there and see what sticks!
Have a question about messaging? Shoot us a note here.
Measure Franchise Lead Response Times in Seconds Not Days
Proper timing is a crucial part of any marketing venture. Frankly, proper timing can make or break a marketing campaign's performance. For example, a company attempting to target simply adults will find themselves purchasing TV spots late into the evening, well after the rest of the family has gone to sleep. (Think about the commercials on David Letterman's show.)
Targeting Franchisees when Money is Not an Option
Every franchise is different. And because of this fact, every franchise's lead generation process needs to be slightly different than the next. What works for one franchise is going to be different from the next.