Cruise Planners Continues to Dominate as Best Travel Franchise to Own on Cruise Planners Continues to Dominate as Best Travel Franchise to Own Entrepreneur's Annual Franchise 500 List
Cruise Planners remains No. 1 within the travel category – 13 years in a row
CORAL SPRINGS, Fla. –December 17, 2015–Cruise Planners, an American Express Travel Representative, the nation's largest home-based travel agency franchise network in the industry, continues to be the best travel franchises to own as it remains in the top spot for the thirteenth year in a row. For 2016, Cruise Planners ranks in the No. 25 spot overall on Entrepreneur's Annual Franchise 500 List.
"We are proud of our ongoing honor as the top travel franchise, which is a key consideration for those looking to jump into franchise ownership," said Vicky Garcia, COO and co-owner of Cruise Planners, an American Express Travel Representative. "When people compare franchise opportunities, Cruise Planners stands out because we have a strong reputation, we are an American Express Travel Representative and we are an ideal home-based business model for anyone with a passion for travel."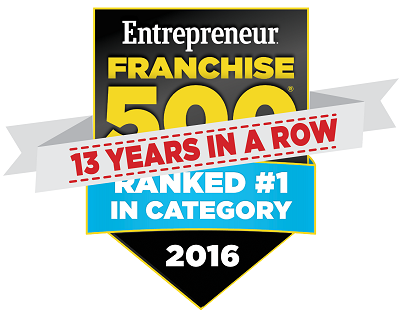 Entrepreneur magazine's Franchise 500 encompasses more than 462,000 individual businesses, both domestic and international, spread across 17 different categories and are judged by the same criteria with financial strength and stability, growth rate and the size of the franchise as the most important factors. The magazine also researches the number of years the company has been in business and working as a franchise as well as startup costs, litigation, percentage of franchise terminations and if the company provides financing.
"Entrepreneur's ranking is something savvy business people trust when deciding to invest in a franchise and we have consistently been ranked for the majority of our company's life," Garcia said. "Our franchisees are set up for success from day one with our award-winning marketing, cutting-edge technology and top-notch training, and our accomplished Home Office Team to help build successful businesses. We truly are a business in a box."
About Cruise Planners, an American Express Travel Representative
Cruise Planners, an American Express Travel Representative, is the nation's largest home-based travel agent franchise network in the travel industry. Cruise Planners operates a network of more than 1,400 franchise owners who independently book amazing vacation and travel experiences for their clients. The Florida-based Home Office Team positions franchise owners for success by providing innovative marketing, booking and lead-generating tools, as well as professional development and hands-on training with the industry's top executives. The company continues to be lauded and has been named the No.1 Cruise Tour / Travel Agency by Entrepreneur magazine for 13 consecutive years. Cruise Planners was recently featured in Entrepreneur as one of the top 30 franchise innovators in technology, has been consistently named as one of the Top Women-Owned Businesses by theSouth Florida Business Journal, is listed on the Inc. 5000 list as one of the fastest-growing private companies in America and was recognized as one of the "Top Workplaces" byThe Sun Sentinel.
Headquartered in Coral Springs, Fla. with more than 22 years of experience, Cruise Planners has achieved top producer status with every major cruise line. Accolades include numerous Magellan Awards from Travel Weekly for the past seven years, American Express Travel Representative Excellence Award for 11 consecutive years (2004 – 2014), American Express Agency of the Year (2010), Royal Caribbean International President's Award for Overall Achievement (2012 and 2014), Royal Caribbean International Home-Based Partner of the Year (2007 – 2013), Norwegian Cruise Line Franchise Agency of the Year (2011-2015), Celebrity Cruises Field Sales Account of the Year (2015), Celebrity Cruises Home-Based Account of the Year (2013-2014) and Celebrity Cruises Southeast Region Travel Agent Partner of the Year (2010), American Express Vacations Best of the Best Globe Award (2008 – 2015), Globus Family of Brands Premier Agency Partner (2009- 2014), Platinum Member of the 500 Club for Sales Excellence (2014), Platinum Circle Member with Viking River Cruises (2009-2012), Uniworld Boutique River Cruise Collection Top Producer (2008-2014) and Regent Seven Seas Cruises Top Producer. Cruise Planners is one of the Top 50 franchises for Veterans according to GI magazine, the Top Franchise Brand for Veterans according to Franchise Business Review, has been named one of the Top 25 franchises for African-Americans by Black Enterprise magazine and is a member of the International Gay & Lesbian Travel Association. For more information, visit www.cruiseplanners.com.
Stay in Touch: Media can stay up-to-date with Cruise Planners by visiting our media room, following us on Twitter @Cruisitude or on Facebook. For additional information or to make reservations, vacationers should locate a travel advisor near them. For those interested in becoming a franchise owner, please visit our franchise site.
Interview with Tim Courtney, CruiseOne's Director of Franchise Development
Founded in 1992, the CruiseOne franchise is now one of the leading travel retailers in the country. As part of World Travel Holdings (WTH), CruiseOne maintains its position as a premier vacation supplier, providing millions of people access to the world's most fascinating destinations through its 775 franchise owners. This year, Entrepreneur Magazine named CruiseOne one of its Top 50 franchises, out of over 4,000 operating franchise systems worldwide.
Sweet Franchise Opportunities: Interview with Tim Casey, CEO of TCBY and Mrs. Fields Cookies
Because we have 30 years of experience as the largest frozen yogurt concept, our size allows us to provide services to franchisees that smaller brands don't have the resources to provide. We are only as successful as each of our individual franchises are, so it is of utmost importance that we offer a service model, economic model and brand model that are appealing and profit generating for our franchisees.